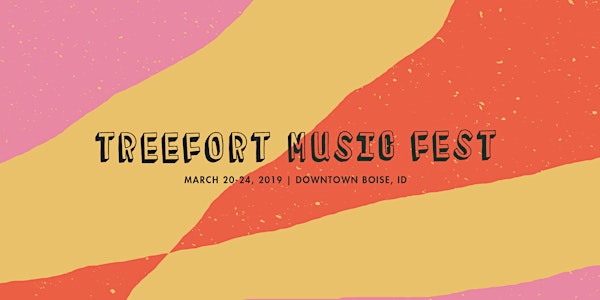 Treefort Music Fest 2019
When and where
Location
The Owyhee & Trailhead Boise, ID 83702
Performers
Headliners
Toro y Moi
Liz Phair
Vince Staples
More Performers
Mandolin Orange
Mt Joy
Nappy Roots
Wilderado
Laura Veirs
Low
American Football
Angelique Kidjo
Built to Spill
Cherry Glazerr
The Undercover Dream Lovers
Shiba San
Juice
Rubblebucket
Tigers Jaw
Her's
Dan Deacon
The Bright Light Social hour
Sera Cahoone
Black Mountain
Y La Bamba
Blessed
mewithoutYou
Bad Bad Hats
Sierra Hull
Black Moth Super Rainbow
The Suffers
Intervals
Strawberry Girls
Ekali
Night Beats
Ripe
Ric Wilson
Delicate Steve
Liz Cooper & The Stampede
Flint Eastwood
Sweet Spirit
Califone
Farao
Mike Krol
EMA
Acid King
Bells Atlas
Caroline Rose
TEEN
Hillstomp
ZERO
Description
Let's kick off the eighth Treefort Music Fest in Downtown Boise.
You've already purchased your Treefort pass….now you wanna slip that awesome Treefort wristband on your hand!
Keep an eye out for festival related news on our website: treefortmusicfest.com/news where you'll receive informational updates and super fun exciting day parties, second chance shows and even more activities to surprise even the seasoned Treeforter. For now, here are your Box Office hours for pass pick up, sales and questions:
LOCATED INSIDE TREEFORT HQ
[1507 W. Main St.]
Tuesday 3/19 | 3:00-8:00pm
Wednesday 3/20 | 3:00-10:00pm
LOCATED AT MAIN STAGE
[12th & Grove]
Thursday 3/21 | 3:00-10:00pm
Friday 3/22 | 12:00-10:00pm
Saturday 3/23 | 12:00-10:00pm
Sunday 3/24 | 12:00-8:00pm
Don't forget to bring your ID and ticket confirmation with you!
IMPORTANT: The bearer of any paper or digital ticket will be issued one wristband per ticket. If you have lost your ticket we can only issue you your wristband if you have a photo ID. Treefort is not responsible for lost or stolen wristbands once issued.
Arriving late? It's chill, just swing by The Modern Hotel (1314 W Grove St) to pick up your passes from 10pm to 2am Wednesday thru Sunday.