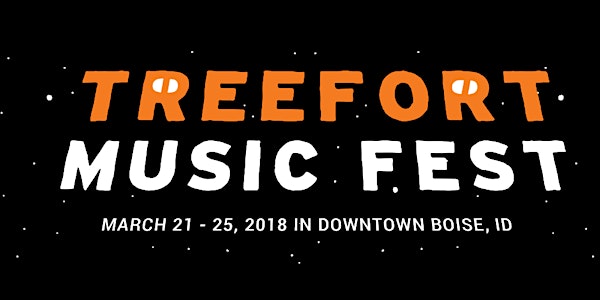 Treefort Music Fest 2018
Description
Treefort Music Fest - March 21st to 25th, 2018
Redeem your Eventbrite ticket for a Treefort Music Fest wristband at the festival box office. You need to have either your printed / digital ticket OR a valid photo ID in order to redeem all wristbands. All Under21 passes must be redeemed with some form of ID.
LOCATED INSIDE THE OWYHEE

TUESDAY 3/20 | 5:00-8:00PM
WEDNESDAY 3/21 | 4:00-10:00PM
THURSDAY 3/22 | 4:00-10:00PM
FRIDAY 3/23 | 12:00-3:00PM
LOCATED AT MAIN STAGE

FRIDAY 3/23 | 3:00-10:00PM
SATURDAY 3/24 | 12:00-10:00PM
SUNDAY 3/25 | 12:00-8:00PM
Children 12 and under are free to attend when accompanied by an adult with a 1-day, 5-day or single venue Treefort pass.