Description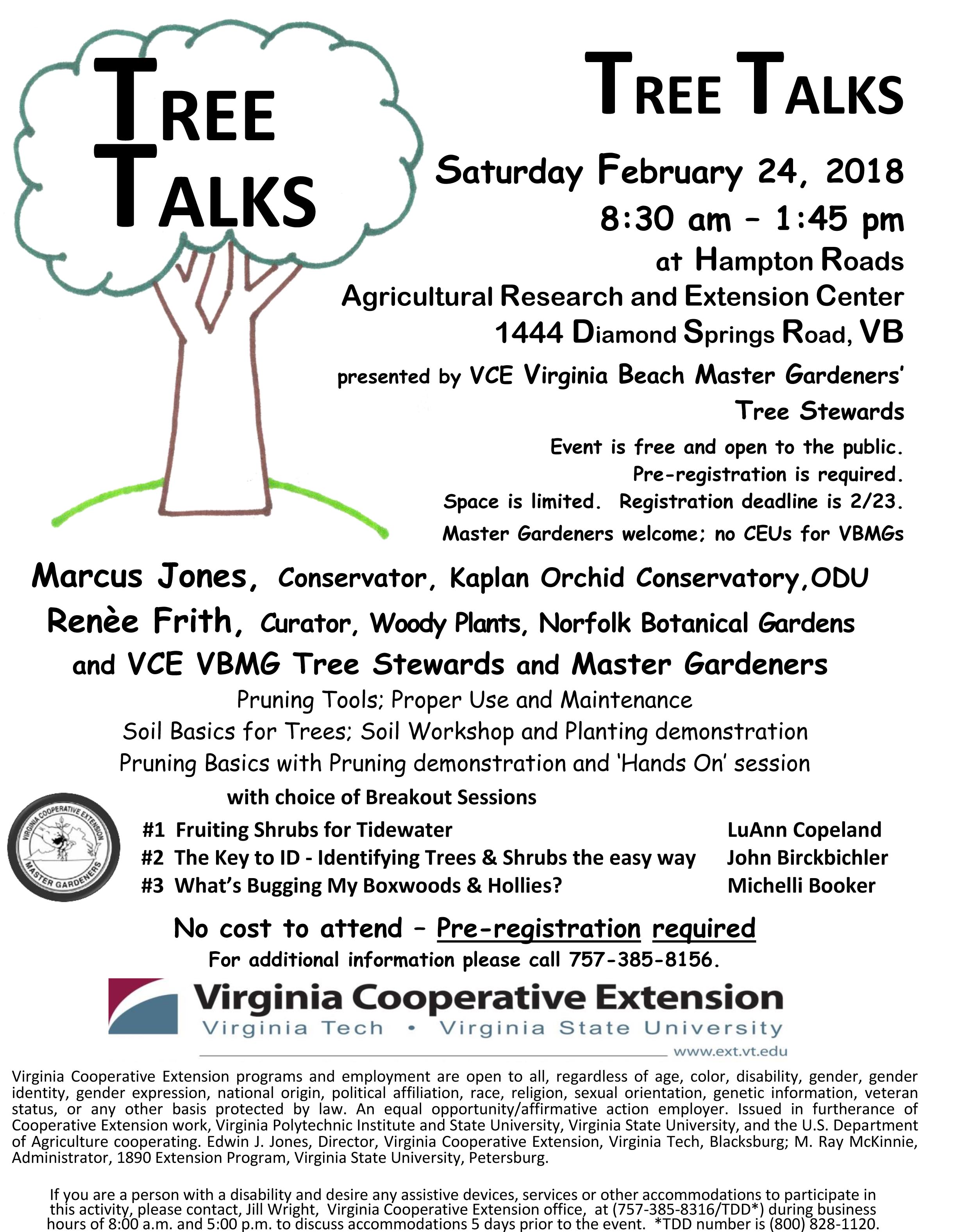 Tree Talks 2018 Agenda
8:00 am - 8:30 am Registration Check-In
8:30 am - 8:45 am How to Build Your Pruning Calendar
8:45 am - 9:30 am Pruning Tools; Proper Use and Maintenance
9:30 am - 11:00 am Soil Basics for Trees & Shrubs;
Soil Workshop and Planting Demo
11:00 am - 11:15 am Break
11:15 am - 12:30 pm Pruning Basics with Pruning Demo
and 'Hands On' session
12:45 pm - 1:30 pm Break Out Sessions
#1 Fruiting Shrubs for Tidewater
LuAnn Copeland, Portsmouth MG
#2 The Key to ID - Identifying Trees & Shrubs the easy way
John Birckbichler, Chesapeake MG
#3 What's Bugging My Boxwoods & Hollies?
Michelli Booker, VB MG Tree Steward
FAQs
What are my transport/parking options getting to the event?
There is free parking at the front, back and side of the building with full handicap accessibility at front and back entrances.
What do I need to know about this program?
This event has scheduled outdoor workshops. Please dress appropriately. In case of rain, we will be outdoors if raining lightly, indoors if raining heavily or if temperatures are prohibitive. Golf cart transportation can be made available. If snow events are forecast, participants will be notified of program status via email unless phone calls are indicated as preferred. Contact Event Organizer by phone if email is not your primary or preferred form of communication.
What should I bring to the event?
Persons attending a Breakout session are encouraged to bring their lunch to enjoy at that time. Light refreshments will be available during Registration Check-In and the Break. If the weather is particularly nice, the gardens and the arboretum - always open to the public - make a wonderful setting for a lovely lunch and/or walk on your own.
Can I update my registration information?
Yes. You may choose your attendance status (Attend Morning Sessions only; a Breakout Session only or Both) and the Breakout session you'd like to attend. You may update that any time up to the day before the event (Friday, February 23)
Do I have to bring a printed ticket to the event?
You do not have to print any ticket or information. Your information will be at Registration Check-In