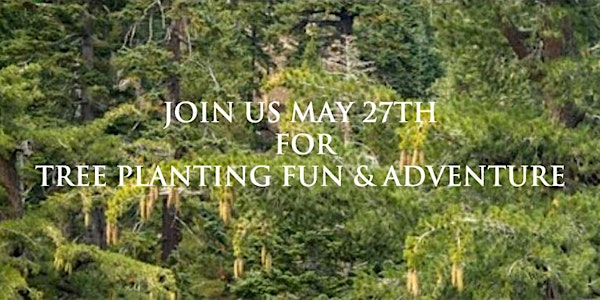 Tree Planting Fun & Adventure - with the Sugar Pine Foundation
When and where
Location
Please Register in Advance - Meet at parking lot at 10am. Truckee Ranger District - 10811 Stockrest Springs Rd, Truckee, CA 96161
Description
Date: Monday May 27, 2019 (Memorial Day)
Time: 10am – 1pm pacific - please arrive by 10:00am at Truckee Ranger District parking lot. Then group will drive together to forest site.
Meet up at: Truckee Ranger District - 10811 Stockrest Springs Rd, Truckee, CA 96161
Join us Mon May 27th to plant sugar pine seedlings in forest near Truckee. The Sugar Pine Foundation, a local nonprofit dedicated to saving Tahoe Sugar Pines and other pines, kindly organized this special day to plant year old sugar pine tree seedlings in the Sagehen forest region near Truckee. This part of the forest is dedicated to forest health, education, study of our forest ecosystems and environment.
We wanted to share this positive activity as something unique and fun to do outdoors!
Please register – since Max attendees is 60.
Important – Bring water, sunscreen, hat, and wear closed toed shoes with good tread (ie hiking boots, tennis shoes).
Also bring yourself some snacks/lunch.
Meet at 10:00am in the Truckee Ranger parking lot. The group will leave no later than 10:30am to drive on to the forest site.
FAQs:
1) Who is the Sugar Pine Foundation?
The Sugar Pine Foundation is a nonprofit 501(c)3 dedicated to saving Lake Tahoe's sugar pines and other white pines from blister rust by educating and involving Tahoe area students and community members of all ages in hands-on forest stewardship. Since 2008, they have planted 10,000+ trees annually with local volunteers and crews!
2) More on Sugar Pine Foundation: http://www.sugarpinefoundation.org/
a) Who is the Sugar Pine Foundation Contact: Maria Mircheva Maria@sugarpinefoundation.org
3) How far from Truckee Ranger Station will we drive North on Hwy 89?
We will meet first at Truckee Ranger Station Parking lot and then consolidate cars and drive over to forest planting site about 12 minutes away. Access to the planting site has a dirt road.
4) Once parked at forest – how far will we hike to planting area?
Once parked the walk to area where we will plant is not too far.
5) What type of trees will we be planting?
Sugar Pine Tree seedlings that have sprouted and have been growing for last year.
6) Do we need to bring anything else to help plant?
The Sugar Pine Foundation will have Sugar Pine seedlings, shovels, gloves, etc.
IMPORTANT please wear closed toed shoes with good tread (ie. hiking boots or tennis shoes with tread), bring water for yourself, your own snacks/lunch for afterwards and sunscreen.
7) How many people can they accommodate at planting?
The Sugar Pine foundation can accommodate up to 60 people planting. Please register to sign up.
https://treeplantingadventure.eventbrite.com
Thank you!