Join us to learn how the Branch Out Program is being used to advocate for some of the most vulnerable neighborhoods in Milwaukee.
About this event
"Healthy forests are our most efficient, inexpensive, and natural systems to combat climate change," as American Forests remind us. Find out what you can do to help make your community more sustainable and climate-resilient, what it takes to form partnerships with local government, nonprofit organizations, and residents, and how the Branch Out Program is being used to advocate for some of the most vulnerable neighborhoods in Milwaukee from Joe Fitzgerald of Milwaukee Water Commons.
This Path to Positive episode of Let's Talk Climate will take place on December 9 from 2:00 - 3:00 pm ET / 11:00 am -12:00 pm PT. Closed captioning will be provided.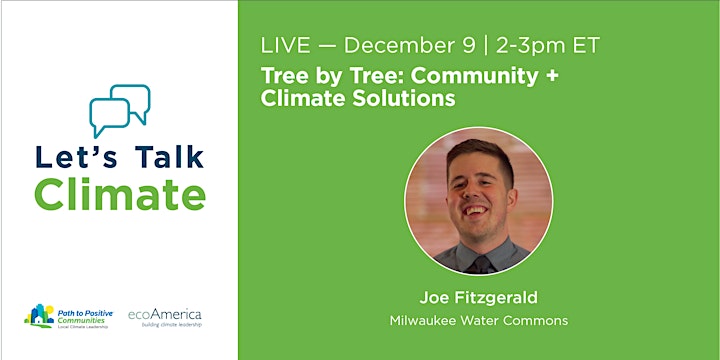 Speaker Bio:
Joe Fitzgerald began volunteering with Milwaukee Water Commons in 2016. He now works as a Water City Program Manager organizing initiatives to improve water quality and to advance inclusive pathways to blue green employment and water equity in Milwaukee and around the Great Lakes. A product of the Milwaukee Public Schools, Fitzgerald graduated from Northland College with a double major in natural resources and geosciences, with an emphasis in ecological restoration and water sciences. Since graduating, Joe's career has taken him throughout the Midwest to research the biological and chemical health of freshwater systems. Through his role with Milwaukee Water Commons, Joe has worked locally and with leaders around the country to reimagine and reform sustainable and intersectional water systems. From a neighborhood, in the woods, or on a lake or river, Joe has always been interested in learning from the people and places around him. He carries those perspectives into his own work advocating for social and environmental justice.
This episode will be moderated by Deneine Powell, Path to Positive Communities Director, ecoAmerica.
Follow @Path2Positive on Twitter, Facebook, and LinkedIn.
ecoAmerica's Let's Talk Climate provides guidance and support to climate activists as they seek to expand public support and political resolve for equitable and effective climate solutions. Let's Talk Climate features: nature/science, health, communities, faith, politics, people, and leadership in rotating weekly sessions with empowering information and fresh ideas. Join us at this critical time and invite your friends and colleagues to take part as together we build momentum toward our goal of getting every American to make climate solutions a priority in their lives.
Register for upcoming episodes here.
Watch previous Let's Talk Climate episodes on-demand here.
Follow @ecoAmerica on Youtube, Twitter, Facebook, LinkedIn and Instagram.

Organizer of Tree by Tree: Community + Climate Solutions