Description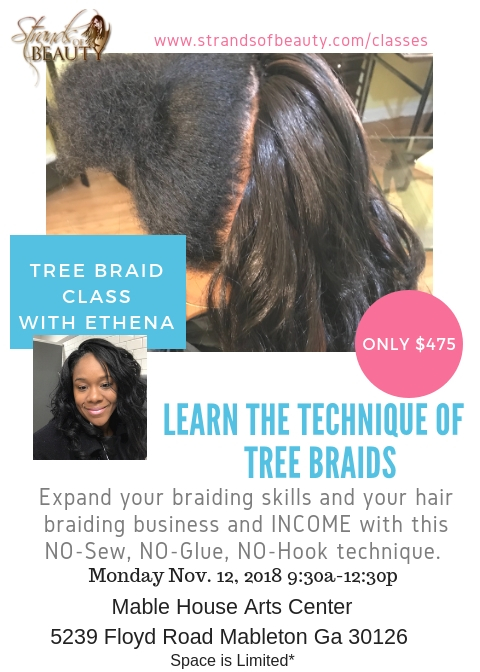 Tree Braids are an amazing work of hair art and are a combination of a 4 techniques. Tree Braids are one of the best protective styles for natural and relaxed hair. They look like a weave while giving the flexibility of micro braids WITHOUT extreme tension on the scalp.
Tree Braids are a NO-Sew, NO-Glue, NO-Crochet technique that promotes hair growth and gives a professional & classic look. Many clients want this, but many do not know that Tree Braids exist and even more braiders do not know how to properly complete this style.
This class will teach you TWO techniques of Tree Braids AND how to get the job done fast. Also, get hands-on while learning the best types of hair extensions, gels, and moisturizers to use for promoting hair growth and hair health.
We supply all combs, clips, and hair extensions needed for the class, all you need to do is show up in comfortable attire, with some patience and a ready-to-learn attitude. ** YOU WILL NEED TO BRING A MANNEQUIN HEAD WITH YOU. IF YOU DO NOT HAVE ONE CALL 1855-787-2637 EXTENSION 700 AFTER YOU REGISTER TO RESERVE A MANNEQUIN HEAD. THE FEE IS $20 TO RENT THE HEAD.
Join us at the Mable House Arts Center, on Monday November 12, 2018 from 9:30am-12:30 pm for a 3 hour class on this popular braiding technique. This class will be hosted by Master Tree Braid Specialist and Instructor, Ethena. Ethena is the Chief Operating Officer of Strands of Beauty Salons. She has co-owned, managed the operations, and trained staff for the 16 salons & suites under the Strands of Beauty Brand. Her passion is in training and developing the entrepreneur as she embarks on her goal of 1000 new hair braiding entrepreneurs by the end of 2019. She specializes in Tree Braids, Hair Extensions and Training.
This is an intermediate class, YOU MUST BE ABLE TO CORNROW AND COMPLETE A SINGLE BRAID WITH HAIR ADDED. If you can not braid, please take the braiding 101 class PRIOR to taking this class.
This class is $475 per student. The $100 deposit is required when registering for the class. The balance of $375 is due in cash or via Zelle at the beginning of class. The class fees are non-refundable and non-transferable.
** Supplies Needed For the Class
- Mannequin Head
-Good Attitude