Come and Celebrate Trece's 40th Summer! A week of events, celebrations, good food and AMAZING EAST COAST Scenery.
About this event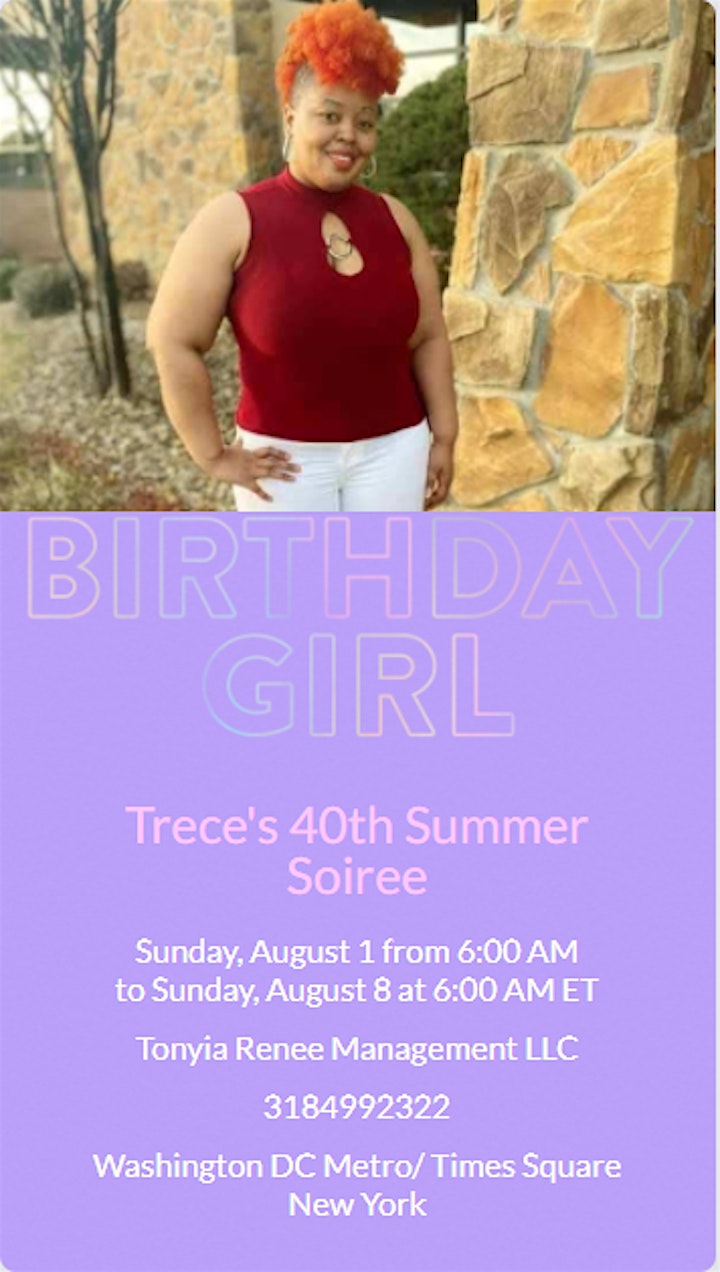 Trece's 40th Birthday Itinerary
1 Aug - Sunday 12:00pm Arrival
1:30pm Brunch- Miss Shirley's Cafe
2 Aug- Monday 8:00am Leave for NY
1:00pm Arrival in NY
3:00pm Check in to AirB&B
5:00pm Dinner in NY
3 Aug Tuesday 11:30-12:30 Taste of NYC Helicopter Tour
4 Aug Wednesday FREE DAY to tour IN NY
5 Aug Thursday 11:00am Leave for DC
5:00pm Arrival In DC
7:00pm Bowlero
6 Aug Friday 10:00am Hot Air ballon
4:00pm Pool Party & Barbeque
7 Aug Saturday 9:00am Makeup & Hair
11:30am Lunch Cruise
7:00p Karaoke Wok & Roll
8 Aug Sunday Depart for Dallas
Organizer of Trece's 40th Summer Soiree
Tonyia Talks is an Unscripted Reality show/Blog based on the life of an ever evolving
African American 40 year old, single mother, divorcee, business owner, blogger,
lover of her fellow man, God, country and ALL things UNEXPECTANTLY EXCEPTABLE!
Our vision is to use the experiences of not only her life but the lives and
stories of ordinary people to inspire, uplift, encourage and empower. Created
in the mind of an artistic, yet innovative single parent, entrepreneur, writer
and self-proclaimed "DRAMA QUEEN" our host looks to combine laughter, art,
spiritual connection/awareness & everyday reality to foster an environment
of entertainment and inspiration. The TonyiaTalks' Blog is a place where our
show creators mind conceives what the camera captures. From Business building
tips, Food & Travel reviews to Tonyia Talks guest bookings and show ideas
come join us in a world of the EVER CHANGING!