Treating People with Opiate Use Disorders as a Team with Corrections
Description

Co-Sponsored by:

Opiate involved offenders have unique issues, and a very narrow margin of error. Lapse and relapse is common among drug addicted criminal offenders, but can be lethal among opiate offenders. As Mainers struggle with the opiate epidemic and more individuals become entwined in our legal system, it requires a team-based approach with the individual, treatment, and corrections to effectively engage, treat and respond to their relapses to maintain them in treatment.
Retired DA Helen Harberts has been asked to come back by popular demand to help us figure out how we can work better in partnership with and provide the supervision, accountability and treatment to maximize the outcomes for the people coming into our drug courts and treatment and probation services across Maine.

This training will address the physiological issues which impact criminally involved addicted offenders' ability to abstain, and how to "keep them coming" until the dose effect of treatment begins. Participants will explore engagement strategies to help with retention, anhedonia, and the hopelessness many persons in early recovery experience. Identifying the process of lapse and relapse, and responding to it will be discussed. Working through scenarios will allow practitioners to develop awareness and skills for responses.

Target Audience

Alcohol and Drug Counselors, Attorneys, Drug Court Teams, Probation Officers, Psychologists, Case Managers, and Behavioral Health Providers.


---

ABOUT THE PRESENTER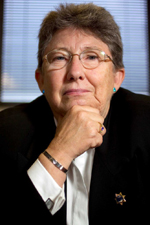 Helen Harberts, MA, JD, has worked in drug court systems since 1994 as both a prosecutor and a Chief Probation Officer. She regularly teaches drug testing, community supervision, Incentives and Sanctions, Legal Updates, Confidentiality, Cannabis Updates, juvenile brain development and methamphetamine specific classes across the United States.

---

5.75 Contact Hours Available
Click here for details. Certificates will be emailed to participants who attend the entire program. No partial credit will be given.


---

Registration will begin at 8:00 a.m.

Lunch will be on your own.


---
---
This course is sponsored by CCSME through the Maine Behavioral Health Workforce Development Collaborative, a partnership between AdCare Educational Institute of Maine, Co-Occurring Collaborative Serving Maine, and Muskie School of Public Service with funding from the Maine Office of Substance Abuse and Mental Health Services (SAMHS), Department of Health and Human Services.
Save