Treating Adolescent, Young Adult/Adult Addictions and Co-Occurring Disorder...
Description
Lecture Description and Learning objectives
The Interpersonal Neurobiology (INPB) of Addiction is the most comprehensive model for understanding addiction today. From Jon Daily, LCSW, CADC II's latest book, Adolescent and Young Adult Addiction: The Pathological Relationship to Intoxication and the Interpersonal Neurobiology Underpinnings we will learn how to understand the layers of complexity in addiction in a way that augments case formulation and informs more personalized and comprehensive treatment plans. INPB illuminates that there is no distinction between addiction and mental health, and that there is no separating relationships from psychology and neurobiology. You will learn exactly how these systems are operating all at once.
Here is an example:
The brain, mind, affect regulation and the ability to securely negotiate relationships are not just hardwired into DNA and blossomed independently, rather, they are constructed and organized by the brain and mind of the child's caregiver. Attunement promotes healthy emotional, biological and relational development and occurs in the fractional moments when caregivers allow their own mind and body to be organized around the internal workings and rhythms of their child's mind and body. In the moment of true resonance/attunement the child has the experience of "feeling felt." This "feeling felt" coupled with the experience of consistent, warm, predictable responses to the child's needs creates a secure attachment. Secure attachment underpins healthy emotional, psychological and neurological development, hence, regulatory systems.
Psychologically, the internal working model (IWM) is constructed and imbedded into implicit memory in the right hemisphere of the brain. This psychological regulatory system is the cognitive filter which quickly and unconsciously informs us about how we feel about ourselves, and what we can expect from others. When there is mis-attunement and trauma then what's developed is an IWM that filters through the lens of insecurity, fear, mistrust, avoidance and a negative internal dialogue running in the mind that reinforces insecurity. The opposite of this is true for the securely attached child who had a positive/secure IWM built.
Neurobiologicaly, Siegel (1999) states, that when we are "feeling felt" in early childhood, our dopamine system expands, and the psychological correlate tethered to this experience is the allowing or wanting to "be seen." Conversely, he defines shame as simply the absence of attunement. Moreover, most clinicians understand that shame can be an even more explicit weapon in families. Siegel goes on to purport that shame contracts the dopamine system and the tethered psychological experience is a person who wants to be "unseen."
This and relationships will all be linked to Addiction and Treatment
Objectives:
You will learn that addicts are not hooked on drugs, but rather, they are hooked on a pathological relationship to intoxication, and how drug use is both a "consequence of and a solution for failed relationships."
You will learn that the name of the drug the addict is using is an illusion which contributes to biases and traps for clinicians and the systems around the addict.
You will learn how to show clients in the "here and now" how the relationship with you is activating their dopamine and opiate systems.
You will learn an approach for breaking down denial and increasing motivation for sobriety and wellness.
More importantly you will experience this lecture as immediately applicable through case examples and it will validate and stretch you professionally.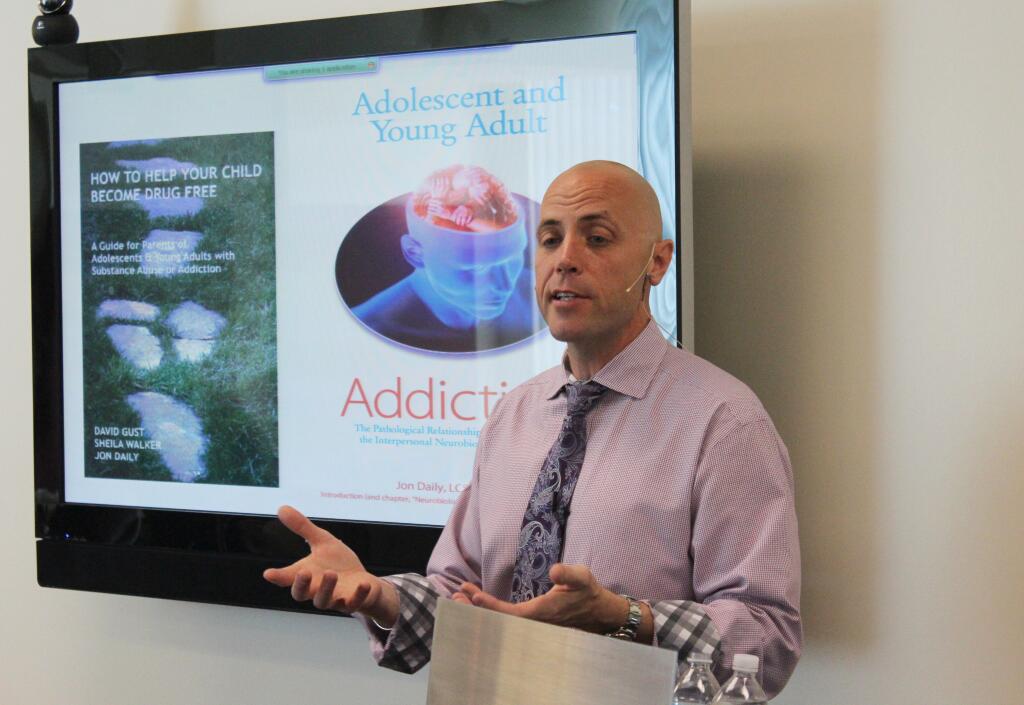 Jon Daily, LCSW, CADC II is the founder and clinical director for Recovery Happens Counseling Services and specializes in the outpatient treatment of adolescents, young adults and their families with addictive disorders and dual diagnosis issues. A recipient of numerous awards for his work, Jon is also the co-author of (2006) "How to Help Your Child Become Drug Free," and (2012) "Adolescent and Young Adult Addiction: The Pathological Relationship to Intoxication and the Interpersonal Neurobiology Underpinnings." Jon has been an instructor to nurses, medical residents and has taught post-doctoral students for UC Davis. Currently he instructs graduate students for the University of San Francisco and is the developer of a chemical dependency track within a Sacramento based psychiatric hospital. Jon has trained thousands of clinicians working with youth, young adults and adults. He has been a resource in the media over 90 times in his career from local media to the national Today Show. In addition to teaching, practicing, writing and providing forensic testimony, Jon provides program development, trainings and conference presentations. More information at www.recoveryhappens.com 916-276-0626.
Registration starts at 8:30 AM
Conference Details:
* Lunch will be provided.

5 CEUS for attending this training for LCSW and LMFT. Board of Behavioral Sciences approved CEU provider. Tickets are able to be cancelled 48 hours before event for refund or application to future event. Pay at the door tickets who do not show up to pay at the door will be billed. RSVPs and cancellations allow us to put on a relaxed event with appropriate seating and food and keep costs low.