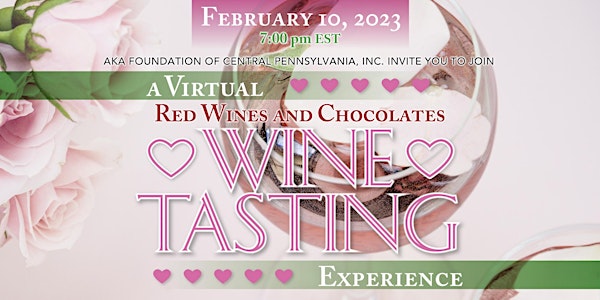 Treat Yourself to a Valentine's Wine Tasting Experience
Give YOURSELF the Gift of Love: Virtual, Wine Tasting Experience--discover the different tasting notes of pairing red wine and chocolate.
About this event
Give YOURSELF the Gift of Love and Selfcare during the month of February.
The AKA Foundation of Central Pennsylvania invites you to join us for a Virtual Valentine's Wine Tasting. Sip back and relax from the comfort of your home. You bring the charcuterie board, and we'll ship the wine and delectable chocolates. HURRY, ONLY 30 SPOTS AVAILABLE!
Join us for an evening of wine tasting, charcuterie and fun... all from the comfort of your home while a wine expert guides you through a fun, interactive tasting. The wine tasting includes a diverse portfolio of six 187 ml bottles of specially curated red wines. Each bottle holds a large, 6-ounce pour of the finest vino around. Luscious red wine paired with smooth, delectable chocolates… can you imagine anything more heavenly? In Good Taste has paired with Bissinger's Handcrafted Chocolatier to create a one-of-a-kind tasting experience that is nothing short of divine.
INSTRUCTIONS AFTER PURCHASING: Once the wine package/tasting ticket is purchased, your order will be shipped directly to the address used in the Eventbrite form. Wine is expected to arrive approximately four days before the tasting. All wine deliveries must be signed for by someone over the age of 21. P.O. Box addresses are NOT permitted.
At this time In Good Taste does NOT ship to Alabama, Alaska, Arkansas, Delaware, Hawaii, Kentucky, Mississippi, Rhode Island or Utah. They also do not ship internationally.
Zoom information will be sent to the email address provided during registration, and participants must use the same email address when entering Zoom. For additional questions email: akafoundationofcentralpa@gmail.com.
If you're unable to attend this event, please consider making a donation. All donations are tax-deductible and will benefit the Grateful Scholars Program.