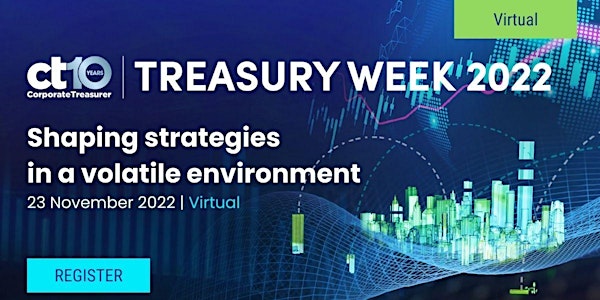 Treasury Week - Shaping strategies in a volatile environment
CorporateTreasurer is proud to announce its flagship event, Treasury Week returns on 23 November 2022!
About this event
De-globalisation, cross-border fragmentation, and recession fears have filtered into the global corporate landscape; trickling down to corporate treasurers who need to navigate through, as well as manage growing complexities in their day-to-day operations.
Beyond cash management and immediate disruption to global supply chains, the focus is also growing on the implications to liquidity, financial digitalisation, and cross-border transactions in an increasingly volatile environment.
Treasury Week 2022 gathers senior treasury professionals and treasury solution providers from all over Asia Pacific to examine, discuss and tackle new practices, new responsibilities and the challenges wrought by continued uncertainties.