About this Event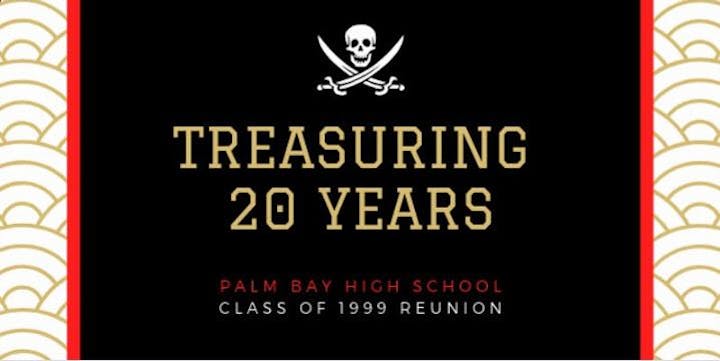 Dear Class of 1999,
Congratulations on reaching this important milestone! We are so excited to connect with you. Your PBHS C/O 99 Reunion Planning Committee has planned a wonderful weekended of events for you to enjoy. We can't wait to see all of you for the reunion weekend!
Additionally we have booked the beautiful Crown Plaza Ocean Front in Melbourne to commemorate this amazing weekend!
Events:
Who's who of CO 99 mixer THURS MAY 16
Senior Meet and Greet at PBHS FRIDAY MAY 17
Pirates Treasure Hunt and Bar Crawl FRI MAY 17
Shipmates Beach BBQ 10-3 SAT May 18
Treasuring 20 Years CO 99 Reunion Gala 7 SAT May 18
Please purchase your tickets as soon as possible so that we can plan for you. Get ready for awesome weekend full of wonderful memories!
Please take a moment to fill out our Who's Who form--even if you can't make it! Thank you!
Sincerely,
The PBHS CO 99 20-Year Reunion Committee