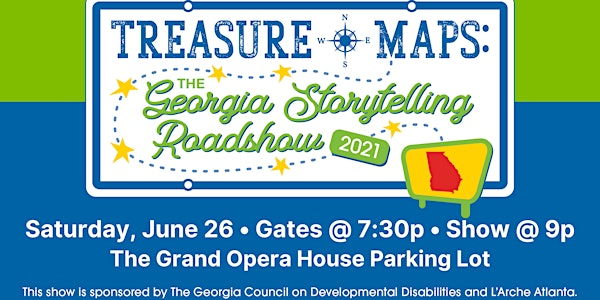 Treasure Maps: The Georgia Storytelling Roadshow ~ Macon Night!
Location
The Grand Opera House
651 Mulberry Street
Macon, GA 31201
Treasure Maps is a pop-up, interactive, outdoor theatre taking place in six cities across Georgia!
About this event
Treasure Maps is a pop-up, interactive, outdoor theatre taking place in six cities across Georgia! The Treasure Maps show will include live-local hosts, film screening, installations, and interactive activities, all under safe social distancing practices. The roadshow feature is the film screening of Treasure Maps on the big screen. Treasure Maps showcases a collage of ten (10) Georgia storytellers' experiences with an up-close and personal viewpoint into what it's like navigating the complex webs of life in our communities as a person with a developmental disability. Themes include...
starting your own business
friendship
going to college
alienation & acceptance
dealing with the physical aspects of disability
and how transformative living a full inclusion life can be.
This show is proudly presented by the Georgia Council on Developmental Disabilities and L'arche Atlanta. Local partners include The Grand Opera House and River Edge Behavioral Health.
NOTE: In the event of inclement weather, this event will be moved to an online format (Facebook/Youtube Live).
IMPORTANT: COVID-19 has been declared a public health emergency for a long time and will continue to be so for the foreseeable future. By reserving this ticket and attending this event, you acknowledge that there are inherent risks to exposure to others who may have COVID-19. All entities involved in organizing this event will not be held liable for the transmission of COVID-19 or any other communicable disease at this event. We encourage you to practice safe social distancing, hand washing, and other pandemic precautions to your personal preference and comfort level.
MEDIA: Additionally, this is a public event where photographers will be present and documenting the evening. By attending, you acknowledge that your photograph may be taken and that organizing entities have the right to use your image in documentation and promotion.