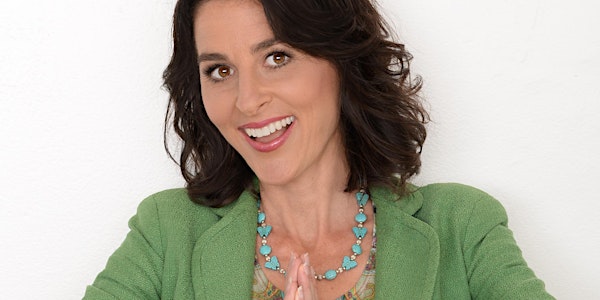 "TREASURE MAP TO HAPPINESS": I CAN HEAL® Retreat ONLINE w/Dr Wendy Treynor
Along with discovery of your true self comes true happiness, freedom, peace and love+ you only need to search inside of yourself to find it!
Refund Policy
Contact the organizer to request a refund.
About this event
Think of your life as a grand sailboat. Are you the captain? Or do you often feel like a captive on a boat overrun by pirates?
Join Wendy Treynor, PhD for a weekend of self-discovery and exploration with the I CAN HEAL® Framework for Self-Healing and Happiness: a powerful, scientific theory of the soul. Uncover how you have been systematically led to undervalue and betray yourself and learn to become the captain of your own life—with a treasure map to lead the way to your essential nature, alive with love and joy.
Dive into the realm of inner exploration through a unique blend of lecture, meditation, light yoga, group and personal exercises, creative activities, journaling, and compassionate self-inquiry—all in supportive guidance.
During this transformative retreat, you will:
*Gain keen self-insight to help heal yourself emotionally and spiritually
*Step into greater self-realization and connection with your true self, or soul
*Heal wounds from your past to feel happier and lighter.
Along with the discovery of your true self and true happiness comes true freedom, peace, and love. And the only place you need to search is right inside yourself.
*Give yourself the gift of focused, dedicated, immersive time to explore your inner terrain.
*This I CAN HEAL® Retreat empowers you to know your true face: the truth of who you are, so you can know yourself and finally experience boundless happiness.
*Leave feeling more alive and ready to embrace love, joy, peace, and freedom!
PROGRAM SCHEDULE is in LONDON Time Zone, which is suitable for participants also in LOS ANGELES & CAPETOWN Time Zones.
Friday 3:00 - 4:30 PM
Module 1: Why You Can Feel Like a Captive on a Ship Run by a Crew of Pirates
Understanding the Socialization Process
*Heal wounds from your past to feel happier, lighter, now, & in the future
*Find forgiveness—forgive others; forgive yourself—so you can be at peace
*Acquire self-insight by discovering a root cause of inner & outer conflict
Friday 4:30 PM - 6:00 PM
Module 2: How You Can Declare Mutiny and Become Your Own Skipper
Understanding the De-Socialization Process
*Learn how to cure socially-induced depression, & release shame & guilt, so you can feel happy again
*Discover how to preserve your joy by "unplugging" yourself emotionally from the group
*Find the freedom to be the person you were born be
Saturday 3:00 PM - 4:30 PM
Module 3: Find True North by Recalibrating Your Compass: Part I
Examining the Voices of Influence in Your Life: Distinguishing the False from the True
*Release long-held emotional wounds to feel more buoyant & alive, now, & in the future
*Gain transformative self-insight, so you can empower yourself to feel your freedom
*Eliminate false beliefs that are holding you back from achieving your goals
Saturday 4:30 PM - 6:00 PM
Module 4: Find True North by Recalibrating Your Compass: Part II
Excavating True-Self from the Rubble of Rabble: From Lost to Found!
*Be able to answer the question: "Who am I?" giving you confidence in your life purpose
*Come to know yourself As You Truly Are, which is awe-inspiring & liberating
*Find the courage to accept the person you really are, bringing you unfathomable joy
Saturday 7:00 - 8:30 PM
Module 5: Your Life Jacket for Navigating the Ocean of Emotion
3 Ways to Rid Yourself of Negative Emotion
*Stop riding the waves of emotion in your life, & learn how to soar above them
*Feel self-acceptance & self-compassion, so you can experience yourself as a miracle
*Be inspired to practice of self-care, so you can discover and wholly accept the person you truly are, allowing yourself to actualize your true potential
Saturday 8:30 - 10:00 PM:
Module 6: The Winds in Your Sails: How to Harness the Winds so They Blow in Your Favor
*Harnessing the Winds of Time to Achieve Your Goals and Dreams
*Remember your dream or the childhood dreams that you had for yourself
*Design an easy action plan to achieve your life-long dream, confidently
Create a life of meaning & purpose, so you can feel fulfilled & happy
Sunday 3:00 PM - 4:30 PM:
Module 7: How to Steer a Clear Course in the Storms of Life
Understand How Love Works & Use Love to Make Miracles Happen in Your Life Right Now
*Overcome sorrow, disappointment, or heartbreak
*Discover how to feel love when there seems to be none—in this moment & every moment
*Find the courage to love unconditionally
Sunday 4:30 - 6:00 PM:
Module 8: Arrive at Your Destination & Find Buried Treasure
A Treasure Map to Happiness: You are the Treasure You've Been Searching For
*Feel inspired to become the skipper of your own life, so you can create a life worth living
*Realign your compass by connecting with your heart & allowing yourself to follow it
*Come home to your final destination, True North, and unearth the Treasure that you are!
Sunday 7:00 - 8:30 PM:
Module 9: Friendship Circle Closing
Now that You have Found Your Treasure, Share It!
*Make meaningful connections with other extraordinary individuals
*Stay in touch with new-found accountability partners to help you stay on track with your new intentions, dreams, goals, aspirations
*Create fun and friendship, play games with prizes, dance like no one's watching, and celebrate love, life, yourself, and the possibilities, having unearthed the Treasure that you are!
ABOUT YOUR GUIDE, DR. WENDY TREYNOR:
Twenty years ago, after asking the question, "Why are people happy making others unhappy?" Wendy heeded the call to embark on a lifelong journey to solve this puzzle. She now shares her revolutionary findings within a safe and healing atmosphere that entertains, enriches, elevates, empowers, and inspires everyone to live up to their highest potential and access more joy. She now shares this methodology through the I CAN HEAL® Framework for Self-Healing and Happiness, weaving story, research, and self-search.
Her story of overcoming depression and cancer in her memoir, "The Gift of Cancer: Turn Your Tragedy into a Treasure," is a firsthand case study in how to increase happiness and love of life. ICanHeal.com
She has given retreats in California at 1440 in Scotts Valley and Terranea Resort, voted "Top 5 Hotel Spas in the Continental United States" by Travel & Leisure, and at other venues around the world including The Sanctuary Thailand and now she's coming to you in the comfort of your own home by offering her LIVE* *INTERACTIVE* I CAN HEAL® Retreat Online, limited to 12 participants!
SEE WHAT PEOPLE ARE SAYING
The I CAN HEAL® Retreat I attended this weekend is worth more money than anyone could pay. It is a treasure beyond measure, worth millions of dollars to the seeker of Truth.…The experience has been a salving balm to my lifelong emotional wounds....Now I see the logic of what I know to be Truth….Thank you for the treasures you unearthed, for the light you reveal."
-Trisha Brick, MSW from USC, Credentialed Teacher, Cognitive Transactional Analyst, CA, USA
"I enjoyed the whole session and I am quite amazed with the framework you used to structure your findings, experience, and wisdom. Most importantly, the non-stop joy and happiness you pour to everyone from the bottom of your heart is the essence that allows people to open, and transform. That's your treasure. The treasure that helps others to find theirs."
– Dio Chiu, Chief Operation Officer, TEDx Taipei, Taiwan
"A Fantastic Program …"
– FeiFei Li, Research Affiliates, LLC, Newport Beach, CA, USA
"You have truly inspired me. Your love, joy and kindness. They are like divine energy showered on us. Please do continue with your work and spreading your message for it is a gift from God. The framework, the step-by-step knowledge and wisdom is going to be such a uplifting to human being. And I pray to God that wherever you go, you will shine like a thousand stars and your essence of being, your divinity, will heal and help those people in need."
– Prem Yang, Taipei, Taiwan
"I really like this framework which helps us to understand the root cause of why we are not happy even when we have a lot already. It's great to know a solution exists that could lead us to a happier and more fulfilling life."
– Jacob Chi, Taipei, Taiwan
"Wendy's energy, enthusiasm, knowledge are beautifully woven into a capitivating, inspired 'tapestry'–stunning, dazzling color, intricate & warm. Bravo, Wendy!"
– Erica Miguel, CA, USA
"...[I]nspiring, transformative workshop to continue growing in my journey..."
Maria Alvarez, 1440, CA, USA
"WONDERFUL. WENDY WAS AMAZING!"
- Aaron Ross, 1440, CA USA
"Wendy is so loving and energetic. This work is from the heart."
- Ellen Mann, 1440, CA, USA
SEE YOU AT THE RETREAT!
HERE'S TO BEING HAPPY, HEALTHY, & WHOLE!