Multiple Dates
Trayvon Martin Rest in Power Panel & Screening Event Series
Description
Next Generation Action Network respectfully presents the screening of the dynamic Trayvon Martin Docuseries produced by Shawn Carter (Jay Z), Sybrina Fulton and Tracy Martin on Paramount Network.
In an effort to explore Trayvon Martin's life and the tragedy of his untimely death, NGAN will also host a pre-screening panel discussion. We hope to provoke thought and bring forth a renewed spirit of social advocacy and reform. We intend to reflect upon the i
mpact his story has on our lives, the root cause of this tragedy, where we are as a country now, and what efforts we must continually make in order to positively affect change.
The Next Generation Action Network is a social justice organization founded in 2014. With a collective of over 50 years of civil rights education and activism, we encourage social change by breaking down racial barriers in education, economic, criminal/social justice, and civil rights.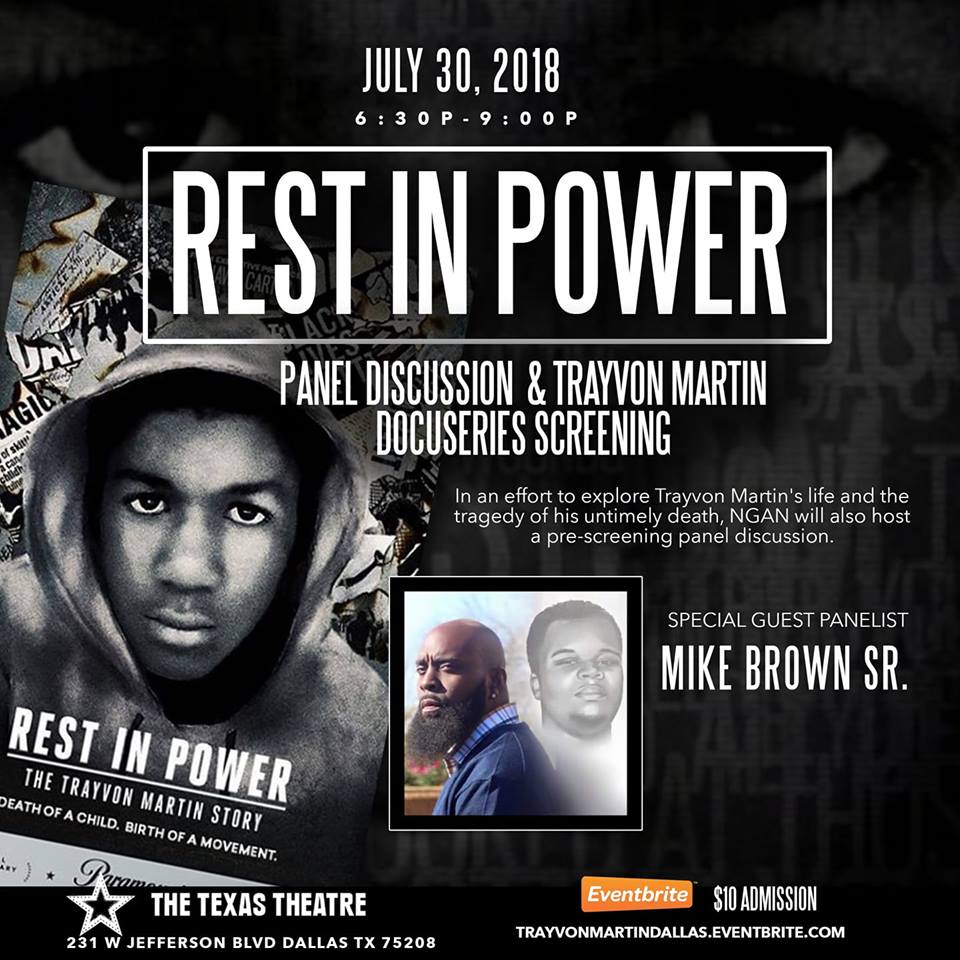 What to expect...
WHAT: NGAN panel discussion /Trayvon Martin Docuseries
WHEN:
July 30, 2018
, /
August 06, 2018
/
August 13, 2018
WHERE: Texas Theater - 231 W Jefferson Blvd Dallas TX 75208
Q: Where were you on the night of February 26, 2012?
If you were like most Americans, you may have been just settling in for the evening.
On this fateful night, a bright and capable teenager by the name of Trayvon Martin was brutally murdered at the hands of a self-proclaimed "neighborhood watchman". His only crime was "walking home while black" as it was soon discovered that he was a resident of this gated community in Sanford, Florida.
Anyone familiar with recent American history knows the name Trayvon Martin and how his life impacted the entire world. Join us as we host a discussion on his life and legacy before the actual screening of the series!