Description
**As of 4:30 PM EST tickets for Monday screening are available at the door only. First come first serve. Thanks for your support!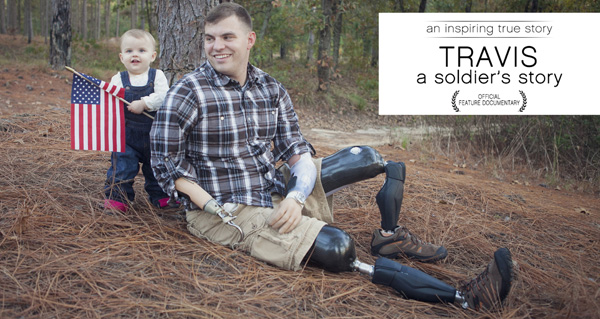 For two nights only, the inspiring documentary Travis: A Soldier's Story will screen for a special engagement at the Jane Pickens Theater & Event Center!
Travis: A Soldier's Story is a heartwarming documentary featuring the inspiring true story of United States Army Staff Sergeant Travis Mills of the 82nd Airborne. Travis lost portions of both arms and legs as the result of an IED (improvised explosive device) on April 10, 2012 while on patrol during his third tour of duty in Afghanistan. Travis is one of just five quadruple-amputees from the wars in Iraq and Afghanistan to survive such extensive injuries. Featuring powerful interviews and emotional reenactments from Travis and Kelsey Mills, and fellow soldiers who witnessed the events of April 10th, Travis: A Soldier's Story is an intimate look into the life of a wounded solider as he faces the unimaginable physical and emotional challenges of this life-altering injury. Travis's story sheds light on the daily inward and outward struggles of our wounded veterans and the difficult rehabilitation processes they face. Travis's openness and incredible perseverance will challenge us to look at the way we deal with our own personal trials in life.
Learn more about the film at:
We would like to sincerely thank Jane Pickens Theater for supporting this wounded warrior!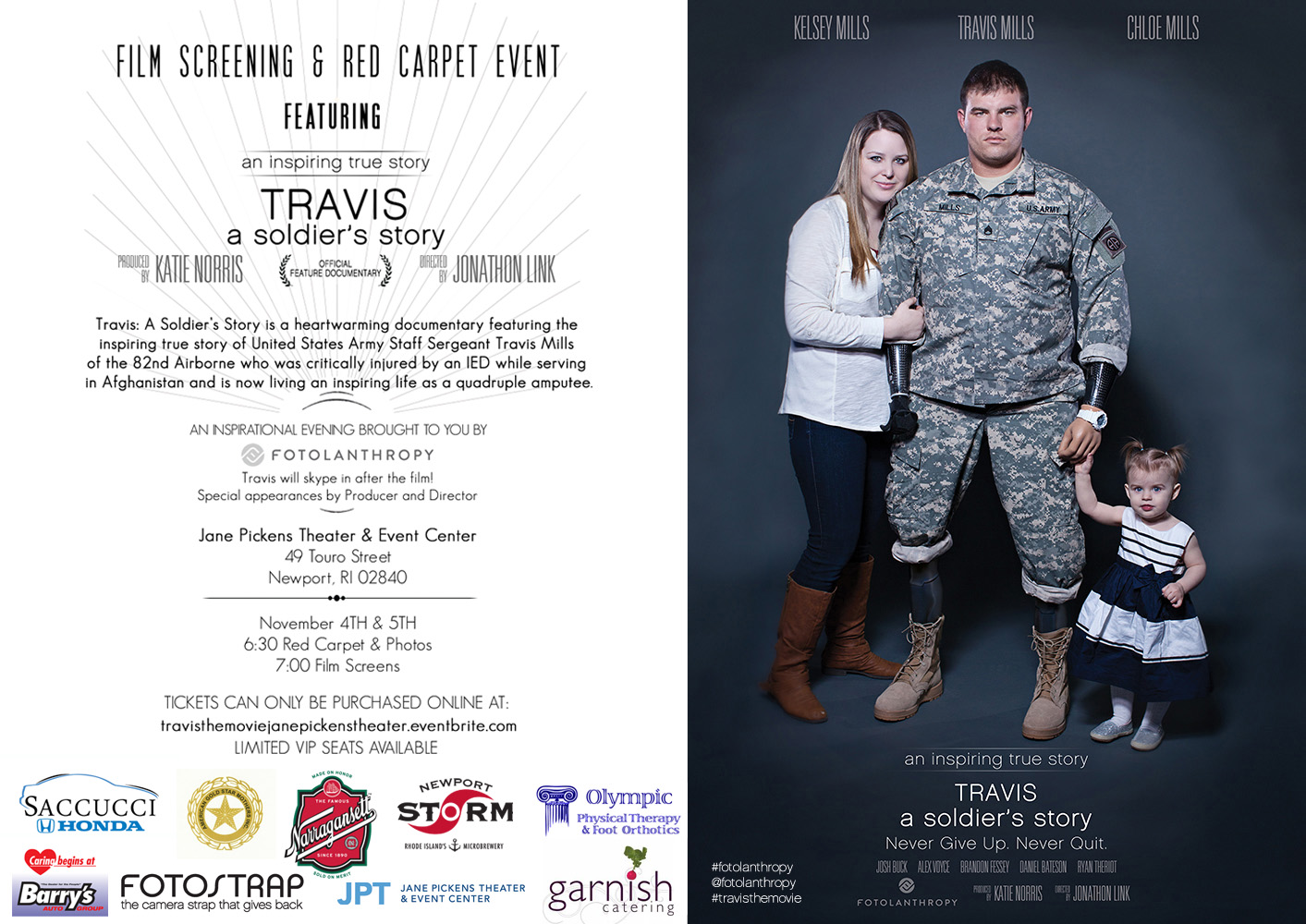 FAQs
When and where is the event
Jane Pickens Theater & Event Center
49 Touro St
Newport, RI 02840
November 4th at 6:30 PM
November 5th at 6:30 PM
What is the schedule of events?

6:30 Doors open, red carpet, cash bar and concessions available
7:00 - 7:15 Welcome, special tribute to Gold Star Mother's and 20 fallen soldiers of Rhode Island, singing of God Bless America, introduction of Producer and Director.
7:15 0 8:15 Film Screens
8:15 Travis will skype in after the film and greet the audience! The audience can participate in a Q&A with Travis, Producer and Director.
8:30 VIP reception on the stage with filmmakers to follow the film - Wine, beer and h'dourves to be served.
Do I have to bring my printed ticket to the event?
Yes, please bring your printed ticket to the event.
Can I buy a ticket at the door?
Yes!
How long is the documentary?
The documentary is approximately 60 minutes in length.
Is the event open to the public?
Yes! Feel free to invite others that will enjoy this inspiring story.
Do all guests get to walk the red carpet?
Yes! Make sure not to miss out walking the red carpet and getting a photo taken from this memorable night!
Will food and drinks be provided?
For general admission, a cash bar and concessions will be available. VIP guests will receive complimentary food and drinks at the VIP reception that will be after the film.
Will anyone from the film be in attendance?
Yes! The creators of the film (Producer, Katie Norris, and Director, Jon Link) will be in attendance! Travis Mills will be skyping into the event too!
Who benefits from the proceeds of the ticket sales?
Proceeds from the ticket sales go to the royalty owners which include Travis Mills and Fotolanthropy (a non-profit organization: www.fotolanthropy.com, creators of the film).
What is the suggested attire?
Cocktail and business dressy
Is there an age limit to enter the event?
The film is "PG," but due to the topic of this film, we do recommend that no children under the age of 13 attend the premiere.
Will the film continue to play at Jane Pickens Theater?
No, Travis: A Soldier's Story will only play for these two nights.
Where can I contact the organizer with any questions or press inquiries?
Feel free to email info@travisthemovie.com with any general questions or press inquiries.
Please email questions about the event to Michael Tobiassen to: tobiassengroup@gmail.com
Where can I get the latest updates?
https://www.facebook.com/travisthemovie
#travisthemovie
#fotolanthropy
@travisthemovie
Where can I find more information about Travis Mills?
Please visit www.travisthemovie.com and www.travismills.org.
Where can I purchase the DVD Travis: A Soldier's Story?
DVDs are not available for sale at this time.
Organizer of Travis: A Soldier's Story Red Carpet Film Screening Benefit