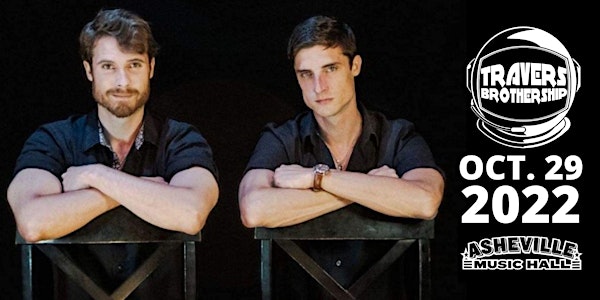 Travers Brothership + Pink Beds at Asheville Music Hall - POST BILLYSTRINGS
GA Tickets: $15.00 // Doors/Show: 10PM // 21+
When and where
Location
Asheville Music Hall 31 Patton Avenue Asheville, NC 28801
About this event
Travers Brothership
Twin Brothers. Singers. Songwriters. Multi-Instrumentalists. Old Souls. At the age of 28, Eric and Kyle Travers have been writing songs together and stunning live audiences for well over half their lifetime. Growing up in the small town of Black Mountain, North Carolina right outside of Asheville, the twins were inundated with music of all kinds from a young age.
Their father, and veteran of the east coast music scene, "Hurricane" Bob Travers, began teaching his sons how to play Blues and Rock music at the ripe age of 7. Papa Travers preached the importance of the blues, teaching them that it is the foundation of all American music. He taught Eric and Kyle how to play, sing, and write with emotion and feeling rather than focusing their musical education on sheet music, and it shows. His teachings still ring true in the brothers' music today, each note they play and sing is steeped in feeling and raw emotion. Together, they generate a unique and cohesive sound that is reminiscent of music made long before their time. Old souls indeed.
In 2012 the twins formed Travers Brothership, a Rock/Soul/Blues outfit based in Asheville, NC. Now the band has three full-length albums and nearly a thousand shows under its belt. The brothers' music has matured much like a fine wine does. Over time, they have perfected the art of blending their unique songwriting, brotherly vocal harmonies, and thrilling musical improvisation together into a concoction that truly puts them in a league of their own.
Travers Brothership, with the twins at the helm, has toured the United States and Europe tirelessly, and continues to be a staple of festival lineups in the U.S. They have opened up for and shared the stage with the very best; Dr. John, Taj Mahal, Gov't Mule, Billy Strings, Moe., J.J. Grey, Marcus King Band, and many more. Their albums and enthralling live performances have been praised by multiple accredited music publications, including mentions in Rolling Stone and Relix on numerous occasions.
"Travers Brothership ripped into seemingly every stage at FloydFest, with guitarist Kyle Travers displaying raw talent and six-string exploration in equal measure. Alongside his twin brother, drummer Eric Travers, the siblings revealed a mature sense of self. —Garret Woodward - Rolling Stone
Following the release of their second album, 'Let The World Decide', in 2019, Travers Brothership embarked on a tour consisting of 200+ shows, spanning nine countries. This tour, in addition to numerous previous tours, helped forge a dedicated following of fans that has become their extended family. At the start of 2020, the band had yet another massive tour planned that was subsequently cancelled due to COVID-19, giving the brothers time to regroup and refocus.
The Travers Twins have since decided to reunite and get back on the road. In May of 2022, they had their first show back with a new and improved lineup that now includes a horn section. They welcomed Karl Denson (The Rolling Stones, Lenny Kravitz, Slightly Stupid) as a member of their horn section for this first show back. The success of this show, combined with the joy the brothers felt while performing with this new lineup, has reignited Travers Brothership's creative fire. The twins are back at it, making and writing music together on a daily basis.
Travers Brothership has some festival appearances scheduled in the latter half of 2022, some of which they are headlining. The band also has a new album in the works. The release of this album will be followed by a national tour in 2023.
"There are hundreds of great bands aiming for the major leagues, but few of them bring such a complete package as Travers Brothership. In this horse race, I've found where I'm putting my money." — Brian Swnek - Home Grown Music Network
Pink Beds is a cerebral indie pop band formed in 2020 at the cusp of the initial lockdowns. Composed of four friends from Asheville, NC, they've cultivated a strong bond through a shared passion for lush soundscapes, artfully crafted tunes, and rhythms you can't help but be moved by. The mélange of dream pop, new wave, lounge, and disco aims to create an ethereal listening experience with a combination of low-end groove, velvety guitar, silky keys, gritty synth, and catchy melodies.
Pink Beds comprises Aaron Aiken (Vocals & Guitar), Jackson Van Horn (Keys & Guitar), Ryan Sargent (Drums & Percussion), and Logan Hall (Bass).
Making good use of isolation, the group combined their songwriting abilities and production chops to manifest a lush, warm, and evocative sonic environment with their December 2020 debut LP, All I Have. From tracking and production to mixing and mastering, each stage of the process was kept entirely within the group.
Since the release of this album, along with two singles in 2021, the band has grown into a vital act to catch in a live setting, bringing their laser-focus and authentically crafted songs to a multitude of different regions across the US. The essence of Pink Beds, like its namesake, should be enjoyed with your own senses and a group of good friends.
"What started out as a casual jam to entertain a keg party has morphed itself into one of the most intriguing new musical acts in Western North Carolina.
Aiken, a Brevard native, now fronts an Asheville group that stands at the intersection of indie rock, psychedelic folk and cerebral pop. It's a seamless blend, more so a vibrant flow, that harkens back to the sounds of early 2000s indie icons The Strokes and Keane, with a thick thread leading to the melodic camps of Tame Impala and Snow Patrol."
— Garret K. Woodward, Rolling Stone Contributing Writer