Pre-Event Mixer for 2022 Travel Events: Blackout Weekend and Memorial Day Getaway
About this event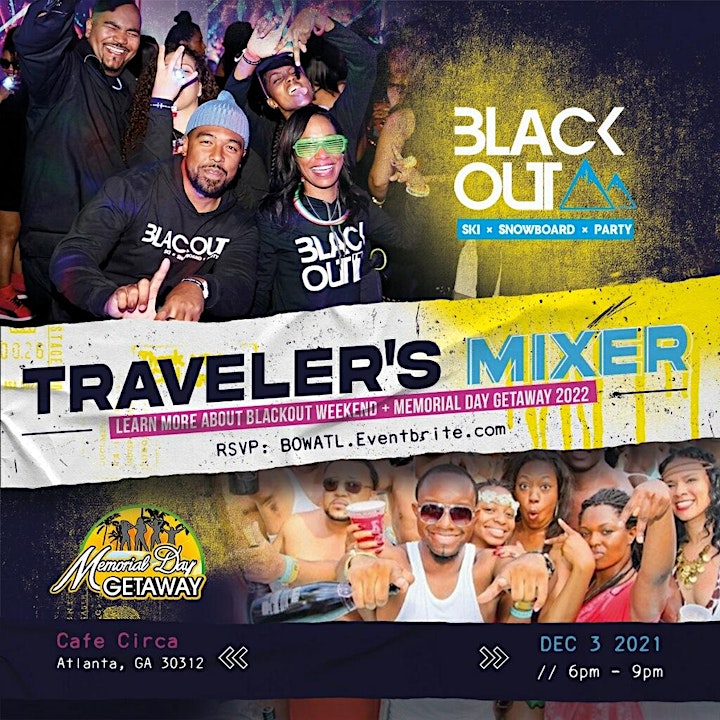 Looking to travel in 2022?
Meet the team from BlackOut Weekend Ski Trip and Memorial Day Getaway, Dominican Republic to get your questions answered!
What are the trips all about?
BlackOut Weekend March 2022 - Lake Tahoe CA/NV
Snow Ski & Board | Snowmobiles | Tubing | Casinos | Parties and more.
Memorial Day Getaway May 2022 - Dominican Republic
Al -Inclusive Resort | Beachs | Pool Parties | Casino | Excursions and more
--------------------------------
Pre-event Mixer!
DRINK // EAT//MINGLE
Join us at Café Circa Restaurant & Bar for drinks, bites, and networking.
CONNECT WITH OTHER TRIP ATTENDEES
Already planning to attend Blackout or MDG? Network with other attendees before you start packing your bags.
GOT QUESTIONS? GET ANSWERS!
Interested but nervous? Already coming but have more questions? Newly hearing about the trip? If you have questions we have answers - face to face.
-----------------------------------
BLACKOUT WEEKEND MARCH 10 - 13, 2022
Join over 500 professionals from around the country
3 Day and 4 Day Packages will be available
SKI + SNOWBOARD + PARTY + REPEAT!
We missed 2021 but, we'll be back for 2022. Blackout Weekend, now in its 6th year in Lake Tahoe, has been held as the ultimate snow adventure and offers young, snow sport-loving professionals the opportunity to ski or snowboard together by day and party by night. With a full schedule of parties, networking mixers, meet-ups, and daytime activities, even nonskiers will have a great time with our group!
See you there!
MEMORIAL DAY GETAWAY MAY 26-31, 2022
Join attendees from around the world in Puerto Plata, Dominican Republic.
"The Most Complete Getaway Experience In The Caribbean"
From 3 Days Up to 6 Days of Non-Stop Al-Inclusive Fun!!
All-Inclusive Resort
All On Resort Meals Included - 12 Restaurants
All Alcoholic Drinks On Resort Included - 35 Bars
Eat, Drink, and Play 24 Hours a day - 12 Pools, 2 Spas, 5 Beaches
This is for past attendees, future attendees, and those that are just curious.
COVID Notice
The venue will adhere to current covid mandates.
Organizer of Traveler's Mixer: Blackout Weekend & Memorial Day Getaway - Atlanta
West Coast Black Ski Weekend located in Lake Tahoe – Join urban professionals from across the country. Previously known as Mammoth BlackOut
This trip is open to ALL ADULTS: groups, singles, couples and friends. All are welcome - beginners, experts and non-skiers - believe us, there is plenty to do...Ski, Snowboard, Snowmobiles, Parties, Casinos, Tubing, Lessons and more.
Blackout@blackoutweekend.com or 323-929-7660