Description
Have you ever wanted to go on an adventure somewhere new like India but your friends couldn't go and you didn't want to travel there solo? Well, let's travel solo, together with Jennifer O'Brien to the Little India of NYC. Join Jennifer O'Brien and Canon at Foto Care where she will share her amazing stories of India and her travels while sharing ways to help you take your passion projects to the next level! Follow her and shoot a live model through Madison Sq Park and Little India of NYC. Get a feel of what it is like to photograph your travel experiences by tasting and indulging in Indian fare at Mughlai Indian Cuisine, smell the aromas of all the spices at Kalustyan's and shop the one-of-kind boutique for classic Indian style for the body, home and spirit.
Foto Care in collaboration with Canon and Photographer / Videographer Jennifer O'Brien (@thetravelwomen) are hosting an exclusive Instawalk event Thursday, June 21st from 12pm - 5pm. All participants will get to use a Canon EOS M50, EOS 80D or G1X Mark III during the walk. Canon specialists will be on hand to demonstrate the Canon EOS M50 and other Canon cameras. The store will be open for participants during the event. Raffles and give-aways throughout the event.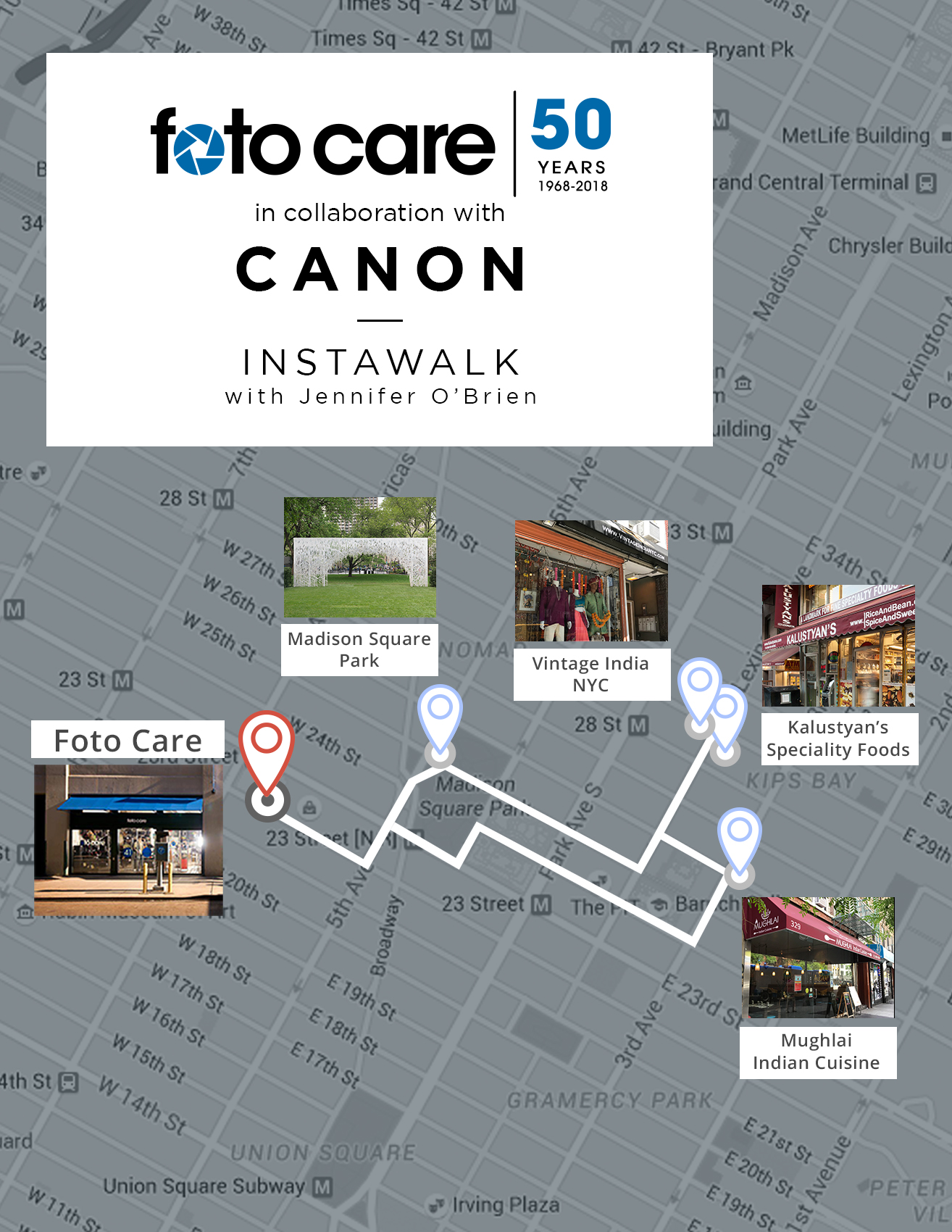 Lineup
12-12:45pm - Registration and equipment setup. Canon EQ showcase with Canon Tech Rep/s @ Foto Care - loaner cameras will be available. Feel free to bring your own camera to shoot.
1-1:30pm: Head out of Foto Care to Madison Sq Garden,cut through to 24th Street & Madison. Photograph model around the art installation at the central Oval Lawn: "Diana Al-Hadid: Delirious Matter".
2 - 3pm: Arrive at Mughlai Indian Cuisine at 329 3rd Ave. to enjoy a pre-fixed menu (no additional charge).
3 - 4pm: Walk around Little India, hit great stops along the way with fantastic and colorful photo opportunities.
4 - 5pm: Return back to Foto Care to drop-off Canon Loaner EQ.
Space is limited, so RSVP your spot now!