Description
Are you ready to have some Adult...KID FREE Fun in 2017????
The Travel Queen invites you to get locked in for your 2017 Adults Only Getaway TODAY!
We will fly to Punta Cana Dominican Republic July 20th and return home July 24th.
This is an Adults ONLY Property and it's all luxury!
You will NOT want to miss out, no matter if you decide to come along to meet some new friends, if you and your significant other would like to escape, or if you and your friends are in need for a GREAT time with adult friends!
It's costs ONLY $25per person per room to hold your space until December 19th! Once you have paid you will receive an email that will allow you to choose your room and payment for your group. Monthly & Bi-weekly payment options are available!
Deposits are $150 per person per room and are due by December 20th! Your room is NOT confirmed or booked until the $150 deposit per person is received.
There are monthly and bi-weekly payment plan options!
Breathless Punta Cana Resort and Spa is sexy, chic, modern, and absolutely a treat for anyone looking to have a great time!
For details contact the Travel Queen 1-800-398-8512 or email travelqueen4k@gmail.com
Proceed with HOLDING your space and you will then receive the form to select your room, pay your deposit, and get ready for an amazing time. PASSPORTS are required! If you need help with obtaining your passport the Travel Queen can help with that as well!
Room Categories and Pricing listed below. Pricing includes room accommodations, all meals, drinks, activities, airfare, roundtrip transfers, and insurance. Please NOTE there's a MAX of 3 guests per room!
ALL BREATHLESS PUNTA CANA GUEST ROOMS OFFER THE FOLLOWING:
§

A king or two double beds

§

Furnished balcony or terrace with Jacuzzi

§

Air conditioning with in-room climate control & ceiling fan

§

Nightly turn down service

§

Full bathroom with shower and double sink*

§

Hair dryer

§

Bathrobes and slippers

§

Gilchrist & Soames bath amenities

§

Direct dial telephone

§

Daily refreshed mini-bar with beer, soda, juice, water, soda

§

Flat screen cable TV with remote control

§

Coffee & tea maker

§

Electronic in-room safe

§

Iron and ironing board

§

Work desk

§

24-hour room service

§

Electronic key door locks

§

Complimentary wireless internet access


Allure Jr. Suite Tropical View
IAH Single $1888.23 , Double $1736.23, Triple $1732.23
DFW Single $2,012.49 / Double $1860.49 / Triple $1856.49
Payment 1 $150 / 5 payments starting at $347.66pp per month
In addition to the above amenities, the Allure Jr. Suite Tropical View also features stunning views of the lush tropical gardens that surround the resort from a private balcony or terrace. This room is decorated in a fresh and ultra-contemporary décor with a king or two double beds. These rooms are located on floors 1 – 3 on the outside of both buildings. Maximum Occupancy: 3 adults
Allure Jr. Suite Pool View
IAH Single $1924.23 / Double $1776.23 / Triple $1772.23
DFW Single $2048.49 / Double $1900.49 / Triple $1896.49
Payment 1 $150 / 5 payments starting at $354.85pp per month
In addition to the above amenities, the Allure Jr. Suite Pool View features views to the pool as well as the lush tropical gardens that surround the resort from a private balcony or terrace. These rooms are decorated in a fresh and ultra-contemporary décor and offer a king or two double beds. These rooms are located on floors 1 – 3 within the inside section of the buildings facing the pool. Maximum Occupancy: 3 adults
Allure Jr. Suite Partial Ocean View
IAH Single $2040.23 / Double $1892.23 / Triple $1884.23
DFW Single $2164.49 / Double $2016.49 / Triple $2008.49
Payment 1 $150 / 5 payments starting at $378.85pp per month
In addition to the above amenities, the Allure Jr. Suite Partial Ocean View features views to the ocean as well as the lush tropical gardens that surround the resort from a private balcony or terrace. These rooms are decorated in a fresh and ultra-contemporary décor and offer a king or two double beds. These rooms are located on floors 1 – 3 within the inside section of the buildings facing the ocean. Maximum Occupancy: 3 adults
Allure Jr. Suite Swim Up
IAH Single $2004.23 / Double $1852.23 / Triple $1848.23
DFW Single $2128.49 / Double $1976.49 / Triple $1972.49
Payment 1 $150 / 5 payments starting at $370.85pp per month
In addition to the above amenities, Allure Jr. Suite Swim Up feature lush tropical garden views, direct access to the main pool from their terrace, a king or two double beds and an ultra-contemporary décor. These rooms are located on the ground floor with direct access to the pool. Maximum Occupancy: 3 adults
Allure Jr. Suite Ocean View
IAH Single $2040.23 / Double $1892.23 / $1884.23
DFW Single $2164.49 / Double $2016.49 / Triple $2008.49
Payment 1 $150 / 5 payments starting at $378.04pp per month
In addition to the above amenities, the Allure Jr. Suite Ocean View features stunning views of the ocean from the privacy of your balcony. These rooms are decorated in a fresh and ultra-contemporary décor and offer a king or two double beds. These rooms are located on floors 2 and 3 floors within the inside section of the buildings. Maximum Occupancy: 3 adults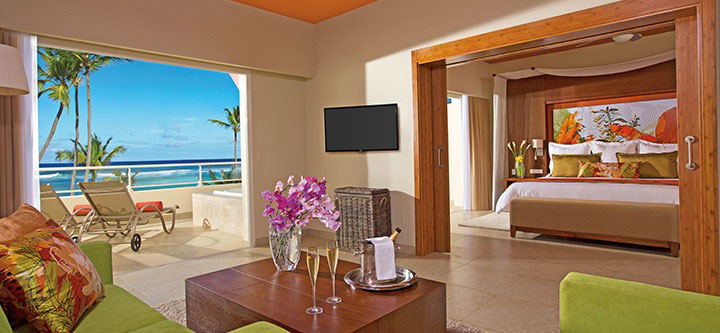 BREATHLESS PUNTA CANA XHALE CLUB ROOM CATEGORY DESCRIPTIONS
XHALE CLUB BENEFITS INCLUDE:
§ Personalized check-in and check-out with concierge service
§ xhale status and amenities
§ Two private xhale club lounges
§ Two private xhale club pools
§ Upgraded bath amenities
§ Pillow menu
§ Radio alarm clock
§ Complimentary computer access in xhale club Lounges
§ Upgraded mini-bar and room service menu
§ Daily continental breakfast service in the lounges
§ Pool concierge & bar service
§ Afternoon hot and cold hors d'oeuvres; exquisite desserts & fine liquors in the lounges
§ Complimentary newspaper in room every day upon request
Private restaurant for xhale club members for breakfast and lunch
Xhale Club Jr. Suite Pool View
IAH Single $2192.23 / Double $2044.23 / Triple $2040.23
DFW Single $2316.49 / Double $2168.49 / Triple $2164.49
Payment 1 $150 / 5 payments starting at $408.00pp per month
In addition to the above amenities, the oversized xhale club Jr. Suite Pool View also features views of the pool as well as to the lush tropical gardens that surround the resort from a private balcony or terrace. These rooms are elegantly decorated in a fresh and ultra-contemporary style décor with a king or two double beds, and feature all the upgraded xhale club amenities. These rooms are located on floors 1 and 2 facing the pool. Maximum Occupancy: 3 adults
Xhale Club Jr. Suite Swim Up
IAH Single $2272.23 / Double $2120.23 / Triple $2116.23
DFW Single $2396.49 / Double $2244.49 / Triple $2240.49
Payment 1 $150 / 5 payments starting at $424.45pp per month
In addition to the above amenities, the oversized xhale club Jr. Suite Swim Up features views of the lush tropical gardens that surround the resort as well as direct access to the pool from the terrace. These rooms are elegantly decorated in a fresh and ultra-contemporary style décor with a king or two double beds, and feature all the upgraded xhale club amenities. These rooms are located on first floor facing the pool. Maximum Occupancy: 3 adults
Xhale Club Jr. Suite Ocean View
IAH Single $2308.23 / Double $2160.23 / Triple $2152.23
DFW Single $2432.49 / Double $2284.49 / Triple $2276.49
Payment 1 $150 / 5 payments starting at $431.65pp per month
In addition to the above amenities, the oversized xhale club Jr. Suite Ocean View also features stunning views of the Caribbean Sea and its pristine turquoise waters stretching to the horizon. These rooms are elegantly decorated in a fresh and ultra-contemporary style décor and offer a king or two double beds and feature all the upgraded xhale club amenities. These rooms are located 2 and 3 facing the ocean. Maximum Occupancy: 3 adults
Xhale Club Master Suite Ocean Front View
IAH Single $4028.23 / Double $2500.23 / Triple $2496.23
DFW Single $4152.49 / Double $2624.49 / Triple $2620.49
Payment 1 $150 / 5 payments starting at $775.65pp per month
In addition to the above amenities, the oversized xhale club Master Suite Ocean Front View offers picturesque ocean front views, a living area with sofa, separate bedroom with a king bed or double beds, a large terrace equipped with seating area, shower, sun lounger and bathtub with whirlpool as well as an oversized bathroom featuring two wardrobes, double sinks, rain shower and Jacuzzi. Additionally, the Master Suite offers a separate guest bathroom. These rooms are located on the front portion of both buildings with direct ocean views. Connecting rooms also available in this category Maximum Occupancy: 3 adults