Description
This is a Benefit Concert directed by Edwin Huizinga to bring together the various genres of youth music programs on the Monterey Pennisiula. Edwin is joined by his esteeemed colleagues and their students in a night of adventure through sound as we travel through the British Isles, the Balkan States, Russia, Old Time America, and classical pieces by Bach.
All benefit proceeds will go to the BSFC Scholarship Fund, providing the BSFC music camp experience for youth who could not otherwise afford to participate.
Students under 18 are invited to attend free of charge and encouraged bring their friends. Adults are asked to donate as much as they are able toward the Scholarship Fund, with a suggested donation of $30. Complimentary food for all and a "no host" Wine Tasting will be led by Big Sur Food and Wine during intermission for those over 21.
-------
OUR PERFORMERS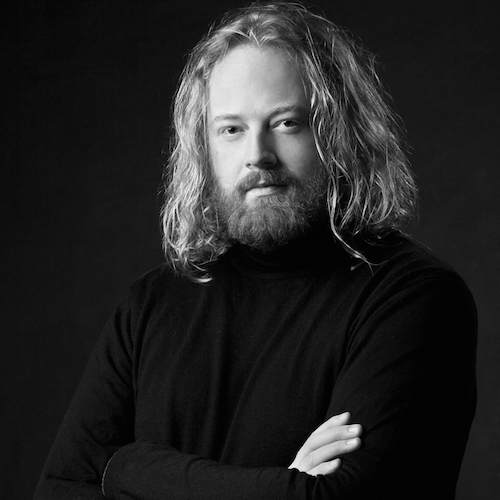 Edwin Huizinga, Violin
Canadian-born violinist Edwin Huizinga has established himself as one of North America's most versatile violinists. Edwin can be found on stage all over the world with ensembles such as Tafelmusik, The Knights NYC, A Far Cry, Brandywine Baroque, and more! This season marks Edwin's 10th season as a soloist at the Carmel Bach Festival, as well as his third season as the Artistic Director of the Big Sur Land Trust music camp for young teenagers. This season will also mark his second season as Artistic Director of a ground-breaking mixed-genre series featuring some of Toronto's biggest names in classical, indie rock, bluegrass and theatre called Stereo Live. This season, his New York City-based baroque band Acronym will be releasing their fourth album, featuring previously unrecorded sonatas from around the world. Edwin will also be recording his first solo album, an album with his folk-rock band the Wooden Sky, as well as an album with his duo Liquid Gold, with Grammy award-winning guitarist William Coulter.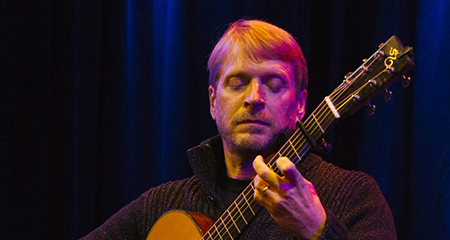 William Coulter, Guitar
William Coulter is an American Celtic guitarist, performer, recording artist, and teacher. Since 1981 he has explored the world of traditional music as a soloist with ensembles including Isle of Skye, Orison, and the Coulter-Phillips Ensemble. Coulter's love of traditional melody is framed by a classical sense of composition and realized with an impeccable and sensitive guitar technique. In 1980 he settled in Santa Cruz, California to study classical guitar. He earned his Bachelor of Arts from UCSC and a Master of Music degree from the San Francisco Conservatory. During his classical studies William was always drawn to traditional Celtic and American folk music, and continued playing steel-string guitar as a soloist and in bands. This led to a second Master's degree from UCSC, earned in 1994, in ethnomusicology with an emphasis on traditional Irish music, language and song.
With his extensive discography and history of acclaimed performances, Coulter continues to approach the music he makes on the guitar with an essential humility. He lets the music speak and sing for itself. He creates the impression that his music rises up from the curved wood and shining strings on its own spirited impulse, a song made by the wind rather than by frets and fingers.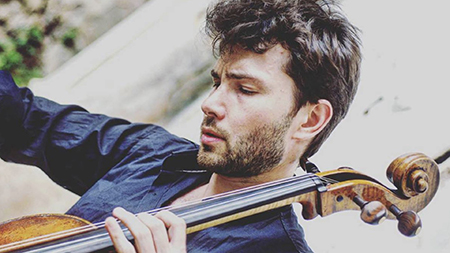 Georgy Gusev, Cello
Cellist Georgy Gusev is a graduate of the famed Moscow Tchaikovsky State Conservatory and Accademia Nazionale di Santa Cecilia in Rome. He performs at major music festivals and events worldwide with other musicians, singers, dancers, and performers including but not limited to Yo-Yo Ma, Natalia Gutman, Giovanni Sollima, Enrico Dindo, Rocco Filippini, Monika Leskovar, Andrey Gavrilov, and Boris Andrianov. He has also worked with several multi-Grammy Award winning composers, producers and performers such as Randy Jackson, Walter Afanasieff, Kenny G, and Kenny "Babyface" Edmonds. Georgy has taught in Gnessin Music School of Moscow (Russia), Accademia Praeneste of Rome (Italy) and Music Academy in Big Sur (USA)Georgy began his career with a series of compositions for solo cello entitled, Traveler's Diary that has been incorporated onto the music track for various shows produced by Russian television and Italian RAI as well as several films. His first solo project as a cellist and composer is the album Cello Drive, sponsored by Thomastik-Infeld Vienna and released by the UK label North2North in July 2016.
Georgy's Carnegie Hall debut in NYC as a cellist and composer took place on February 2, 2018. His new cycle of songs for lyric soprano and cello will be premiered at Carnegie Hall on May 30th of 2019.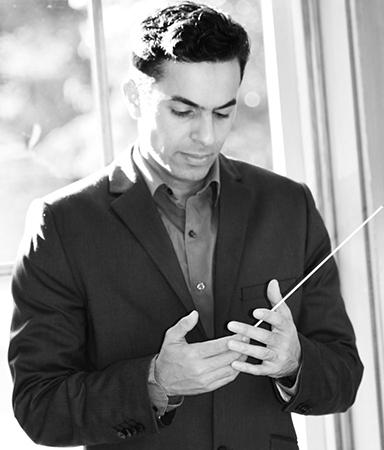 Farkhad Khudyev
Described by the critics as a "magician on the podium", with "the ability to connect with invisible worlds and to bring them alive in the music", Farkhad Khudyev has been recognized by the government of the United States as an Artist of Extraordinary Ability. Farkhad was born in Ashgabat, Turkmenistan, where he first studied violin, piano and composition at the State Music School for gifted musicians. In 2001, he came to the United States to study at Interlochen Arts Academy and then completed his Bachelor of Music degree at the Oberlin Conservatory. He received his Master's degree in orchestral conducting from Yale University. During the 2018-19 Season, Mr. Khudyev will make his debut with the Seattle Symphony and work with the Dallas Symphony, as well as return to conduct China's Xi'an Symphony Orchestra. Currently, Mr. Khudyev serves as the Music Director of the Hidden Valley Orchestra Institute and Youth Music Monterey County in California and resides in Monterey, where he enjoys spending time with his family and in nature.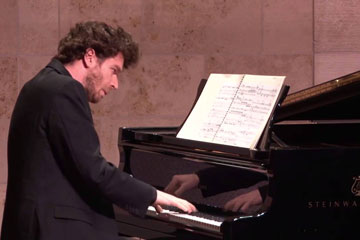 Ian Scarfe, Piano
Pianist Ian Scarfe is a graduate of Willamette University (2005, BM Piano Performance) and San Francisco Conservatory of Music (2008, MM Piano Performance, 2010, Artist's Certificate in Chamber Music). Ian is Founder and Director of Trinity Alps Chamber Music Festival and is a regular performer at Telluride Chamber Music Festival, Fairbanks Summer Arts Festival, Astoria Music Festival, International Festival Viana, and Zephyr Chamber Music Festival. Ian is currently staff accompanist and coach at San Francisco Conservatory of Music in California.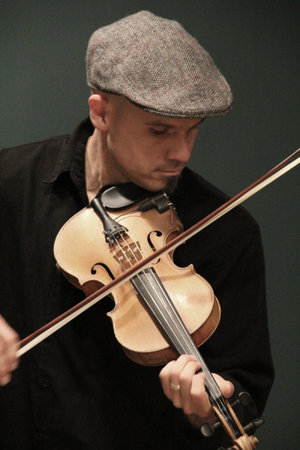 John Weed, Violin
The fiddler for Molly's Revenge, Story Road, and Little Black Train, John Weed is a classically-trained violinist who's spent the last 20 years immersed in various fiddle styles. John lived in Ireland in 2000 and taught fiddle workshops at the Flowing Tide International Music School in Doonbeg, County Clare. He has honed his skills since, attending the Frankie Kennedy Winter School in Dunlewey, County Donegal where he studied with Ciaran O'Maonaigh and Dermot Mcloughlin. With an affinity for American fiddle styles, John explores the connections between Irish, Scottish, and old time fiddle. Members of John's Celtoid Fiddlers will join him onstage for part of the March 28 show.