Description
Head to Dirtybird Campout the easy way! See below for our travel friendly offerings to support all campers coming to site and sleeping comfortably. Please be advised, this event is 21+
**Select More Info under any ticket type above for specific package details related to the package.
Camp Bus
Need a ride to or from the Campout? Hop on board the Camp Bus and travel to the festival with your fellow campers! Buses will be driving to the festival roundtrip from Orlando to make it super easy for those flying in! Exact bus departure locations are to be announced, but will be close and easily accessible from the airports. **The Miami buses have been cancelled, please fly into Orlando only!
The Camp Bus is available for Early Arrival pass holders as well as General Admission campers. All buses are priced roundtrip. Campout is not responsible for missed flights and tere are no refunds for missed buses.
All You Need Tent Kit
Camping made easy! We'll bring the camp gear so you don't have to! The All You Need Tent Kits include the basic necesseities for a quick and portable camp site. All tent kits are pre-order only and are meant to be picked up at the on site box office before heading to the general campgrounds. Take your kit, set up where you wish, and go have fun! At the end of the event, a refund of $25 will be awarded to those that turn in their camp gear as they received it. If you would like to keep the camp gear for yourself, go ahead and enjoy! One person tent kits include one 9x7 tent, one sleeping bag, one twin air mattress, and one small pillow. Two person tent kits include one 9x7 tent, two sleeping bags, two twin air mattresses, and two small pillows. Drop off location post event TBA. All returned camp gear will go to a local Florida charity, BASE Camp, which provides campout experiences throughout the year for kids affected by cancer; patients and their siblings. For more information on BASE Camp and their programs, please visit www.basecamp.org
The Glades Getaway Package

Take the hassle out of camping and let us do the dirty work for you with our luxurious Glades Getaway camping packages! Whether you're a not-so-campy camper, flying in from out of town, or just looking to treat yourself, our Glades Getaway packages will help you transition smoothly into your festival home away from home with comfortable accommodations and amenities waiting for you upon arrival.
All guests will be greeted at the on-site box office for check in and directed to the campground where your luxury tent will be set up. Unload like a pro and take advantage of The Glades' nearby parking, communal lounge, bathrooms, and other perks, accessed only by The Glades' guests. This is the perfect opportunity to take a break and treat yourself to some extra time and energy that you can put towards the first ever Dirtybird Campout East!
As they say... Camping is fun, but with Glamping you've won.
All tents are priced per tent, not per person. Festival tickets are not included in package price. For those that purchase early arrival tickets, The Glades will open on Thursday Feb 1. For General Admission ticket buyers, The Glades will open on Friday Feb 2. All guests must check out by 12noon on Monday Feb 5. No car camping or additional tent set ups are allowed inside The Glades. A security deposit of $250 per tent will be charged at check in and released after check out. The Glades Getaway residents are offered 2 visitor wristbands for friends to visit during daytime hours.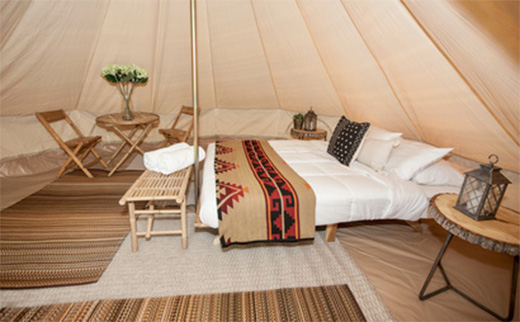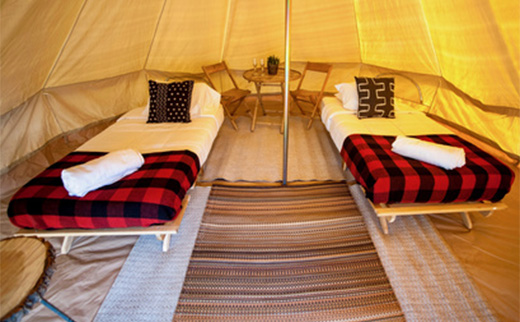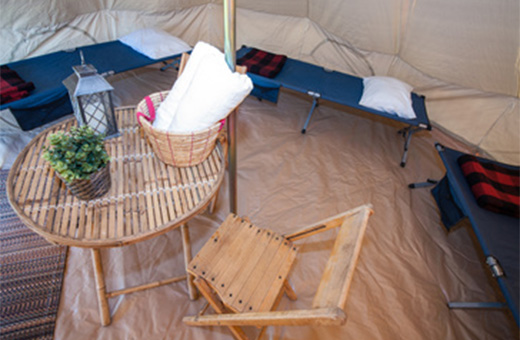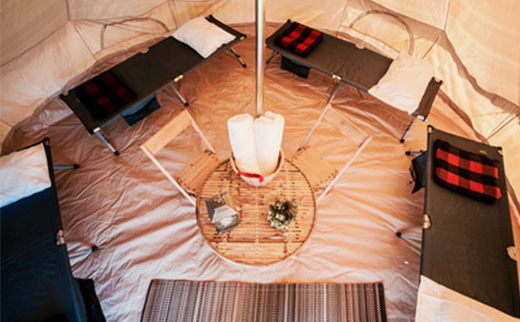 For more information on camping packages please email camping@thedolab.com
---
Check out our new Experience Packages with bundled tickets & add-ons to make the buying process easy. Purchase as a group of 4 and save 15%. Access them here: http://east.dirtybirdcampout.com/experience-packages/
Take a look at the FAQ for answers about what to bring and how to have a great time at the first annual Dirtybird Campout East!
21+ - Sorry kids, no one under 21 is allowed to attend Dirtybird Campout.
Cars at Campout: Every vehicle coming to Dirtybird Campout (except bicycles and motorcycles) must purchase a Car Pass or RV pass to enter the festival. Car passes are needed per car, not per every person in the car.
No Parking - There is no parking available onsite or around the venue.
RV Camping - RV Passes ALWAYS sell out FIRST - Don't delay!
2 Types of RV Passes- Our RV Passes are broken down into two different categories this year - Short and long!

RV Camping Pass with No Hookups - Short (less than 27')
RV Camping Pass with No Hookups - Long (more than 27')
Where is the East Coast venue located?
Our new home for Dirtybird Campout is a genuine campground and a picturesque paradise in St. Cloud, Florida.
Address:
Forever Florida
4755 North Kenansville Road
St. Cloud, FL 34773
Will there still be payment plans?
Easy monthly payment plans will be available with any Dirtybird Campout ticket purchase, not just your Weekend Festival Pass! Just select "Affirm" in the payment method drop down menu (instead of a credit/debit card) during checkout. The green 'PAY NOW' button will change to a green 'CONTINUE WITH AFFIRM' button and you will be able to pick from a three- or six- month installment plan.
Can I camp with my car?
Yes! In fact, everyone that brings a vehicle to Dirtybird Campout will be able to camp next to their vehicle. There will be no additional parking lots in or around the venue. For this reason, ALL attendees with vehicles entering Dirtybird Campout (except bicycles and motorcycles) must purchase a Car or RV Camping Pass in addition to their festival ticket.
Do I need to purchase a pass for my vehicle or RV?
Yes, ALL vehicles entering Dirtybird Campout (except bicycles and motorcycles) must purchase a Car Pass in addition to their festival ticket. Vehicle Passes will allow you to camp with your vehicle inside the campgrounds.
RV's and vehicles with trailers will need to purchase an RV Camping Pass instead of a Vehicle Pass. There are no additional parking options available inside or around the venue!
I'm coming from out of town. What airport do I fly to?
The 4 closest major airports are Orlando (MCO, 40mi), Tampa (TPA, 115mi), Fort Lauderdale (FFL, 165mi) and Miami International (MIA, 182mi).
You can hitch a ride to Dirtybird Campout on the Camp Bus from Orlando and Miami airports. Tickets will be available to purchase during the Earlybird Onsale on 11/4.
What are my transportation options getting to the event if I don't have a car?
There are Camp Bus tickets available for purchase offering round-trip transportation from Orlando Airport or Miami to the event. Exact times and locations for the Camp Buses will be released with general onsale information.
What if it rains?
Dirtybird Campout is a rain or shine event, no refunds. The music, games and fun will go on! If the weather reports predict rain or if you want to be extra cautious, we recommend coming prepared with extra shoes, trash bags, raincoats, tarps, and extra stakes to secure your tent. A little mud never hurt nobody!
Will there be work-exchange at this year's Campout?
Counselor in Training applications will be available soon. To get updates, sign up for our newsletter.
What is the refund policy?
All sales are final. There are no refunds or exchanges.
Is my ticket transferable?
There are no refunds on tickets, but you can transfer them if you are unable to attend. Please review Eventbrite's How to Update Your Ticket Information Tutorial HERE for details on how to do this.
I want to get the right supplies for the weekend what do you recommend bringing??
Camping can be simple and basic or it can be a luxury experience depending on how you roll. We recommend the following basics: tent, shade for tent, sleeping bags and blankets, camp chairs, lanterns, folding tables, camp stove with kitchen supplies (pots, pans, cutting boards, knives, utensils, paper towels, dish soap, etc...), trash bags, food and drinks, sun block, bug spray, lip balm, good walking shoes, fun lights for camp at night time, flags and other identifiable objects so you can find your camp, and anything else fun you can think of.
What can/can't I bring to the event??
You cannot bring weapons, sound systems, propane stoves / lanterns, kegs or large quantities of alcohol into the event. These will be strictly enforced.
You can bring blankets, toys and games to play with, lots of friends and good attitudes. Get ready to have some fun!