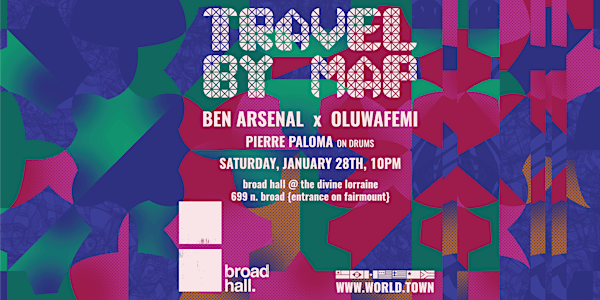 Travel By Map at Broad Hall - Sat. 1/28 w. Ben Arsenal and Oluwafemi
Worldtown's dance floors have been on fire where the convergence of PHILLYs diverse beauty shines. Bring your higher self and Travel by Map
When and where
Location
broad hall. 699 North Broad Street Philadelphia, PA 19123
About this event
Worldtown's dance floors have been on fire where the convergence of PHILLYs diverse beauty shines. Bring your higher self and Travel by Map to Broad Hall >>
Radical self expression encouraged : find inspiration in from whichever map you choose celebrating global culture ❤
Worldtown Co-founders Ben Arsenal & Oluwafemi are joined by and resident percussionist Pierre Paloma to light up the dancefloor. We will navigate the global terrain supplying the vibes from north south east and west. Expect drum driven beats, soulful graces, and bottom heavy basslines in personally selected mixes.
21+
Free entry all night with apparel or accessory purchase receipt from our new store from 12/7-12/17
Free before 11pm with Eventbrite RSVP,
$10 entry after 11pm with Eventbrite RSVP
$15 Without Eventbrite RSVP
We enforce a zero tolerance harassment policy- no means no, only 'hell yeah' means yes. People of all backgrounds are celebrated and encouraged to be their divine selves. Please stay at home if you do not want to participate in a unifying celebration of diverse cultures.