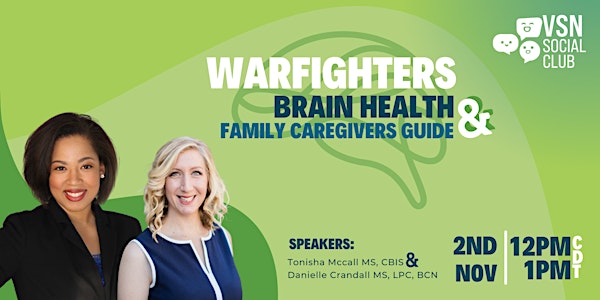 Traumatic Brain Injury (TBI) Warfighter Brain Health/Family Caregiver
Join presenters from the Traumatic Brain Injury Center of Excellence for a presentation/conversation on TBI for military/veteran families.
About this event
The nature of modern warfare has led too many of our service members and veterans to return home with traumatic brain injuries (TBI). This medical diagnosis can be complex and layered, and symptoms can be mild to severe. This can make getting a diagnosis and proper treatment, and navigating the impacts of TBI on relationships and family life, challenging, to say the least.
As the loved ones of a service member or veteran, we may take on a caregiver role, or simply just want to better understand how to support our loved one in navigating TBI, and how to care for ourselves amidst the challenges it can bring. We are excited to welcome Danielle Crandall and Toni McCall from the Traumatic Brain Injury Center of Excellence (TBICoE) to lead a presentation and conversation about the science of TBI in the military and veteran community, as well as how caregivers and family members can support both their loved one AND themselves as they navigate life with TBI.
Join us for this special presentation on Wednesday, November 2nd from 12:00-1:00 pm CDT to learn, ask questions, as well as discuss your family's support needs, and receive resources.
Learn about our presenters:
Toni MS, CBIS is a Certified Brain Injury Specialist with extensive experience in providing health education services in both military and civilian healthcare settings.
Danielle Crandall MS, LPC, BCN, is a licensed professional counselor with experience in Neurotherapy, play therapy, and animal-assisted therapy. Danielle is the Regional Education Coordinator for central Texas and El Paso. 
To be eligible for this group you must be the spouse, partner, or family member of a post-service veteran or active duty service member. This chat is also open to anyone divorced or widowed from a service member or veteran.
Eligibility for our Virtual Social Clubs varies by session, so please check our Eventbrite page to see other social clubs that may interest you.
Once registered, you will be emailed a Zoom invite to join via computer, tablet, or phone. You will also be able to access the Zoom information by viewing the event's Online Event Page. The Online Event Page can be accessed by clicking the "View the event" button in your order confirmation email, OR by selecting the "Access this event" button on the right-hand side of this page.