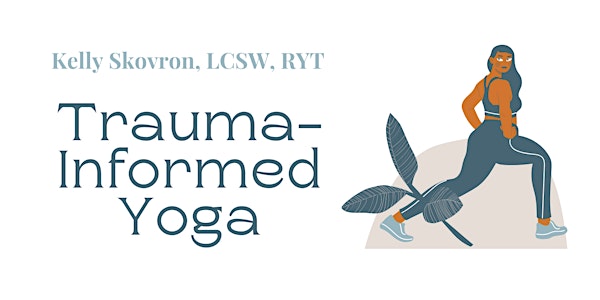 Trauma-Informed Yoga
Trauma-informed yoga with a licensed therapist and yoga teacher.
Refund Policy
Contact the organizer to request a refund.
Eventbrite's fee is nonrefundable.
About this event
Hi, I'm Kelly, a licensed therapist and trauma-informed yoga teacher. My goal is to empower survivors of trauma and those with mental health concerns to feel at home in their bodies through trauma-informed yoga.
I believe that mental health is both mind and body-based. I consider having a connected relationship with your body where you feel safe from the inside out to be of the utmost importance. Yoga can help you achieve that. Yoga is more than physical movement. It's a philosophy that fosters connection to your true self so you can experience more peace. This ancient practice is an embodied experience that can help create the harmony and healing that trauma or mental health concerns might have taken from you.
What you can expect from trauma-informed yoga is: a connection of breath to movement, complete autonomy and choice, trauma-sensitive language, inclusion of all people and levels, and a defocus on perfectionism, ableism, and cookie-cutter yoga.
-----------------------
Who?
I am a 200-hour certified Yoga teacher and Licensed Clinical Social Worker (NY/NJ). I specialize in treating trauma survivors and find no greater joy than witnessing survivors reconnect with their inherent power. There are many paths on this journey, and I invite you to explore if trauma-informed yoga is a supportive path for you.
Want to work together 1:1? Check out my website for more information: https://www.counselingkelly.com/
What?
Trauma-informed yoga is less about how poses are executed and more about the feeling of embodiment (being within your body) within a pose. Establishing presence and finding a sense of grounding can help you connect to your mind and body in a way that feels secure.
Trauma-informed yoga can help you to: increase body awareness in a safe and controlled way - which can promote feelings of physical, emotional, and psychological safety, address nervous system dysregulation, dissociation, and feelings of disconnection from the body or surroundings - which are common after experiencing trauma and to work through body-based trauma symptoms that are held in the hips, shoulders, back, neck, stomach, chest, and more.
Where?
To attend: Register at: https://www.eventbrite.com/e/373772863697
Email: info@counselingkelly.com
When?
Monthly on Tuesday evenings
6pm to 7pm EST
Online via Zoom
$5 or pay what you can