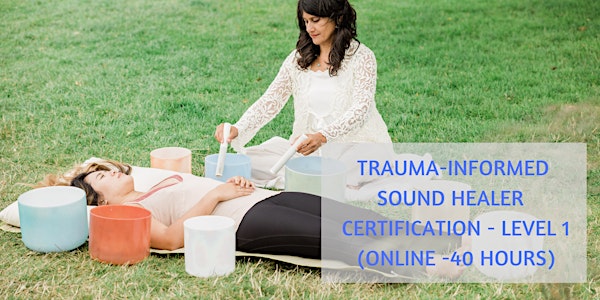 Trauma-Informed Sound Healing Practitioner Certification-Level 1 (40 hours)
This program equips health/wellness practitioners to offer Sound Healing to clients and communities with trauma so they can heal and thrive.
About this event
This program equips health/wellness practitioners, therapists, treatment center staff, community and social justice leaders to provide therapeutic Sound Healing to clients and communities with trauma, so they may heal and thrive.
WHO IS THIS TRAINING FOR?
This training program is for the health/wellness practitioner or social justice leader who is seeking a mind-body-spirit healing modality to empower their clients and communities to heal from trauma and thrive.
You want to learn and understand how sound can be used as a therapeutic modality and have hands-on practice so you can offer sound healing to your clients
You want to have a strong understanding of how trauma impacts the brain, body, mind, and spirit, and its associated conditions such as anxiety, depression, stress, negative moods and thought patterns, dissociation, and soul loss.
You want to develop your sensitivity to working with clients with trauma
You want to begin a healing career or integrate an alternative medicine modality into your existing one so you can expand your current services
You enjoy music, crystals, or energy healing
You are a musician who wants to learn how to use music and sound to heal
You want an effective, powerful, and enjoyable healing and self-care practice for yourself
THIS PROGRAM EQUIPS YOU TO OFFER YOUR CLIENTS:
Mind-body-spirit healing
Deep relaxation and restoration of their body -- their nervous, immune and every physical system
An enjoyable modality that effortlessly enables them to get out of their mind and into their bodies
Regulate and release emotions and traumatic experiences
Shift negative thoughts, patterns, and beliefs to positive ones
Facilitate healing and breakthroughs
Build resilience, cohesion, mindfulness, and agency
Increase self-worth, self-esteem, personal power, clarity, and inspiration
Connect with their truth and power
Access inner peace, joy, intuition, creativity, and wisdom
Shift from victim to thriver mindset
Tap into their intuition and inner guidance
Believe in themselves
Become empowered in their lives, relationships, and work so they can thrive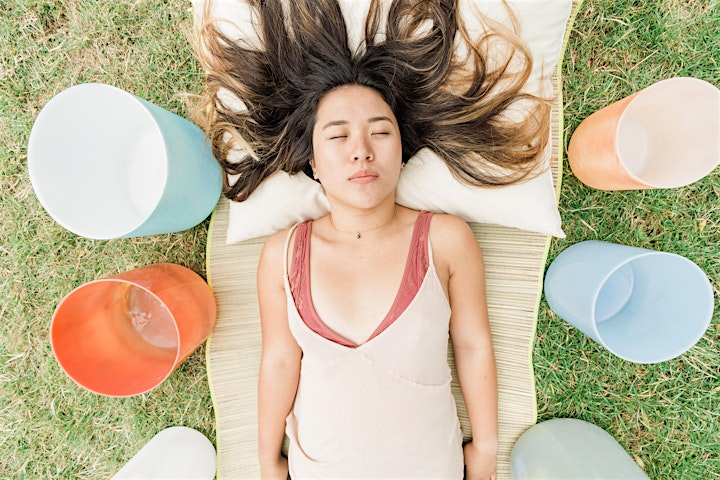 ABOUT THE PROGRAM:
The Trauma-Informed Sound Healing Practitioner (Level 1) Program's foundations are in:
Current trauma and sound research, including neuroscience and mindfulness
Energy, vibrational, Eastern, and spiritual medicine
Indigenous, ancient, and spiritual knowledge
WHAT YOU WILL LEARN:
Sound Healing from therapeutic, scientific, and musical perspectives
The science, principles, and benefits of sound, breath, rhythm, and crystals, and how they effectively treat the body, mind, emotions, and energy field
How to use sound as a therapeutic modality to work with trauma on a cellular level
A Practitioner-level understanding about trauma
Develop your sensitivity to work with clients and communities with trauma
How to create a safe, healing container
How to create and build a safe, trusted therapeutic relationship
Breath and rhythm practices
How to play Crystal Singing Bowls
How to give individual sound treatments and sound baths for groups (online as well!)
The Program is a combination of lecture, group discussion, hands-on practice, suggested readings, and group mentoring. You will learn to work with:
Breath
Drums and rhythm
Crystal Singing Bowls
LOGISTICS:
You don't need to be a musician to take this training.
PREPARATION:
You will receive the most from this training if you have:
At least 1-2 Crystal Singing Bowls. (They are available online and I also sell Crystal Singing Bowls from my online shop.
A drum for the Rhythm portion (2nd weekend).
DATES:
November 7-8, 2020
December 12-13, 2020
January 9-10, 2021
10am-5pm PST each day.
PAYMENT:
Payment plans are available. Contact Mytrae at mytrae@mytraemeliana.com to request a payment plan.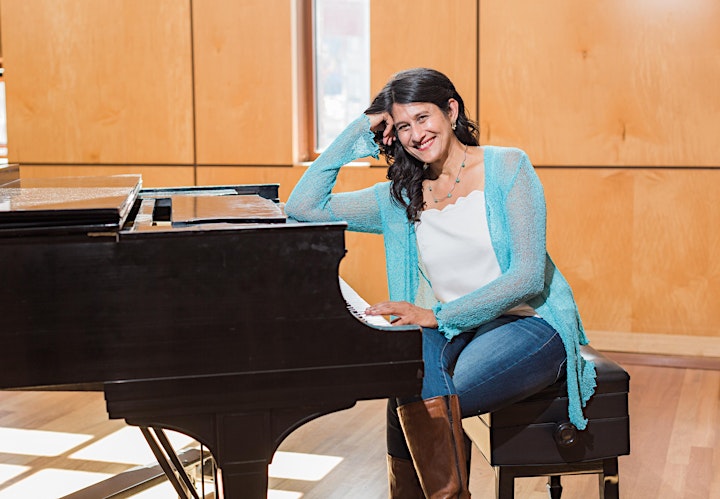 ABOUT MYTRAE MELIANA AND THE TEMPLE OF SOUND HEALING
Mytrae founded the Temple of Sound Healing to offer a cutting-edge health/wellness modality for:
people seeking holistic, complementary medicine
health/wellness professionals, organizations, treatment center staff, and community leaders who want to provide healing, transformation, and inspiration for their clients and communities.