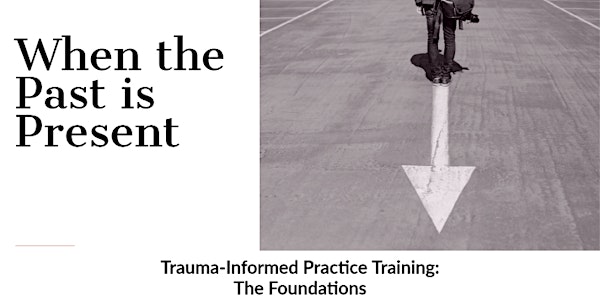 Trauma-Informed Practice Training: The Foundations
Trauma-Informed Practice Training for non-therapists
When and where
Date and time
Sunday, June 12, 2022 · 10am - 3:30pm PDT
Refund Policy
Refunds up to 7 days before event
Eventbrite's fee is nonrefundable.
About this event
WORKSHOP DETAILS:
DATE: Sunday June 12, 2022
TIME: 10:00AM am to 2:30PM PST (Vancouver BC time).
ONLINE ( Using Zoom. Participants will be sent Zoom link prior to the workshop start time)
This is a Foundational/introductory trauma-informed practice training workshop geared to non-therapists, and open to all. It is suitable for anyone interested in increasing their understanding of a growing body of trauma-informed knowledge and research.
Certificate of completion will be provided.
Background:
This strength-based introductory workshop, adapted from a series of Trauma-informed Practice trainings for health care professionals, provides an easy to understand, practical and useful understanding of these same key concepts for the general public. Psychoeducation is a critically important tool in trauma healing, increasing emotional awareness, increasing relational response-flexibility, and building resilience.
Inherent in the experience of psychological trauma are feelings of overwhelming helplessness, a profound lack of safety, uncertainty, and disconnection: whether it be from self, other and/or the world. Our nervous system has adaptively evolved to respond, often below the level of conscious awareness, to threats in the service of survival, and to interpret certain feelings, bodily sensations, experiences, and even feelings of isolation and disconnection, as a potential neurobiological threats. Research also shows a direct correlation between our levels of emotional dysregulation, with higher levels of 'threat bias'; impacting how we view and interpret the world around us. This in turn, can perpetuate the body's instinctive defense mechanisms, and cycles of dysregulation, often leading to ongoing suffering, and/or re-traumatization.
Much new information has been learned in the area of the neurobiology of trauma, and trauma healing, over the last two decades in particular. Increasing our understanding of trauma, and the body's natural defense mechanisms in the face of threat, both real and perceived are critically important components of healing, and building long term resilience.
This workshop is grounded in research, and focuses on understanding and providing practical, effective tools for healing emotional dysregulation, unresolved trauma, and emotional triggers. It will also provide tools for strengthening emotional self-awareness, and building psychological and emotional resilience.
The workshop is grounded in research, and informed by the work of experts including: Dr. Allan Abbass, Dr. John Briere, Dr. Steve Cole, Tara Brach, Dr. Susan David, Dr. Ale Duarte, Dr. Diana Fosha, Dr, Linda Graham, Dr. Chris Germer, Prune Harris, Dr. James Hollis, Dr. Julianne Holt-Lunstad , Dr. Donald Hoffman, Dr. Rick Hanson, Thomas Hubl, Dr. Bessel van der Kolk, Byron Katie, Dr. Peter Levine, Nick Ortner, Dr. Susan Pinker, Dr. Stephen Porges, Dr. Isabelle Mansuey, Dr. Monica McGoldrick, Dr Resmaa Menakem, Nick Ortner, Dr. David Richo, Dr. Allan Schore, Dr. Daniel Siegel, Dr. Diana Schiller, Dr Elizabeth Stanley, Jesse Thistle, and Dr. Michael Unger.
This workshop is suited to both personal and professional interest, and those working with individuals who are affected by childhood, intergenerational, complex, single-incident, environmental, collective, community, gender based or racialized trauma.
Certificate of Completion will be provided.
*Please note - if you would like to attend this workshop but are unable to due to experiencing financial hardship, please contact the organizer.
In this workshop you will learn:
The basics: What is trauma? How unresolved trauma can impact our view of self, other and world
What is meant by "trauma-informed practice" and how our understanding of psychological trauma has evolved
The basic neurobiology of trauma
Understanding the "human threat response"
Understanding the continuum between stress and trauma
What are: vicarious trauma, secondary trauma, compassion fatigue, moral injury and collective trauma.
The signs and symptoms of trauma
How traumatic memory is formed, and stored
Understanding implicit memory, and its role in the formation of trauma-based beliefs and emotional triggers.
How to avoid re-traumatization, and avoid re-triggering others
What is meant by our nervous system's "window of tolerance". How is it widened?
What is emotional resilience; what is vicarious resilience
Overview of the concept "neuroception"; and the role of the vagus nerve in emotional regulation.
What are emotional triggers? How they are formed, and healed
Triggers that could be associated with recent distressing news events, and the Cov19 pandemic ; tools for healing
How trauma-based beliefs are formed, and healed
Why we hold on to beliefs that keep us suffering
Resourcing and self regulation skills/tools.
Important components in trauma healing
An overview of therapies, tools, modalities, which are aligned with trauma-informed practice and facilitate the healing process. What to look for when seeking a trauma therapist
Somatic and expressive arts methods recently developed to heal trauma
What is Intergenerational trauma and new research re: healing epigenetic transmission.
What is meant by post traumatic growth, and how is it fostered?
Questions to ask which are specific to fostering post traumatic growth following the Covid19 pandemic.
FACILITATOR:
Trish Walsh BA, MTC
Trish is a Master Therapeutic Counsellor, Instructor, and workshop facilitator, located in Vancouver, British Columbia,  the traditional, ancestral, and unceded territory of the xʷməθkwəy̓əm (Musqueam), Skwxwú7mesh (Squamish), and Səl̓ílwətaʔ/Selilwitulh (Tsleil-Waututh) Nations.   From 2008 - 2016 Trish was the Executive Director of the InnerChange Foundation; a Canadian foundation with the mandate of increasing funding, education and awareness in the area of addiction and concurrent disorders.  In Trish's clinical practice her focus and training are in the area of Transpersonal Psychology, which integrates eastern philosophies within the framework of modern psychology.
Since 2016 Trish has focused on developing and facilitating strength-based trauma informed trainings for university students along with health and mental health professionals who working in the field, and who are interested in updating their knowledge and skills in the area of trauma healing.  Trish also provides trauma-informed, and resilience-informed, trainings and workshops on healing intergenerational trauma, collective trauma, compassion fatigue, secondary trauma and moral injury, to front line workers, school teachers/ administrators, organizations, and the general public.
In addition to Trish's counselling practice, her work over the last 20 years has focused on knowledge translation: specifically, conveying research findings in medicine and mental health care to government decision makers, physicians, mental health professionals, allied health care providers, along with corporations, community groups and the general public. She has also consulted for several organizations to bring health information to their staff, stakeholders, and the general public. Trish has a particular passion for conveying research information in an engaging and easy to understand way, aiding decision makers in their funding and public policy decisions, and helping individuals to learn practical strategies for better health, happiness, and personal success. 
Trish also provides training in Trauma-Informed Coaching and Transpersonal Coaching, for professional coaches.
For more info please see: www.trishwalsh.ca