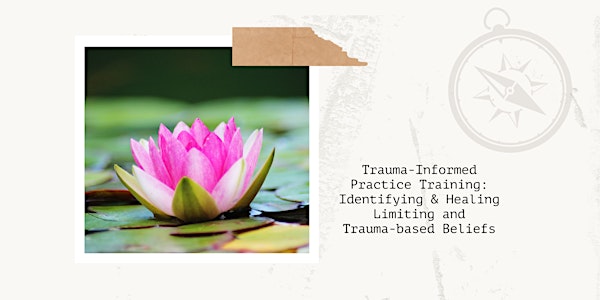 Trauma-Informed Practice Training: Healing Limiting & Trauma-based Beliefs
A deeper dive into identifying and healing limiting & trauma-based beliefs, and building internal & external resourcing tools.
When and where
Location
Central Vancouver location 2215 Wesbrook Mall Vancouver, BC V6T 1Z3 Canada
Refund Policy
Contact the organizer to request a refund.
Eventbrite's fee is nonrefundable.
About this event
Please note that this is an in-person, experiential group workshop; and it is limited to a maximum of 16 participants.
For additional dates for this training in 2023, please see: Trauma-Informed & Resiliency-Informed Practice Trainings
WORKSHOP DETAILS:
DATE: Sunday, April 16, 2023
TIME: 10:00AM am to 5:00PM PST
VENUE: UBC, or a central Vancouver location. Venue confirmed shortly.
This new workshop has been developed in response requests for additional learning tools and processes to help correctly identify and heal limiting, and trauma-based beliefs. This workshop combines both experiential and cognitive insight approaches, and focuses on providing internal and external resourcing tools which you can use for personal healing, and/or therapy clients.
In this workshop participants will review how limiting and trauma-based beliefs are formed and the role of explicit, implicit and somatic memory and transgenerational trauma. Participants will have opportunities to identify and work with beliefs on an experiential level to facilitate healing, and identify their unique internal resiliency tools. This workshop integrates various modalities such as Somatic Experiencing, mini-systemic constellations, and several relational and body-centered group, dyadic and individual approaches.
Learning outcomes include:
1. How trauma-based and limiting beliefs are formed and the role of explicit and implicit memory
2. How a belief can become our unconscious script through life, and why we will have varying degrees of understanding this belief (s).
3. Understand how we can pay allegiances to unconscious beliefs and patterns which served an adaptive function in our family system. How these beliefs are often not just our own and stem from family, culture, epigenetics, often repeating it in our daily lives often without even knowing its origin
4. Experiential, relational, and body-centered practices to help identify your limiting beliefs and unique defense patterns
5. Understanding the relationship between self-regulation and co-regulation
6. Understand/strengthen the skills of attunement and co-regulation using relational and body-centered tools.
7. Learn internal and external resourcing tools for healing trauma and trauma-based beliefs (group, dyadic, and individual tools)
8. Identify your unique internal resiliency tools
Facilitators:
Angela Baff, BApSc (ME), BSc(OT), MTC, RCS
Angela is counselling therapist in private practice in Vancouver BC, as well as a registered counselling supervisor. She also holds a BApSc (Mechanical Engineering), and a BSc (Occupational Therapy) a 28 year OT career which she has recently retired from. Angela has been an instructor, workshop facilitator and public speaker with a counselling training and personal growth organization called Clearmind International since 2005 and continues to facilitate their Awakening workshops. She values and cherishes the transformation that occurs when people step into all aspects of themselves. Her belief is that we are all on this journey together and her own work and learning is never done.
Angela has additional training in Accelerated Experiential Dynamic Psychotherapy (AEDP), Systemic Family Constellations, Inherited Family Trauma, Family Systems Theory, Emotional Focused Therapy, Motivational Interviewing, Dialectical Behaviour Therapy (DBT), Cognitive Behavioural Therapy (CBT), Transpersonal Psychology, Cathartic/Holotropic Breathwork instruction and facilitation, and Non-Violent Communication.
Angela was drawn to her own healing journey due to feeling empty in all parts of her life: work, intimate relationships, and friendships to name a few. She prided herself in being independent, smart and able to figure things out on her own. This emptiness was different, there was no book, no strategy, no "let's just put a smile on my face and move on" attitude; nothing was shifting this void no matter what she tried! She realized that all her strategies were keeping her safe but numb and it took being vulnerable and openly sharing with others to shift her inner world. It was a humbling, trusting and connective experience which infused her being with the truth that we are all connected, and that love exists. For her, love always felt elusive and 'out there', something she had to earn. Through the power of being vulnerable and open, Angela absolutely knows without a shadow of a doubt that love exists inside!! What a weird and wonderful fact!
She doesn't presume to know what love is, but its grace has knocked on her heart and she has followed the call to support others to find their own unique path to the joy and love that lives inside of them. She is determined and passionate in this pursuit. It's in diving off the edge into the unknown, into the scary, into the hidden that hones her skill to guide others into the depth of that territory. Angela leads with a gentle, accepting, and direct manner and has a deep reverence for our human dilemmas as it is the messy stuff of growth and healing.
She leaves you with a quote: "People will do anything, no matter how absurd, in order to avoid facing their own souls. One does not become enlightened by imagining figures of light, but by making the darkness conscious." – Carl Jung.
Trish Walsh BA, MTC
Trish Walsh, BA, MTC, is a Registered Master Therapeutic counsellor, instructor and workshop facilitator, located in Vancouver, British Columbia; the traditional, ancestral, and unceded territory of the xʷməθkwəy̓əm (Musqueam), Skwxwú7mesh (Squamish), and Səl̓ílwətaʔ/Selilwitulh (Tsleil-Waututh) Nations. From 2008 – 2016 Trish was the Executive Director of the InnerChange Foundation; a Canadian foundation with the mandate of increasing funding, education and awareness in the area of addiction and concurrent disorders.
Since 2017 Trish has focused on developing and facilitating strength-based trauma informed trainings, education and supervision, for counselling program students, along with health and mental health professionals already working in the field who are interested in updating their knowledge and skills in the area of trauma healing, and increasing relational resiliency. Since 2015 Trish has been a therapist in private practice and an instructor in a 3-year counselling accreditation training program. Trish provides trauma-informed, and resilience-informed, trainings and workshops on healing intergenerational trauma, collective trauma, compassion fatigue, secondary trauma, and moral injury, to front line workers, school teachers/school administrators, organizations, and the general public. Trish's growing focus from 2021 to the present are trainings to help strengthen individuals' relational-resiliency ("response-flexibility"), with the aim of helping to heal individual and collective/societal polarization.
In addition to Trish's counselling practice, her work over the last 20 years has focused on knowledge translation: specifically, conveying research findings in medicine and mental health care to government decision makers, and to physicians, mental health professionals, allied health care providers, along with corporations, community groups and the general public. She has also consulted for several organizations to bring health information to their staff, stakeholders, and the general public. Trish has a particular passion for conveying research information in an engaging and easy to understand way, aiding decision makers in their funding and public policy decisions, and helping individuals to learn practical strategies for better health, happiness, and personal success.
Trish also provides training in Trauma-Informed Coaching and Transpersonal Coaching, for professional coaches.
For more information please see: www.trishwalsh.ca