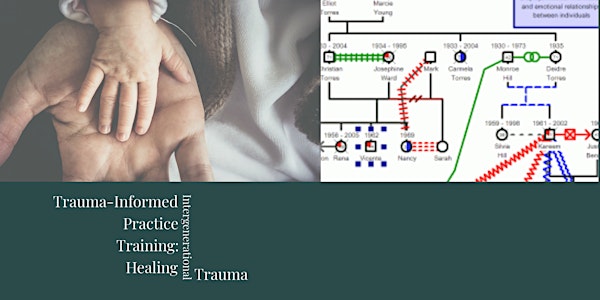 Trauma-Informed Practice Training: Healing Intergenerational Trauma
Trauma-Informed Practice Training (Advanced/for therapists and allied health practitioners): "Healing Intergenerational Trauma"
Refund Policy
Refunds up to 7 days before event
Eventbrite's fee is nonrefundable.
About this event
For additional dates for this workshop and more Trauma-Informed & Resiliency-Informed Practice Trainings, please see: Trauma-Informed Practice Trainings
BACKGROUND:
"Intergenerational ghosts of loss are hiding behind the symptoms of the present" - Dr. Monica McGoldrick
Research has provided a tremendous amount of information on how much of our current suffering in life is transmitted epigenetically through intergenerational experiences. The way we currently perceive the world and our experiences, are filtered through the 'lessons' and experiences of the generations that came before us, both at a biological level and psychological/social/emotional level. Genograms, and other newly developed tools, allow us to gain powerful and often transformative new insight and awareness about our family system, particularly the beliefs, 'rules' and ways of being that are transmitted through the system, often unconsciously, to the present day. With uncovering the "story below the story" of your unique family system, comes a sense freedom, choice, and a powerful opportunity for profound personal evolution - not only for you, but for your family, and the generations to come.
WORKSHOP DETAILS:
**PLEASE NOTE: this advanced workshop is suited for mental health therapists and other allied health professionals who have a foundational understanding of trauma and trauma healing.
Please note that several other introductory/foundational trainings in this subject area are available, geared for non therapists, and anyone interested in a foundational understanding of the mechanisms of intergenerational trauma. trauma healing, and using genograms as a powerful tool for healing a family's history, present, and future.
If seeking an introductory training, please see Trauma-informed Practice Trainings , or follow on Eventbrite for upcoming trainings throughout 2022. .
This workshop will be a deeper dive in to healing intergenerational trauma, reviewing new research, modalities, and tools, with will provide a significant focus on effectively using genograms to identify and heal trauma-based intergenerational patterns, beliefs, and defenses.
This workshop combines the pioneering work of Dr. Monica McGoldrick, Dr Murray Bowen, Dr. James Hollis, with much more recent research and work by experts such as Dr Isabelle M. Mansuy, Dr. Rachel Yahuda, Dr. Steve Cole, Jessie Thistle, Dr. Diana Schiller and others - in the fields of epigenetics, intergenerational/transgenerational trauma healing, and enriched environments.
Case studies will be provided specifically looking at the complexity of identifying, and healing, past loses, defenses, patterns and particularly the nuance of the trauma-based beliefs. We will also look at options for integrating "bottom-up" somatic tools and approaches in your genogram sessions with clients. Participants will have the opportunity to start their own three generational genogram and receive guidance with doing this, if they wish, for part of this workshop.  Electronic template, symbols, questions for family member research, a comprehensive list of research links and resources list are all provided.
Following this workshop, participants will also be provided with a list of therapists who specialize in using genograms in their trauma healing practice, and are available for any who wish more in-depth work on their genogram.
** Please note that this workshop is limited to 12 participants .
In this workshop you will learn:
An overview: what is intergenerational trauma? What are the mechanisms.
Overview of new research in the field of epigenetics and enriched environments. How your genogram can be used as a catalyst for healing a family's history, present, and future
Sexuality and gender-inclusive genograms
What to do if a client doesn't not know, nor have access to, their family history?
Using genograms as a tool to help heal indigenous and residential school trauma.
Using genograms in person and online (participants will be provided with an easy to use electronic template for creating a genogram)
A list of important questions for family members that you can provide to clients to build the information needed . Tips to provide clients re: interviewing family members.
A close look at how limiting beliefs are passed down through the generations. Case studies shown.
The complexity and critical importance of identifying the 'meta-story' and the correct core trauma based belief (s). It can be tricky!
Common errors to avoid when using a genogram
The limitations of creating a 'trauma-gram' – why a comprehensive genogram may be the better choice for your clients.
How you can identify and break the cycle of patterns which are causing difficulty/suffering. Matching the correct resourcing. (case studies of errors)
Overview of recent research in the area of using 'Enriched Environments' to reverse intergenerational trauma.
How to integrate somatic, bottom-up and right brain approaches (critical for trauma healing), into your clients' genogram work. 
FACILITATOR
Trish Walsh BA, MTC
Trish is a Master Therapeutic Counsellor, Instructor, and workshop facilitator, located in Vancouver, British Columbia;  the traditional, ancestral, and unceded territory of the xʷməθkwəy̓əm (Musqueam), Skwxwú7mesh (Squamish), and Səl̓ílwətaʔ/Selilwitulh (Tsleil-Waututh) Nations.   From 2008 - 2016 Trish was the Executive Director of the InnerChange Foundation; a Canadian foundation with the mandate of increasing funding, education and awareness in the area of addiction and concurrent disorders/mental health.  In Trish's clinical practice her focus and training are in the area of Transpersonal Psychology, which integrates eastern philosophies within the framework of modern psychology.
Since 2016 Trish has focused on developing and facilitating strength-based trauma informed trainings for university students along with health and mental health professionals who working in the field, and who are interested in updating their knowledge and skills in the area of trauma healing.  Trish also provides trauma-informed, and resilience-informed workshops on healing intergenerational trauma, collective trauma, compassion fatigue, secondary trauma, and moral injury, to front line workers, school teachers/school administrators, organizations, and the general public.
In addition to Trish's counselling practice, her work over the last 20 years has focused on knowledge translation: specifically, conveying research findings in medicine and mental health care to government decision makers, and to physicians, mental health professionals, allied health care providers, along with corporations, community groups and the general public. She has also consulted for several organizations to bring health information to their staff, stakeholders, and the general public. Trish has a particular passion for conveying research information in an engaging and easy to understand way, aiding decision makers in their funding and public policy decisions, and helping individuals to learn practical strategies for better health, happiness, and personal success. 
Trish also provides training in Trauma-Informed Coaching and Transpersonal Coaching, for professional coaches.
For more info: www.trishwalsh.ca