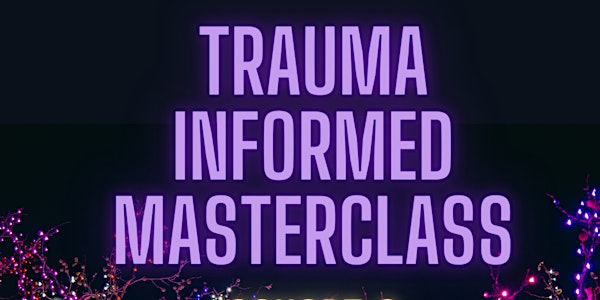 Trauma-Informed Masterclass (Cohort 2)
A Complete Guide to Frameworks and Implementation
Refund Policy
Contact the organizer to request a refund.
About this event
Join us for a Trauma-Informed Masterclass. In this 10-week course, we will do a deep dive into trauma, resilience its impact personally and organizationally, and well as provide tools that can be used to change outcomes. Using our framework that shifts away from the deficit-based approach ("what's wrong with you") to a resource-focused mindset ("what can support you")? Making this shift helps us to critically transform the way we show up and hold space for others.
We will meet every week for 2 hours for 10 consecutive weeks, where we will tackle areas such as:
1. Mindfulness
2. Values
3. Creating a Trauma-Informed Community/System/Organization
4. NEAR* Sciences
5. Paradigm Shifts
6. Attachment
7. Stress vs Trauma
8. Survival Brain
9. Reenactments
10. Disassociation
11. Building Resilience
12. Organizational Chronic Stress
13. Structural and Race Trauma
14. Trauma-Informed Coaching
15. Self-Designed Resilence
16. Team-Designed Resilience
In addition, you will be introduced to numerous tools and skills to help you practice using a trauma-informed framework. Originally this course was designed for leadership and full-staff training, and while it is still available in that format (email us for more), individuals whose agencies were not ready to take the work on, we're looking for an option for their own growth and continued education. This course has qualified for numerous CEUs, and we are more than happy to provide documentation if you would like to provide CEUs from your accrediting body.
WHO WILL BENEFIT: Educators, health care workers, social and youth workers, mental health providers, caretakers, human service providers, HT Managers, group facilitators, and anyone who has a desire to change outcomes both for the individuals they provide services for as well as their own staff.
WHAT OTHER PARTICIPANTS HAVE SAID: "Through her unique blend of engaging activities, storytelling, and both personal and professional expertise, Shenandoah Chefalo brings meaningful and impactful trauma training with practical real-world applications. Educators, parents, and humans from all walks of life will benefit from this immersive experience. Our organization (a school district) greatly benefitted."-Stephanie L
**This course can be booked for private groups or organizations (either virtually or in-person) at discounted rates. To learn more click here: https://www.chefaloconsulting.com/service-page/trauma-informed-masterclass-cohort-2?referral=service_list_widget