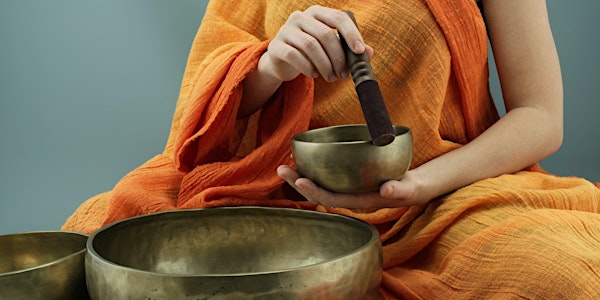 Trauma-Informed Care for Sound Healers and Other Alternative Practitioners
Refund policy
Contact the organizer to request a refund.
Eventbrite's fee is nonrefundable.
Focus on using these powerful healing methods with attention to safety and sensitivity for all
About this event
Sound healing – like many other up-and-coming alternative health modalities – can be incredibly powerful in bringing deep healing and nervous system harmony to all kinds of people, including those who have experienced trauma.
But what is quite powerful can also harm if practitioners are not attuned to the best practices in trauma-informed care.
This class is especially designed for practitioners who use sound in some way in their individual and group sessions, such as singing bowls, gongs, sound baths and the like. This class will also benefit other alternative health practitioners such as yoga instructors, massage therapists and body work practitioners, and Reiki and other energy healers, as well as sound healing students, musicians who use their skills for healing, and psychotherapists and coaches who integrate sound into their sessions and workshops in some way.
The emphasis will focus on providing sensitive and proper care to people who seek out your services and avoid further re-traumatization due to misinformation or lack of knowledge.
Instructor
Instructor is Karen Carnabucci, LCSW, TEP, a psychotherapist and educator who has worked with multiple varieties of abuse and trauma in various settings since 1989 and is certified in the Therapeutic Spiral Model, a specialized model to treat trauma survivors.
In this training, you will learn:
Definitions of trauma and how the nervous system responds to trauma.
What is trauma-informed care.
Creating multiple layers of safety with your practice and in your space for the people you work with.
How to prepare your people for sound and similar sessions.
How to talk about trauma and work with trauma in ways that do not retraumatize.
Self-care for the helper.
Questions welcome
There will be ample time to ask questions and to confidentially discuss experiences with client persons
The program will take place from 10 a.m. to 1 p.m., and attendees will receive a certificate of attendance for the three-hour program. In addition, continuing education credits will be provided for social workers, licensed counselors and marriage and family therapists, as well as Act 48 hours and psychodrama hours.
Tuition
Tuition is $40 per person for eight or less trainees and $35 per person for nine or more trainees, if registered by July 11. Tuition for registrations after July 11 is $65.(Early registratrants will receive a refund if the group is nine or more.)
CE credits and psychodrama hours
The program provides:
A certificate of attendance.
Three CE credits for social workers, marriage and family therapists, professional counselors and psychologists, plus psychodrama credits and Act 48 hours for Pennsylvania and social workers, marriage and family therapists, professorial counselors in Wisconsin.
A generous page of online handouts that you may download and keep.
How to register
You may register online here immediately with your credit card.
If you wish to register and pay in another way, please contact Karen for information.
CE credits
Karen Carnabucci, LCSW, TEP, Companions In Healing and the Lancaster School of Psychodrama and Experiential Psychotherapies are approved by the Pennsylvania State Board of Social Workers, Marriage and Family Therapists and Professional Counselors to offer continuing education for social workers, marriage and family therapists and professional counselors according to Pennsylvania Board Approval #004002.
The Pennsylvania State Board of Psychology has approved continuing education programs with License #PSY000216.
The Wisconsin State Board approves continuing education credits for social workers, MFTs and LPCs Provider #6834-123.
These training hours may be counted towards the Certified Psychodramatist (CP) credential as approved by the American Board of Examiners in Psychodrama, Sociometry and Group Psychotherapy.
Training hours may be counted towards certification by the International Society of Experiential Professionals.
Training hours om psychodrama may also be applied toward certification with the North American Drama Therapy Association.
Training hours are approved for Act 48 credits for educators, school counselors and administrators in Pennsylvania.
You may be able to submit your certificate for credits in another helping discipline or in another state. Please contact your respective state board for information.
About Zoom
Our classes are currently online due to the coronavirus pandemic, and we are using the online platform Zoom. If you are a new user to Zoom, please download on your computer or tablet here.
You may also use your smartphone but keep in mind that you may not enjoy the same learning quality due to the small screen on your smartphone.
If you have used Zoom in the past, please make sure you download the most recent version of Zoom a day or two before the program.
Please sign in to Zoom at least five to 10 minutes before the start of the class to make sure that your program is working correctly. It is also suggested that you close other windows on your computer or tablet (e-mail, other websites, etc.) for best use of your online connection.
Questions
Contact Karen for questions including information on refunds or complaints.