Trauma Illinois brings their old time Rock n Roll to Bircus Brewing Co.
About this event
Join us at Bircus Brewing Co. for kick-ass music with Trauma Illinois , award winning craft beer, live circus and wood fired pizza, literally, something for everyone!
Trauma Illinois have been relentlessly pushing a classic rock revival with big sounds, big productions, and classic rock & roll style music. They take large influence from other politically-charged, high-energy acts such as Led Zeppelin, Rage Against the Machine, and Jimi Hendrix. Over the course of their 2.5 years together, they have performed across 10 states and 15 cities, promoting music, love, and headbanging.
VIP tickets will get you a reserved seat, general admission are first come first served (table-wise) so get here early and enjoy a brew and pizza!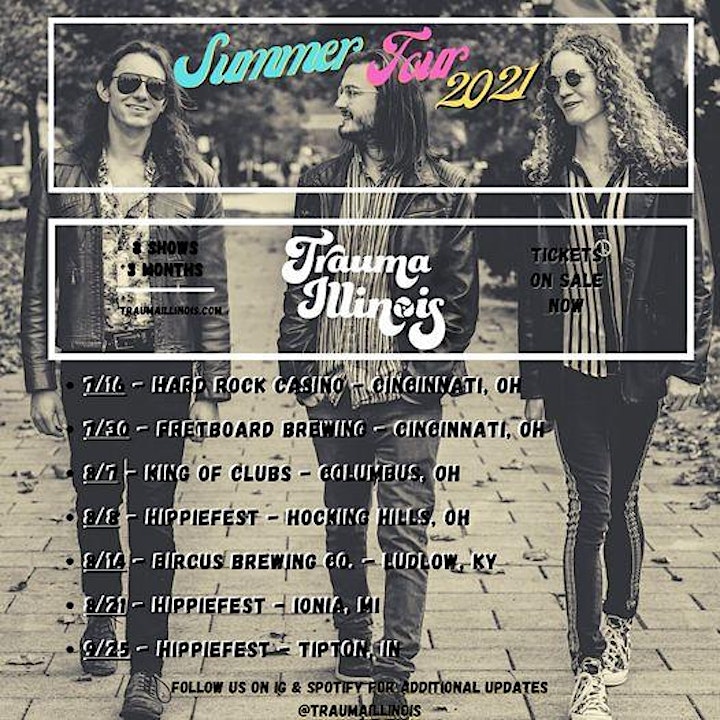 Organizer of Trauma Illinois at Bircus Brewing Co.
BIRCUS, where the surreal world of circus meets the simple love of beer, will deliver a jaw-dropping, thirst-defying brewery experience. Our performers will juggle clubs, breathe fire, hula hoop, walk on kegs and amaze on the trapeze and aerial silks at the Ludlow Theatre and area venues serving our brew. Raise a glass, see a circus and toast to all.​