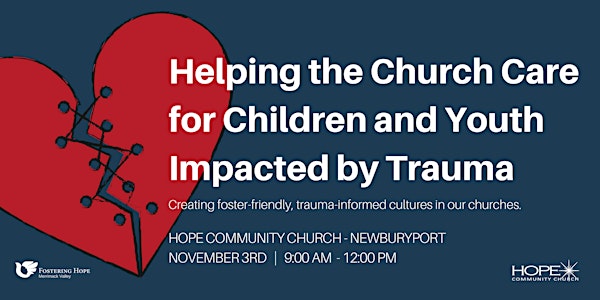 Trauma Competent Churches
By Fostering Hope New England
When and where
Date and time
Saturday, November 3, 2018 · 9am - 12pm EDT
Location
Hope Community Church 11 Hale St. Newburyport, MA 01950
Description
Helping the Church to Compassionately and Competently Serve Children and Youth from Hard Places.

Join us for this FREE faith-informed, trauma-informed training to help children's and student ministry volunteers, leaders and staff discover practical tools to serve children and youth impacted by trauma.* The morning will help attendees better understand the needs of children from hard places and consider whether the environments we provide for them in our churches are creating felt-safety and healing.
The training will be facilitated by Jonathan Reid, the Executive Director of Fostering Hope, an organization mobilizing the Christian community to love and serve the foster care community. A practitioner in the trauma-informed Trust-Based Relational Intervention (TBRI) and Trauma Competent Caregiver (TCC) care models, Jonathan's faith-informed approach helps attendees understand the impact of trauma on child development and offers practical tools to care for them with compassion and competence.
*There is a second session for foster and adoptive parents in the afternoon. CLICK HERE for more information.
---


Fostering Hope New England partners with Hope Community Church to provide this free resource to help equip foster/adoptive parents and those who serve and care for kids from hard places.
Hope Community Church is a vibrant and active congregation of close to 800 men, women, youth and children from many different backgrounds who are on a spiritual journey. At Hope all are learning what it means to know and follow Jesus and bring His love to others. Hope Community knows that none of us are perfect, but believe in Christ, we have found forgiveness, love and courage to face life's challenges.

About the organizer
Fostering Hope New England empowers churches and individuals to care for children and families impacted by foster care. Our vision is the dream of a day when ZERO children in foster care are waiting for a safe, supported familiy to care for them.
Fostering Hope provides foster and adoptive families with support and encouragement through resources such as trauma-informed caregiver training, wrap-around support teams, and foster care friendly church communities.
Please contact info@fosteringhope.org with questions or to request more information.