TRASHed Coachella Exhibit in LA 2013

Thursday, March 28, 2013 at 7:00 PM

-

Saturday, March 30, 2013 at 8:00 PM (PDT)
Event Details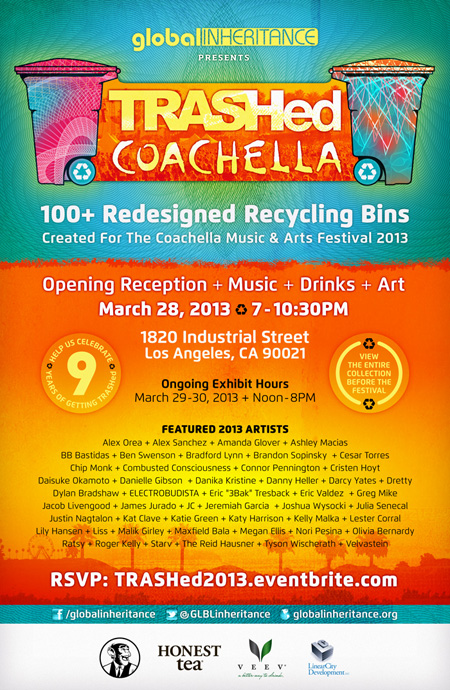 T R A S H e d  •  C o a c h e l l a  •  2 0 1 3
Opening Reception || March 28, 2013 || 7 - 10:30PM || Music + Drinks + Art
Ongoing Exhibit Hours || March 29 - 30, 2013 || Noon - 8PM

1820 Industrial Street
Los Angeles, CA 90021


100+ Redesigned Recycling Bins
Created For The Coachella Music & Arts Festival 2013

FEATURED ARTISTS
Alex Orea + Alex Sanchez + Amanda Glover + Ashley Macias
BB Bastidas + Ben Swenson + Bradford Lynn + Brandon Sopinsky
Bryon Christman + Cesar Torres + Chip Monk + Combusted Consciousness
Connor Pennington + Cristen Hoyt + Daisuke Okamoto + Danielle Gibson 
Danika Kristine + Danny Heller + Darcy Yates + Dretty + Dylan Bradshaw
ELECTROBUDISTA + Eric "3Bak" Tresback + Eric Valdez 
Greg Mike + Jacob Livengood + James Jurado + JC + Jeremiah Garcia
Joshua Wysocki + Julia Senecal + Kat Clave + Katie Green + Katy Harrison
Kelly Malka + Lester Corral + Lily Hansen + Liss + Malik Girley
Maxfield Bala + Megan Ellis + Nori Pesina + Olivia Bernardy + Ratsy
Roger Kelly + Sara Viola  + Starv + The Reid HausnerTyson Wischerath + Velvastein

Help Us Celebrate 9 Years of Getting TRASHed
View the Entire Collection Before It Rolls Out to The Festival

RSVP • TRASHed2013.eventbrite.com
When & Where

1820 Industrial Street

Los Angeles, CA 90021


Thursday, March 28, 2013 at 7:00 PM

-

Saturday, March 30, 2013 at 8:00 PM (PDT)
Add to my calendar
Organizer
Inspiring Others To Think Creatively In Solving World Issues

Born in 2002, Global Inheritance is a 501(c)3 non-profit organization that develops creative, cause-based campaigns to educate individuals about issues that affect us globally.
Our unique programs focus on the power of interactivity to communicate ideas that push for progressive social change by empowering millions of individuals at festivals, events, workplaces and schools throughout the world.
By employing technology, the arts, and experiential learning, Global Inheritance reinvents activism by inspiring people from every walk of life to act responsibly and become forward-thinking leaders within their community.