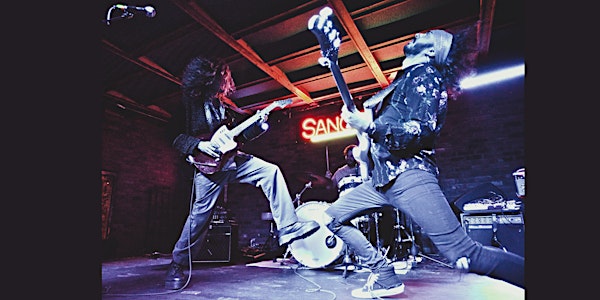 Trash Panda with Brooke Garwood and Babe Honey
neo-psychedelia, soul, indie rock and pop music
When and where
Location
The Evening Muse 3227 N. Davidson Street Charlotte, NC 28205
Performers
Headliners
More Performers
About this event
3 hours

ALL AGES

Mobile eTicket
Trash Panda
Trash Panda began in 2015 as the pet recording project of songwriter/producer/multi-
instrumentalist Patrick Taylor, expanding into a duo then a trio in 2016. Pulling influences as
wide as neopsychedelia, soul, indie rock and pop music, the band considers themselves
somewhat post-genre. Darlings of the indie scene, Trash Panda tapped into both the perils of
modern dating and the existential questions of dark nights of the soul. Their 2016 EP Off features
crowd-favorites "Aging Out of the 20 th Century" and "Check Please." Trash Panda's 2018 album
The Starclimber made a splash with tongue-in-cheek banger "Atlanta Girls" alongside the
psychedelic groove of "Heartbreak Pulsar." After the album the band went on hiatus and pursued
other projects, emerging four years later in 2022 with several new members for a single, "Things
Will Never Change," which is quickly gaining attention, featured in its first week on Spotify's
Indie Chillout and Modern Psychedelia playlists. In its first wave, only two years of frenzied
creativity, the band made a regional splash touring small and mid-sized venues and during its
four year hiatus reached a certain level global cult status, with passionate fans spanning the
globe. Trash Panda plans to release its second full length album in 2023 coinciding with an
extensive album support tour.
Facebook | Instagram | Spotify
********
Brooke Garwood
Brooke Garwood is an indie folk artist from Jacksonville Beach, Florida. After graduating from the College of Charleston in 2020, Garwood started playing live with several musical projects. She released her first few singles at the beginning of 2022 and has since played with notable acts including flipturn, the 502s, Susto, and Sam Burchfield. Her upcoming single "Elephants" will be released on September 9th, 2022.
**********
Babe Honey is an indie dream pop artist. Her songs are inspired by her experiences while living in her van on the road chasing the perfect wave. Invigorated by the surf breaks of California's coastlines to the crisp cool air of the tallest rocky mountains, Babe Honey writes from the point of view of flavor and sensations, bringing a new perspective and incisive wit to her tales of connection and adventure. With whimsical vocals she combines a vintage sound with modern material to soothing effect. Babe Honey continues to write music, inspired by her 1920's cottage and tropical garden. Finding the beauty in every wilting flower and grace of the passion vine. It's her loved ones and her supporters that fill her with fervor the most. The dream to share her songs with the world continues to grow.