Description
Picture it: you're sitting at a bistro table in the shadow of the Eiffel Tower, eating fluffy scrambled eggs and flaky croissants while sipping champagne or cognac cocktails and listening to Future's hottest tracks (because you're sophistaratchet and that's what sophistiratchets do). And then... you woke up! Well, now you can make this scene a reality when The Alumni Group brings Paris to the people at "Trap'd in Paris — a Parisian-style boozy brunch and day party at Harlem's French gem, Chez Lucienne. Let TAG transport you to the City of Lights while you the enjoy food specials and unlimited brunch cocktails you've come to expect from our events. DJ Flash & DJ K-Leel will create the perfect soundtrack to your brunch trip as he spins your favorite trap, hip hop, and R&B hits! You won't need a passport to participate in this international experience — just make your way uptown and get Trap'd in Paris!. Get your RSVP on A$AP Rocky!
Brunch 12-6pm
Day Party & Happy Hour (4-8pm)
$25 Hookah Available
Available Flavors: Blueberry, Mint, Watermelon, BlueMist, and Strawberry
*Birthday & Celebratory Specials*
1 Complimentary Brunch for parties of 10 or more (Must be discussed with host in order to redeem)
*All members of your party must be present to be seated*
**During peak hours we cannot hold seats for incomplete parties. Open tables will be given to the next complete party. **
***Please be courteous to our guests waiting in line or to be served.***
****During our peak hours our seating policy is limited to a maximim of 120 minutes (2 hours).****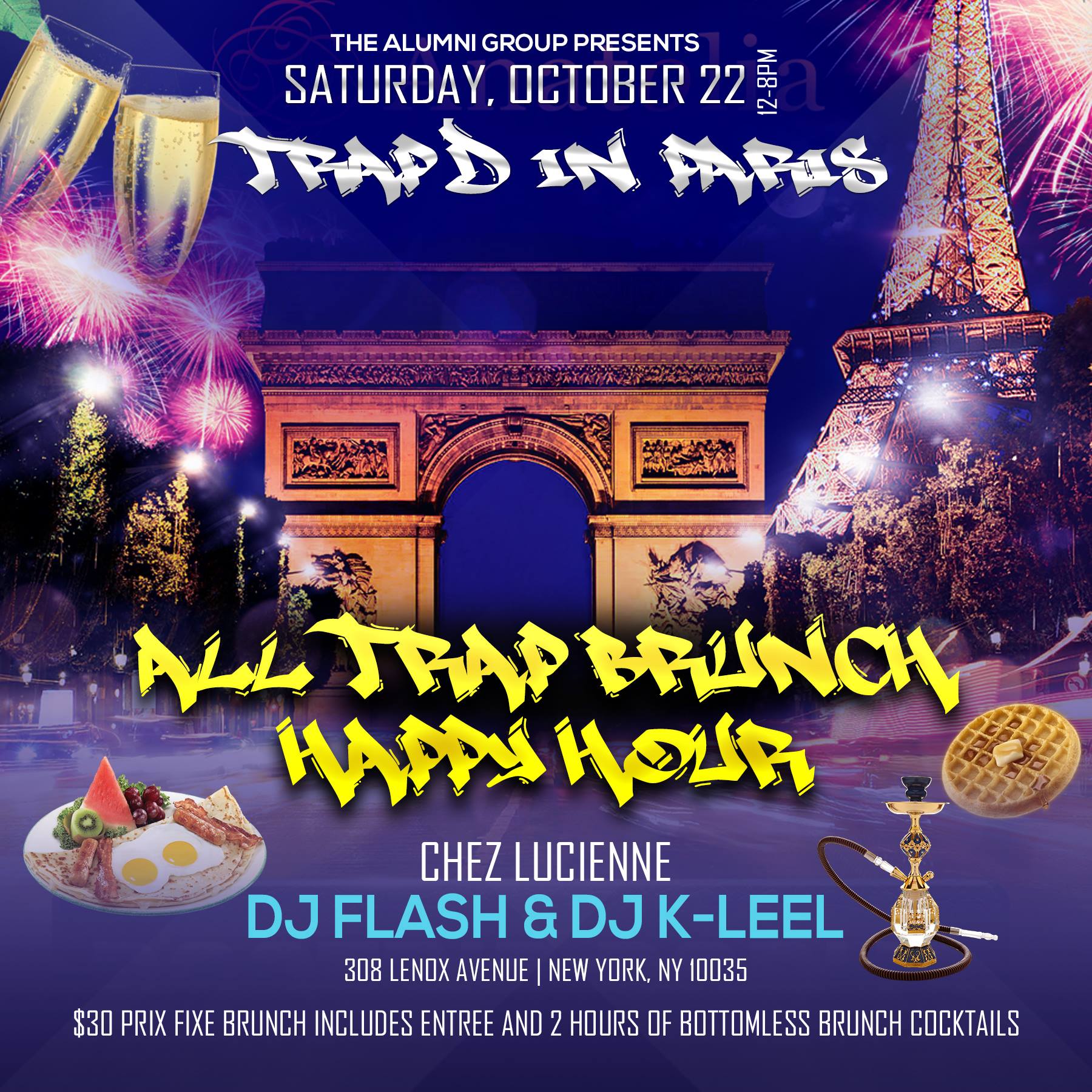 $30 Plus Tax & Gratuity Prix Fixe Brunch includes One Entree and 2 hours of Bottomless Brunch Cocktails
Brunch Cocktails:
Bloody Mary, Bellini, Mimosa, Rum Puch, Sangria (White or Red)
Amuse-Gueules
(Appetizers)
Calamars Frits $10
(Fried Calamari)
Ailes De Poulet $8
(Chicken Wings)
Salade De Mesclun $5
(Mixed Organic Greens Salad, House Vinaigrette)
Biscuits à levure chimique $4
Biscuits
French Toast Et Crepes
Pain Perdu Aux Fruits Frais
(French Toast, Fresh Fruits, Champagne butter sauce)
Pain Perdu Aux Noix De Pecans
(French Toast with Pecans, Creme Chantilly, and Cognac Sauce)
Crepe with Chicken and Mushrooms
Crepes Au Saumon Fume
(Smoked Salmon, Spinach, Mushrooms, and Dill Sauce)
Crepe Classique
(Ham, Swiss Cheese Topped with Fried Egg)
Crepe Epinard Et Chevre
(Spinach, Goat Cheese, and Mushrooms)
Pancakes
(Pancakes Served with Maple Syrup)
Plats L'American
(American Dishes)
Chicken & Waffles
Shrimp & Grits
Burgers
All are served with French Fries and Garnished with Lettuce, Tomato, Onions, and PIckles.
Classique
(Black Angus)
Saumon
(Chopped Atlantic Salmon, and Tartar Sauce)
Dinde
(Ground Turkey Burger with Cranberry Confit)
Omlette Et Ouefs
(Omelettes and Eggs)
Omelette of your choice
Your choice of 2 items: Mushrooms, Tomatoes, Kale, Cheddar, Swiss, ham, herbs
Scrambled Eggs with Veal Sausage
Eggs Benedict with Black Forest Ham
Scrambled Eggs with Smoked Salmon
Eggs Florentine
Grilled Skirt Steak and Scrambled Eggs
Côtés
(Sides)
Fries $6
Bacon $6
Turkey Bacon $6
Sausage (Pork, Veal, Turkey) $6
Happy Hour 2:1
Menu $13
Mojito
(Rum, Triple Sec, Mint, Lime)
Flute a la French
(Champagne, Grand Marnier)
Encore Une Fois
(Vodka, Triple Sec, Pineapple Juice, Passion Fruit, Creme De Cassis)
Collins in Harlem
(Gin, Lemon, Mint, Basil, Lemonade)
Moscow Mule
(Vodka, Lemon, Lime, Ginger, Sour Mix)
Jalapeno Marguerita
(Tequila, Jalapeno, Passion Fruit, Triple Sec, Margarita Mix)
Mon Cheri Chez Lucienne
(Brandy, Grand Marnier, Lemon, Cassis)
Talancon
(Mezcal, Corona, Triple Sec, Egg White, Lime)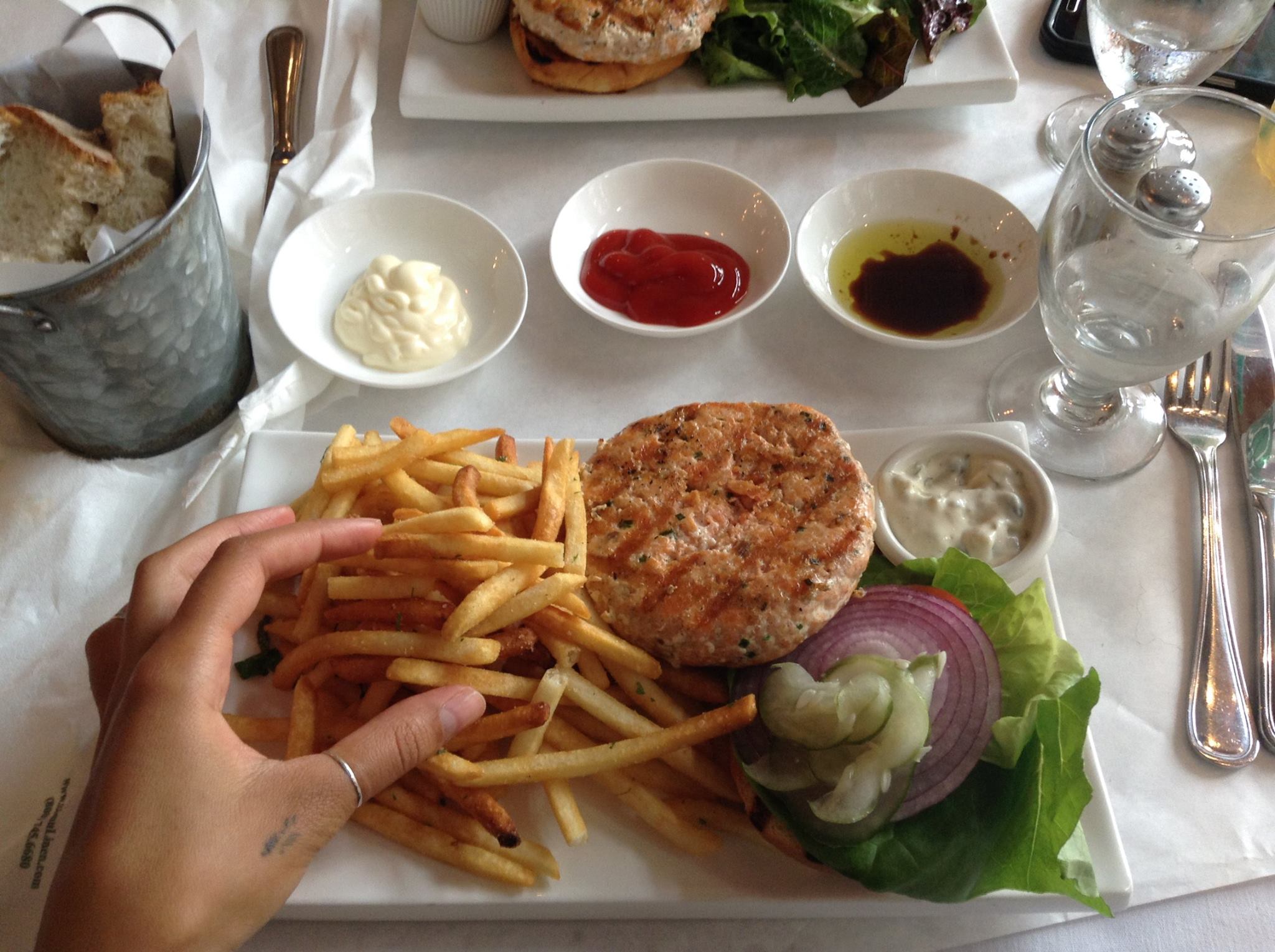 Bottle List
Vodka
Finlandia $125
Stoli Elit $200
Ciroc $200
Belvedere $200
Ketel One $200
Grey Goose $200
Gin
The Botanist $150
Hendrick's $150
Tangueray $150
Tequila
El Jimador Silver and Reposado $150
Milagro Silver $160
Herradura Silver $175
Deleon Platinum $200
Patron Silver $225
Whiskey
Jack Daniels $150
Jack Daniels Honey $150
Jack Daniels Fire $150
Gentleman Jack $160
Woodford Reserve $175
Johnnie Walker Black Label $175
The Macallan 12 year $200
Jameson $150
Cognac
Remy Martin VSOP $175
Remy Martin 1738 $200
Hennesy VS $200
Hennesy Privelege $225
Champagne
Korbel Brut $100
Korbel Sweet Rose $100
Veuve Cliquot Yellow Label $150
Moet & Chandon Rose Imperial $300