Paint a dope custom doormat with Kicky Mats and learn how to make fun signature cocktails with Boozer's Bartending on the Go
About this Event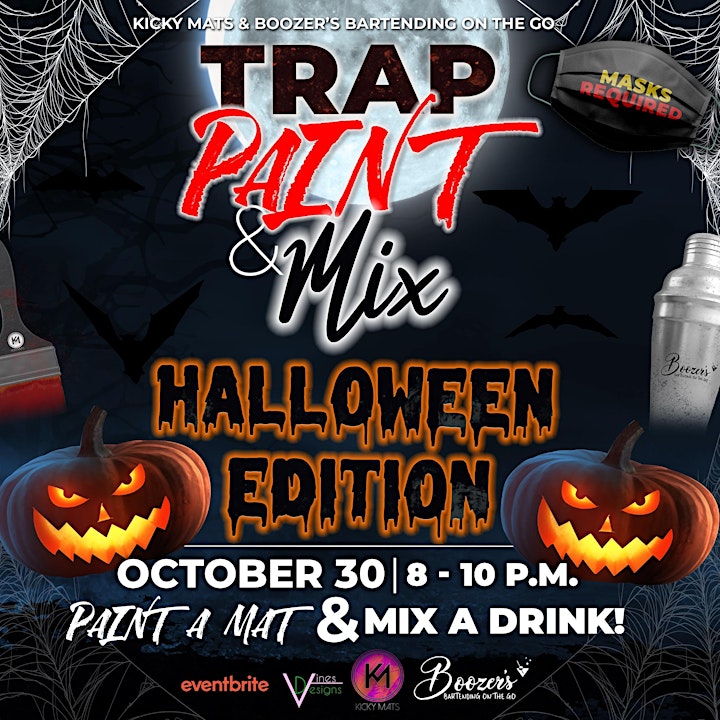 Trap Paint & Mix is a one of a kind Event for you to party with others with your mask on of course!
*MASK REQUIRED
*MASK REQUIRED
*MASK REQUIRED
This is your chance to paint a dope doormat with Kicky Mats and learn to make delicious signature cocktails instructed by Boozers Bartending On The Go while enjoying icebreakers and good music at the same time!
We are celebrating HALLOWEEN!!!
October 30, 2020
8:00 PM-10:00 PM
HOW IT WORKS:
-We will provide all materials to complete both workshops.
Materials for mixology class
•shaker
•alcohol
•Juices/mixers
•cocktail garnish
•cocktail instructions
Materials for mat party
•mat
•stencil of your choice
•paint
•paint brush
THEME:
HALLOWEEN!
WHAT TO WEAR:
We would love to have you dress in your fav Halloween costume, tee etc. however feel free to show up however you'd like!
Each general admission ticket includes:
-doormat by Kicky Mats for each individual to paint (or 2 if couple ticket)
-Mixology class from Boozer's Bartending on the Go (mixology kit included)
This is a unique experience you don't want to miss!
This event is brought to you by Houston's very own:
Kicky Mats (IG: @kickymats) www.kickymats.com
&
Boozer's Bartending On The Go (IG: @boozer_baby)
For more information email: kickymats@gmail.com