Location
William H. Thumel Business Center
11 West Mount Royal Avenue
Baltimore, MD 21201
Refund policy
Refunds up to 7 days before event
Description
Young Professionals in Transportation is bringing Transportation Camp to Baltimore! Join us Saturday, May 12th at the University of Baltimore's Merrick School of Business. Transportation Camp brings Baltimore into an international family of cities holding camps every year and highlights transportation's impact on every aspect of people's lives: equity, education, jobs, economic development, recreation, sustainability, and overall access to opportunity. Our objective is to bring a more inclusive and engaging forum about transportation to the professionals, techies, advocates, policy makers, and users of transportation in the Baltimore Region.
A CITY OF FIRSTS
Baltimore may not be the first to organize a transportation camp, but it's a city home to many of the nation's transportation "firsts" and other significant history:
The

nation's first regular passenger service began on the Baltimore & Ohio Railroad; preserved at the

B&O Railroad Museum

.

The country's oldest railroad bridge still in use today, the

Carrollton Viaduct

, is located on the First Mile, and the also the location of the nation's first telegraph line.

The National Road, regionally known as the Baltimore National Pike, opened up the west to settlement, and the city was also a pioneer in streetcar development – vintage

streetcar tracks

,

catenary poles

, and

stops

and

shelters

can be found around the city and its suburbs.

If you'll be driving in, you'll be interested to learn that the Baltimore Beltway was the nation's first urban circumferential highway.

The city's speedy

clipper ships

also allowed the US to get around British blockades in the War of 1812 – you can still tour one, the Pride of Baltimore II, at the Inner Harbor!

The city had one of the largest pre-Civil War populations of

black freemen

working on the docks and shipyards, and the Port of Baltimore was once the nation's second-largest immigration portal, behind only Ellis Island; you can learn more at the

Immigration Museum

in Locust Point.
From pioneering bicycles to roadside shopping centers, the history of transportation and infrastructure "firsts" in Baltimore is bottomless but hidden in the city's nooks and crannies, so take the opportunity before and after camping to explore Baltimore!
SCHEDULE
9:00 AM: Doors Open - Registration & Breakfast
10:00 AM: Opening Remarks, Intros, Proposals
11:00 AM: Session 1
12:15 PM: Session 2
1:30 PM: Lunch & Networking
2:45 PM: Session 3
4:00 PM: Session 4
5:00 PM: Closing Remarks & Networking - Head to Java Moon Cafe (inside Penn Station) for Happy Hour!
Each room will have a computer, screen, projector, microphone(s), podium, speakers, and a volunteer note taker. Session hosts will need to bring their own flash drive to load presentations or other digital media. Laptop connections are possible, but presenters will need to provide an adapter. A wi-fi code and computer logins will be provided the morning of the event.

STAY IN TOUCH
Stay up to date by following us on Twitter @TranspoCampBAL and liking us on Facebook. Tag tweets with the official event hashtag #TCBAL18.

GETTING TO CAMP
The University of Baltimore's Merrick School of Business is located at 11. West Mt. Royal Avenue at the corner of Charles Street and Mt. Royal Avenue, just one block south of Penn Station!
If you're traveling from points along the east coast,

take Amtrak to Baltimore's Penn Station; Boltbus also serves the Maryland Avenue bridge one block west of Penn Station.

If you're traveling from the greater Washington DC or Baltimore regions

, take the MARC Penn Line to Penn Station or MTA Light RailLink to Penn or Mt. Royal Stations.

If you're traveling locally

you can take Metro SubwayLink to State Center and walk over; take Light RailLink to Mt. Royal and walk over; or take CityLinks Yellow, Lime, Green, or Silver, LocalLinks 51 or 53, or the Charm City Circulator's free Purple Route, all of which serve the bus stops at the Charles/St. Paul - Preston/Biddle intersections, which are just a block from the venue.

See system maps here

: the Merrick School of Business is near "Midtown/UB."



FIRST TIME CAMPING?
Dress code

: No need for suits, ties, or dresses – tasteful casual dress is fine!

Internet access

: The University of Baltimore's Merrick School of Business has free guest wifi – we'll provide connection details as you arrive.

Presentation tips

: Session rooms may contain white boards, A/V equipment, etc., but come prepared with your own laptop, flash drive, or other materials necessary for your proposed session.

First time camping?

: Check out

How Transportation Camp Works: The Essential Guide

for a quick introduction!
SPONSORS

Thank you to our sponsors, WSP, AECOM, Central Maryland Transportation Alliance, JMT, Morgan State University's Urban Mobility & Equity Center, RK&K, WRA, 1000 Friends of Maryland, Arch Plan Inc., Johns Hopkins University, Maven, PickUp Baltimore, and Tidemore Group!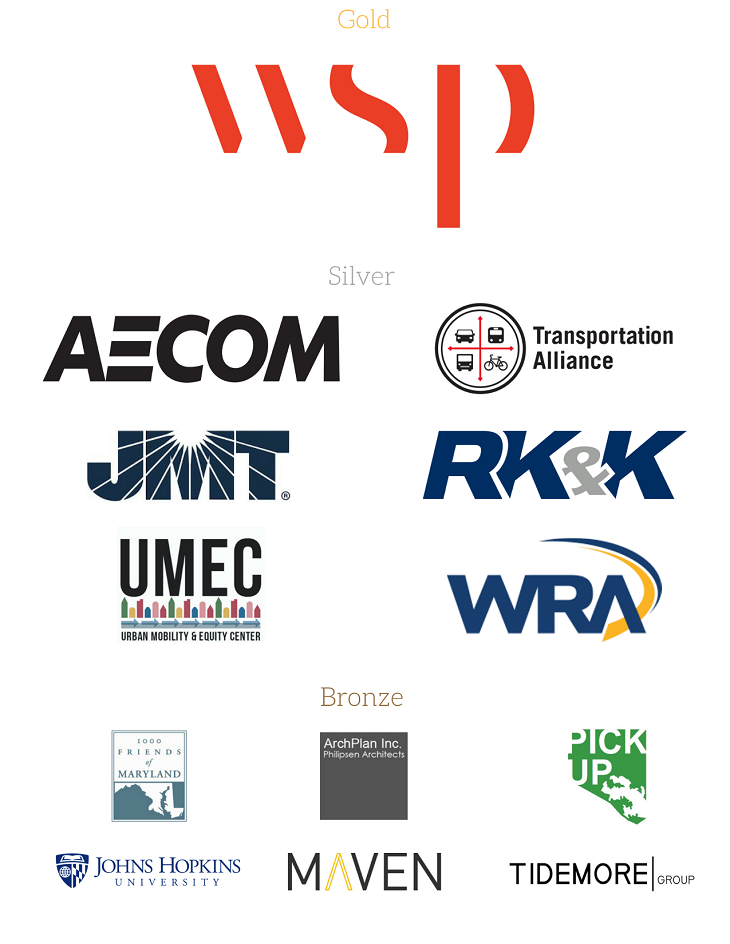 CAN'T AFFORD CAMP?
Get on the wait list for sponsored tickets by signing up here: https://goo.gl/forms/ySVt7mkMYg32vDyk2. Sponsored tickets will be distributed as availalbe on a first come, first serve basis.