Description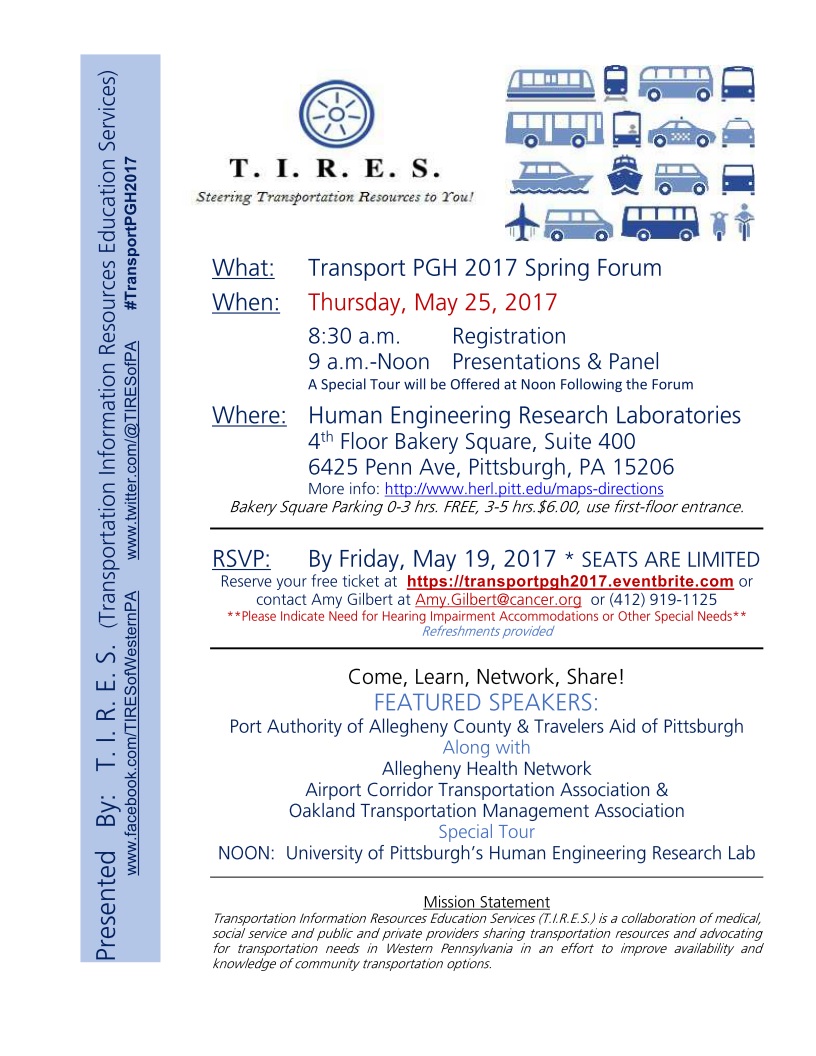 T.I.R.E.S. Member Organizations
*Bold indicates Transport PGH 2017 Planning Committee

---
ACCESS Transportation Systems
American Cancer Society
City of Pittsburgh
Community LIFE
Dormont Region of LifeSpan, Inc. Senior Resource Centers
Family Services of Western Pennsylvania
Highmark PALS program
Inter Community Cancer Center - Forbes
Jewish Association on Aging
Jefferson Regional Medical Center/UPMC Radiation Oncology
Leukemia & Lymphoma Society
LIFE Pittsburgh
Mercy Behavioral Health
National Kidney Foundation
North Hills Community Outreach
PA 211 South West
Port Authority of Allegheny County
Renewal Inc.
Sierra Transportation LLC
Silver Lake Commons
Southwestern Pennsylvania Commission
United Way
UPMC/St Clair Hospital Cancer Center
---
PLAIN TEXT INVITATION
What: Transport PGH 2017 Spring Forum
When: Thursday, May 25, 2017
8:30 a.m. Registration
9 a.m.- Noon Panel Presentations followed by tour
Where: Human Engineering Research Laboratories
4th Floor Bakery Square, Suite 400
6425 Penn Ave, Pittsburgh, PA 15206
More info: http://www.herl.pitt.edu/maps-directions
Bakery Square Parking 0-3 hrs. FREE, 3-5 hrs.$6.00
FEATURED SPEAKERS:

Port Authority of Allegheny County & Travelers Aid of Pittsburgh
Allegheny Health Network
Airport Corridor Transportation Association &
Oakland Transportation Management Association

Special Tour
NOON: University of Pittsburgh's Human Engineering Research Lab
RSVP:
RSVP by Friday, May 19, 2017 SEATS ARE LIMITED!
Eventbrite ticket required or contact Amy Gilbert at Amy.Gilbert@cancer.org or by phone at (412) 919-1125
**Please Indicate Need for Hearing Impairment Accommodations or Other Special Needs**
Refreshments provided
#TransportPGH2017