Transport Hartford Academy: Chasing Paper
Description
If you rely on the bus to get around, how can you figure out your job options? What happens when public transportation is not located near major employers? Are there ways to get reimbursed for riding your bike instead of driving to work? Learn what some Connecticut companies are doing to provide better commutes for their employers and how you can encourage your employer to improve commuter mobility.

Guest speakers: Anne I. Hayes, Director, Parking & Mass Transit at Travelers, and Evan Jean-Guillaume, Outreach Coordinator at CTrides; and Jennifer Dierkens of Connecticut Center for Advanced Technology.

Doors open at 5; Program begins at 5:30.

FAQs
How do I get here?
The Sea Tea Comedy Theater (15 Asylum St.) is just steps away from the bus stop at Main and Asylum! This is very accessible to the 60, 62, 64, 66, 72, 74, and 76 routes, along with many other buses: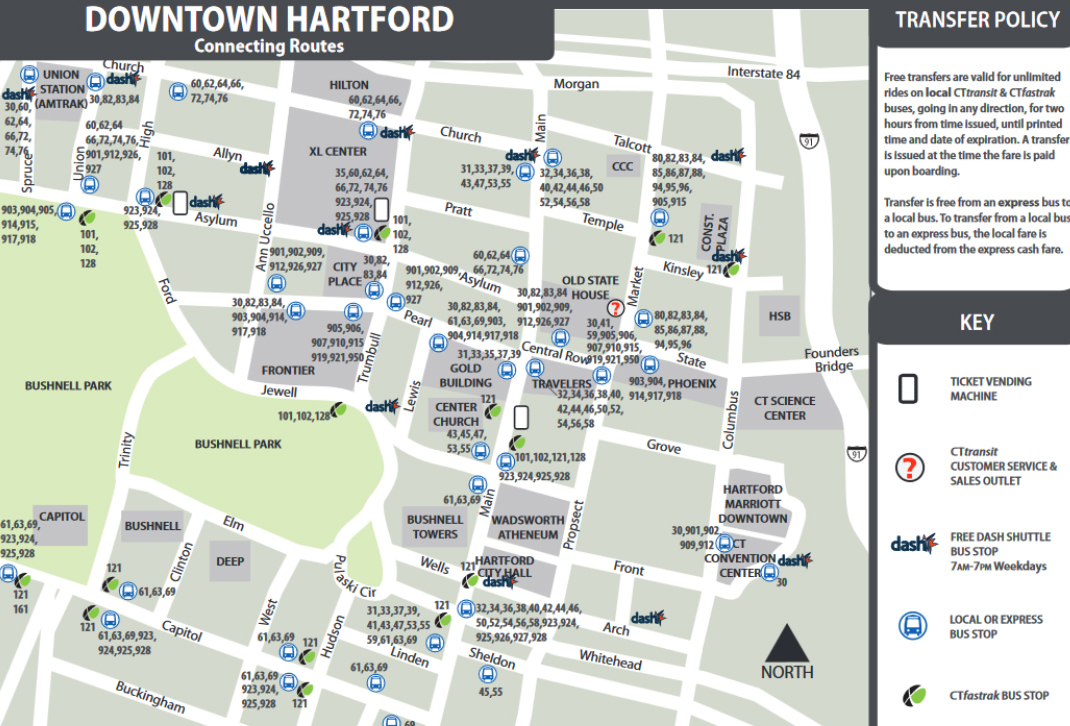 There are many bike racks just around the corner near the Old State House.

Is registration required?

Registration is encouraged so we can provide enough snacks and refreshments

Is this open to the public or do I need to belong to a certain organization to attend?
This is 100% designed for the general public! You do not need to know anything about these topics before attending a workshop.
How can I contact the organizer with any questions about childcare or translation services, or other concerns?

kerri_provost@ctprf.org

How is this funded?
Transport Hartford Academy is funded through the Hartford Foundation for Public Giving.

-----------------------------------------------------------------------------------------
Academia de Transporte de Hartford: Siguiendo el Dinero

DESCRIPCION
Si usted depende de buses/guaguas para movilizarse, ¿cómo puede descifrar cuáles son sus opciones en su empleo? ¿Qué sucede cuando no hay transporte público cerca de empleadores mayores? ¿Hay formas de que le reembolsen por llegar a su trabajo en bicicleta en vez de manejar su automóvil? Conozca que están haciendo algunas compañías en Connecticut para proveer mejores opciones de transportarse para sus empleados y como usted puede animar a su empleador a mejorar la movilidad para sus empleados.

Oradores invitados: Anne I. Hayes, Directora, de Estacionamiento & Transporte Masivo en Travelers, y Evan Jean-Guillaume, Coordinador de Contacto a la Comunidad en CTrides; y Jennifer Dierkens de Connecticut Center for Advanced Technology.
Preguntas Frecuentes

¿Cómo llego allí?
El Sea Tea Comedy Theater (15 Asylum St.) está a pocos pasos de la estación de buses/guaguas en Main y Asylum! Es muy accesible a las rutas de buses/guaguas 60, 62, 64, 66, 72, 74, y 76, al igual que muchos otros buses/guaguas:
Hay muchos porta-bicicletas a la vuelta cerca del edificio de la Vieja Alcaldía.

¿Es necesario inscribirse?
Se recomienda inscribirse porque así podemos tener disponibles suficientes pasa bocas y refrescos.

¿Está disponible para el público en general o debo pertenecer a alguna organización para poder asistir? 
¡Este encuentro está 100% diseñado para el público en general! No es necesario que usted conozca estos temas para poder asistir a los talleres.

¿Cómo puedo comunicarme con la organizadora para hacer preguntas sobre niños o sobre servicios de traducción, o cualquier otro asunto?
kerri_provost@ctprf.org

DIA Y HORA
Martes, Mayo 23, 2017
5:30 PM – 7:30 PM EDT
Añadir al Calendario
LUGAR
Sea Tea Comedy Theater
15 Asylum Street
Hartford, CT 06103





Save
Save
Save
Save
Save