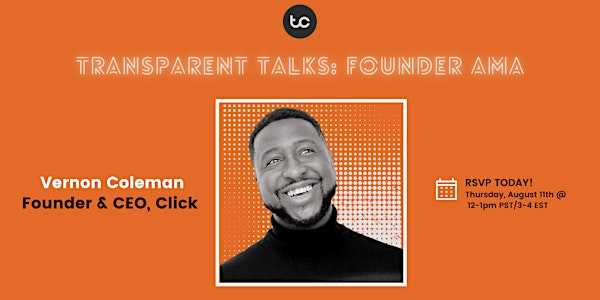 Transparent Talks: Founder AMA with Vernon Coleman
Transparent Collective invites you to a Founder AMA!
About this event
Transparent Collective invites you to join us for an AMA with Vernon Coleman , Founder and CEO of Click— Thursday, August 11th from 12:00 PM to 1:00 PM PT on Zoom!
More About Vernon Coleman:
After dropping out of college in 2019 Vernon Coleman became the Founder of Click(formerly Realtime) & one of the youngest Black founders to raise venture capital.
With the mission of making it instant for groups to socialize online & in person In 2020 he raised over $4M from the likes of Alexis Ohanian, Sam Altman, Kevin Lin, and the founders/execs of company's like Snap, Twitch, Meetup, Kickstarter to name a few… In 2021 Vern joined Forbes 30 under 30!!
Outside of work Vernon enjoys discussing product, psychology, fashion, music, and all things art!
Join us in this conversation as we dive deep into Vernon's founder journey, preview his next steps, and discuss his lessons learned.