Description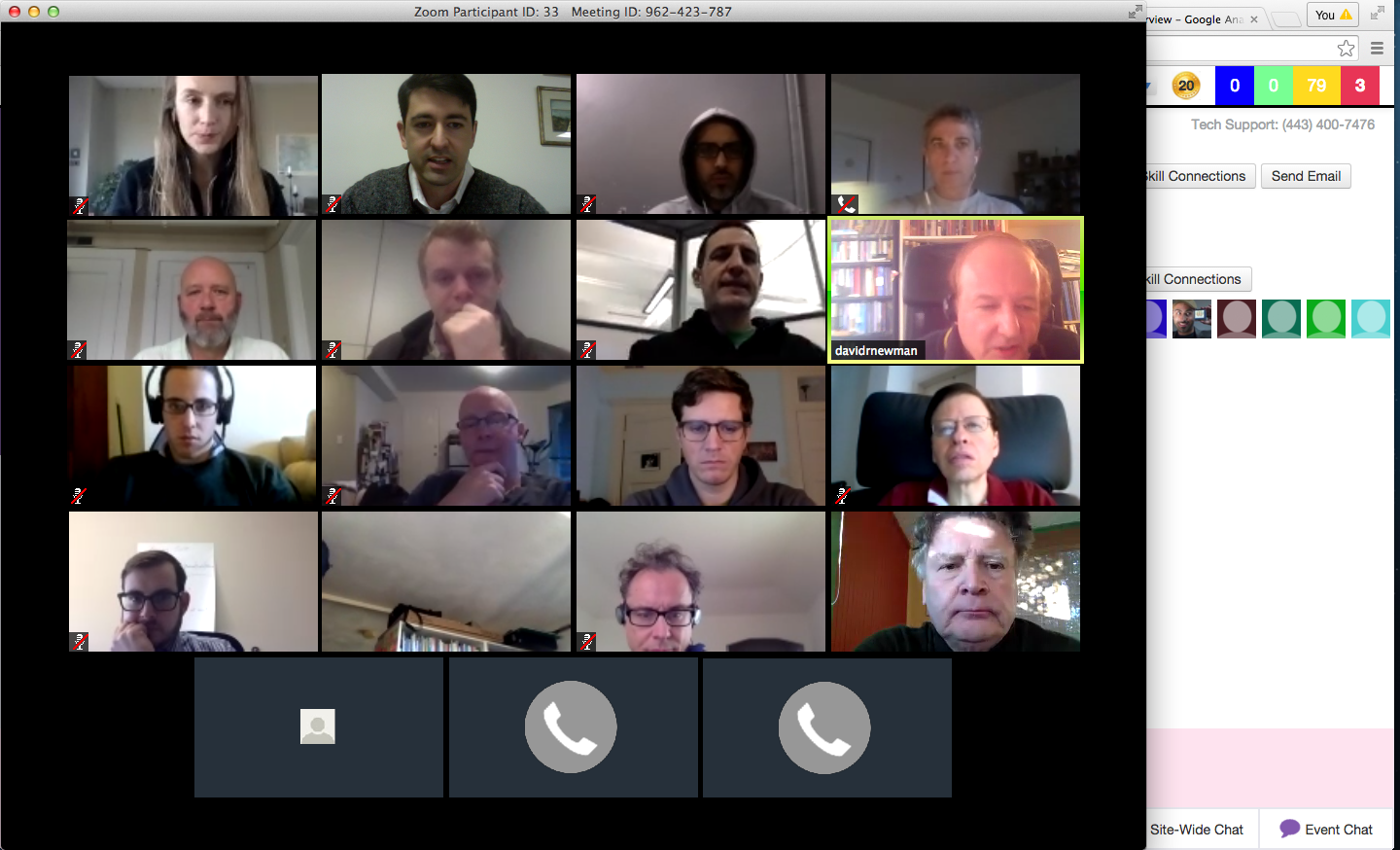 Screenshot from the 2016 CivicTech Online Unconference, with the same format and tools that we will use during TransparencyCamp Online.
INVITATION
This event builds on the success of the 2016 OpenGov & CivicTech Online Unconference and the annual in-person TransparencyCamp held in Washington DC in September.
TransparencyCamp is an "unconference" for opengov. Each year, journalists, developers, technologists, policy-makers, government officials, students, academics, wonks and everyone in between gather together to share knowledge about how to use new technologies and policies to make our government really work for the people—and to help our people work smarter with our government.
As an unconference, TransparencyCamp emphasizes the important contributions that each and every participant brings with them into the sessions, workshops and conversations associated with this event. In fact, participants co-create the entire agenda at the very start of the unconference. Bring a topic you want to learn or teach, and come prepared for a highly engaging online event!
BACKGROUND
The Sunlight Foundation has created guidelines for how members of the opengov community can organize local TransparencyCamps, and this is the first TCamp which is 100% online.
This is an independently run event; Sunlight is not operating or running this event, however they are helping us spread the word through their blog, which is awesome. Ticket prices are low so that cost is not a barrier for anyone, and you will see an option for a free ticket above if you cannot pay.
My name is Lucas Cioffi and I am the primary organizer, based in Charlottesville, Virginia. I'm a software developer, and a few years ago, I started helping federal agencies host in-person unconferences in Washington, DC on the topic of opengov. My goal with this online event is to help opengov advocates connect across geographic regions and providing some useful tools (Slack, Zoom, and QiqoChat) to help people stay connected even after the event ends.
This live, participant-driven event happens by video chat and/or phone. Bring a topic, project, or challenge that you would love to discuss, because the best part about an online unconference is that all participants are empowered to add a discussion topic to the agenda.
To handle all these sessions, there will be up to 10 breakout sessions happening at any time, so it will be easy to find that interests you. You'll be surprised at how easy it is to participate and how collaborative these video chats can be. Sign up today and invite your friends. We look forward to seeing you online!
What is the purpose? Why should I attend?
1. Spread the word about your project related to transparency or opengov.
2. Network with other innovators.
3. Bring the toughest questions and challenges you're facing and gain insights from other participants.
FAQ
What is an "unconference"? Unlike standard conferences sessions where people give presentations, unconference sessions are far more conversational. Professionals will discuss and work through the challenges at the cutting edge of the opengov & civic tech fields.
What is the agenda? Participants (including you!) create the agenda during the opening session. This ensures that everyone finds a session that interests them and sets a collaborative tone for the event right from the start.
Who will be there? Designers, developers, activists, practitioners, and entrepreneurs working at the intersection of civic engagement and technology. The power of this event is that it will bring together people with different skills.
How will we connect?
We will use Slack for group and 1-1 messaging.

We will use Zoom for video chat.

We will use QiqoChat to enable multiple Zoom sessions at the same time.
PARTICIPATION INSTRUCTIONS
Before the Unconference
Get a ticket (see the top of this page).

Download Zoom to see everyone by video (sharing your webcam is optional). Phone instructions are at the very bottom for those who do not have a computer & Zoom.


(Optional)

Post your session topic directly into the agenda.

Invite your friends!



During the Unconference
Go to the Opening Circle for this Unconference (link will be shared here soon) and create a free account. All the breakout sessions will happen on that page.




Click the red "Join Audio/Video" to launch Zoom video chat.




Add your discussion/session topic to the agenda.

Ground Rules
You are highly encouraged to jump to different breakout tables at any time to find the topics that are most interesting to you. Don't be shy; it's 100% OK!




Be generous with your ideas, and others will do the same for you.




Let's have fun!
Agenda
Opening and Welcome:

11am EDT

(3pm GMT)

Round 1:

11:30am EDT

(3:30pm GMT)

Round 2:

12:00pm EDT

(4:00pm GMT)

Round 3:

12:30pm EDT

(4:30pm GMT)

Round 4:

1:00pm EDT

(5:00pm GMT)

Closing: 1:30pm EDT (5:30pm GMT)
Tech Help for Participants without a Computer
You can download and use Zoom even if you do not have a webcam or do not want to show your video.
However, if you can't download Zoom, you can connect by phone. Call 1-646-558-8656 and select a meeting ID below.
If you have Internet access, visit the opening circle page during the unconference to see the agenda and the breakout room discussion topics.
Opening Circle Meeting ID: 784-835-212
Table #1 Meeting ID: 425-236-536
Table #2 Meeting ID: 139-899-457
Table #3 Meeting ID: 575-509-650
Table #4 Meeting ID: 347-249-889
Table #5 Meeting ID: 398-328-952
Table #6 Meeting ID: 576-404-829
Table #7 Meeting ID: 841-319-572
Table #8 Meeting ID: 924-817-289
Table #9 Meeting ID: 597-525-243
Table #10 Meeting ID: 875-353-101
If you are calling from outside the USA, you can find a local phone number to dial on this page
,

and use the same meeting codes above.