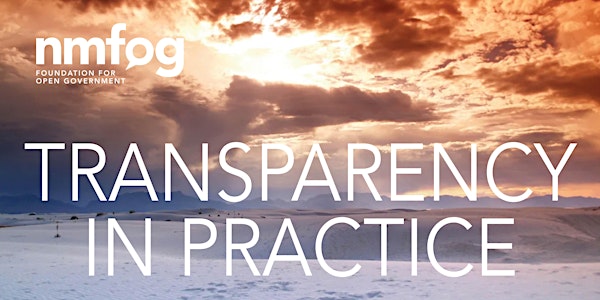 Transparency in Practice: FOG's Continuing Legal Education Seminar
Event Information
Location
Albuquerque Journal Auditorium
7777 Jefferson St. NE
Albuqerque, NM 87105
Join us in person to hear from our slate of open-government legal experts about the state of transparency law in New Mexico!
About this event
FOG's Continuing Legal Education Seminar will earn attendees six CLE credits, including one ethics credit (pending course approval). We are still adding faculty and topics to our seminar, but can confirm the program will include:
a bipartisan, bicameral panel discussion on legislative transparency, featuring outgoing Speaker of the House Brian Egolf, Senator Mark Moores, Fred Nathan of Think New Mexico, and Heather Ferguson of Common Cause New Mexico
a presentation from ABQ City Clerk Ethan Watson on the practicalities of fulfilling public records requests
FOG executive board director Kip Purcell, of the Rodey Law Firm, will discuss recent IPRA and OMA appellate decisions and the District Court case pending against the city of Rio Rancho
FOG executive board director Daniel Yohalem, of the Law Offices of Daniel Yohalem, will report on IPRA cases currently pending in the Court of Appeals
FOG board director Gregory Williams; of Peifer, Hanson & Mullins; will present on ethics and transparency
And more to come!
Date and time
Location
Albuquerque Journal Auditorium
7777 Jefferson St. NE
Albuqerque, NM 87105