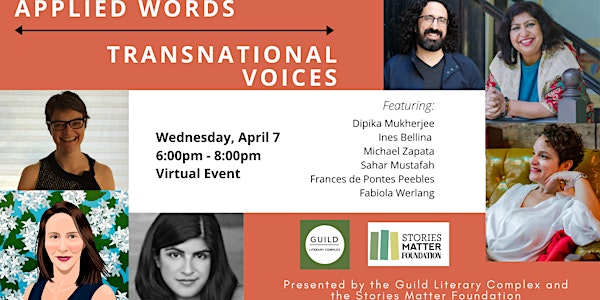 Transnational Voices
A reading and discussion featuring transnational voices.
About this event
This reading is a part of the Guild Literary Complex's Applied Words series of multidisciplinary events and conversations on contemporary social issues. The work of these writers is informed by backgrounds, experiences, and research that reach across national borders. The memories and histories of persecution, migration, exile, and assimilation threaded through these authors' poetry and prose are a welcome reminder that American writing is always already global.
Featuring: Dipika Mukherjee, Ines Bellina , Michael Zapata, Sahar Mustafah, Frances de Pontes Peebles, Fabiola Werlang
Dipika Mukherjee is a writer and sociolinguist. Her work, focusing on the politics of modern Asian societies and diaspora, includes Ode to Broken Things (2016) and Shambala Junction (2016). She has been mentoring Southeast Asian writing for over two decades and edited five anthologies of Southeast Asian fiction. She grew up in Geneva, Jakarta, Wellington, Kuala Lumpur and Delhi, and came to the United States to pursue a doctorate in sociolinguistics before becoming a published writer. She now lives in Chicago and teaches at the StoryStudio and the Graham School at University of Chicago.
Ines Bellina is a freelance writer, storyteller, and bon vivant. She has performed in live lit shows all over town like You're Being Ridiculous at Steppenwolf, Miss Spoken, and the Chicago Women's Funny Festival. Her writing has also appeared in The A.V. Club, The Takeout, The Northwestern Law Reporter and more. She is currently working on a contemporary YA novel that combines her memories of Catholic school with her love of high school musicals.
Michael Zapata is a founding editor of MAKE Literary Magazine and the author of the novel The Lost Book of Adana Moreau, winner of the 2020 Chicago Review of Books Award for Fiction, finalist for the 2020 Heartland Booksellers Award in Fiction, and a Best Book of the Year for NPR, the A.V. Club, Los Angeles Public Library, and BookPage, among others. He is the recipient of an Illinois Arts Council Award for Fiction and the City of Chicago DCASE Individual Artist Program Award. He is on the core faculty of StoryStudio Chicago and the MFA faculty of Northwestern University. As a public-school educator, he taught literature and writing in high schools servicing drop out students. He currently lives in Chicago with his family.
Sahar Mustafah is the daughter of Palestinian immigrants, an inheritance she explores in her fiction. Her first novel The Beauty of Your Face (W.W. Norton, 2020) was named a 2020 Notable Book and Editor's Choice by New York Times Book Review, a Los Angeles Times United We Read selection, one of Marie Claire Magazine's 2020 Best Fiction by Women, and a Great Group Reads for National Reading Group Month. It was long-listed for the Center for Fiction 2020 First Novel Prize, and was a finalist for Chicago Writers Association Best Book of the Year award and the Chicago Review of Books award. Her short story collection Code of the West was the winner of the 2016 Willow Books Fiction Award. Her stories have earned a Distinguished Story citation from Best American Short Stories 2016, First Place in Fiction from the Guild Literary Complex of Chicago, and three Pushcart Prize nominations, among other honors. Mustafah earned her MFA from Columbia College Chicago where she was the recipient of the David Friedman Award for Best Fiction. She writes and teaches outside of Chicago.
Frances de Pontes Peebles is the author of the novels The Seamstress and The Air You Breathe. She is a Creative Writing Fellow in Literature for 2020 from The National Endowment for the Arts. Her books have been translated into ten languages and won the Elle Grand Prix for fiction, the Friends of American Writers Award, and the James Michener-Copernicus Society of America Fellowship. Born in Pernambuco, Brazil, she is a graduate of the Iowa Writers' Workshop. Her short stories and essays have appeared in O. Henry Prize Stories, Zoetrope: All-Story, Missouri Review, Indiana Review, Catapult, and Real Simple. Her novel, The Seamstress, was adapted for film and mini-series on Brazil's Globo Network. She is proud to serve on the Board of Directors for the Young Center for Immigrant Children's Rights. In Spring 2019, she served as Visiting Associate Professor of Fiction at the Iowa Writers' Workshop.
Fabiola Werlang is a cat helicopter-mom and chocolate enthusiast that hails from Southern Brazil. She also happens to be a writer and translator currently working for Encyclopedia Britannica as an editorial project manager for products in Portuguese. After living for about three years in Chicago, she moved to Pittsburgh in 2016. She is the coauthor of two books for kids young and old, "Moscas e Outras Memórias" (Flies and Other Memories) and "A Menina que Organizava" (The Organizing Girl), both published in Brazil. In the US, her work has appeared in the literary journal 3Elements Review.