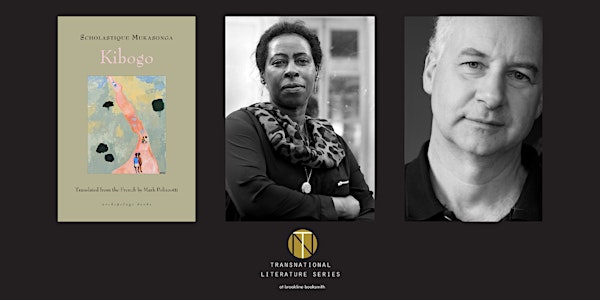 Transnational Series Live: Scholastique Mukasonga and Mark Polizzotti
The Transnational Series hosts author Scholastique Mukasonga and translator Mark Polizzotti to discuss and celebrate the release of Kibogo.
When and where
Location
Brookline Booksmith 279 Harvard Street Brookline, MA 02446
Refund Policy
Contact the organizer to request a refund.
Eventbrite's fee is nonrefundable.
About this event
Join the Transnational Literature Series at Brookline Booksmith for an in-store event with author Scholastique Mukasonga and translator Mark Polizzotti to discuss and celebrate the release of Kibogo, a new masterwork of satire, lore, and living memory from the leading voice of French-Rwandan literature.
In four beautifully woven parts, Scholastique Mukasonga spins a marvelous recounting of the clash between ancient Rwandan beliefs and the missionaries determined to replace them with European Christianity.
When a rogue priest is defrocked for fusing the gospels with the martyrdom of Kibogo, a fierce clash of cults ensues. Swirling with the heady smell of wet earth and flashes of acerbic humor, Mukasonga brings to life the vital mythologies that imbue the Rwandan spirit. In doing so, she gives us a tale of disarming simplicity and profound universal truth.
Kibogo's story is reserved for the evening's end, when women sit around a fire drinking honeyed brew, when just a few are able to stave off sleep. With heads nodding, drifting into the mist of a dream, one faithful storyteller will weave the old legends of the hillside, stories which church missionaries have done everything in their power to expunge.
To some, Kibogo's tale is founding myth, celestial marvel, magic incantation, bottomless source of hope. To white priests spritzing holy water on shriveled, drought-ridden trees, it looms like red fog over the village: forbidden, satanic, a witchdoctor's hoax. All debate the twisted roots of this story, but deep down, all secretly wonder—can Kibogo really summon the rain?
Scholastique Mukasonga was born in Rwanda in 1956. She settled in France in 1992, only two years before the brutal genocide of the Tutsi swept through Rwanda. Her groundbreaking books include: the debut novel Our Lady of the Nile, Cockroaches (chosen by the New York Times as one of the fifty best memoirs of the last fifty years), Igifu, and National Book Award-nominated The Barefoot Woman, expertly translated by Jordan Stump. In 2021, she won the Simone de Beauvoir Prize for Women's Freedom.
Mark Polizzotti is a biographer, critic, translator, editor, and poet. In 2016, he received an Award for Literature from the American Academy of Arts & Letters and was made a Chevalier de l'Ordre des Arts et des Lettres by the French Ministry of Culture. His translation of Eric Vuillard's The War of the Poor was shortlisted for the International Booker Prize in 2021. His own books include Revolution of the Mind: The Life of André Breton, which was a finalist for the PEN/Martha Albrand Award for First Nonfiction; Bob Dylan: Highway 61 Revisited; a monograph on Luis Buñuel's Los Olvidados; and Sympathy for the Traitor: A Translation Manifesto. He has translated over fifty books from the French, including works by Patrick Modiano, Gustave Flaubert, and Marguerite Duras, among others. He directs the publications program at the Metropolitan Museum of Art, New York.
The Transnational Literature Series at Brookline Booksmith
The Transnational Series focuses on stories of migration, the intersection of politics & literature, and works in translation and is supported by the independent bookstore Brookline Booksmith. Subscribe to the Transnational Series newsletter for information on upcoming events, book recommendations, and more.
What You Need to Know to Attend
RSVP to let us know you're coming! RSVPs don't guarantee a seat, but you'll be alerted to important details about the program, including safety requirements, cancellations, and book signing updates.
Reserve a Book
Books will be available for purchase at the event, but you can ensure that you get a copy by preordering on this page. You can pick your book up after 6:30PM on the day of the event.
Can't make it to the event? Preorder the book here to have it signed, and choose to have it held or shipped from the store!
Livestream!
Barring technical difficulty, this event will be livestreamed to our store YouTube channel.
Event Accesibility
This event will take place in Brookline Booksmith's Used Book Cellar, which is only accessible by stair. If possible, the event will be livestreamed to YouTube. ASL interpretation may be provided (based on the availability of interpreters) but must be requested at least 2 weeks in advance of the event. Seats are limited. Please email us at tickets@brooklinebooksmith.com as soon as possible if you require ASL interpretation, guaranteed seating, or other accommodations. We will do our best to serve your needs!
IMPORTANT NOTICE REGARDING COVID & IN-PERSON EVENTS:
Please note that any Brookline Booksmith in-person event may be canceled by the bookstore, publisher, or author based on concerns about health and safety around the time of the event. Wherever possible, any in-person appearance canceled due to COVID will be moved to the Brookline Booksmith Zoom as a Webinar at the same date and time, and all tickets & registrations will be transferred to the online event. Book signing details may change. Refunds may be requested in the case of a virtual pivot or event cancelation.