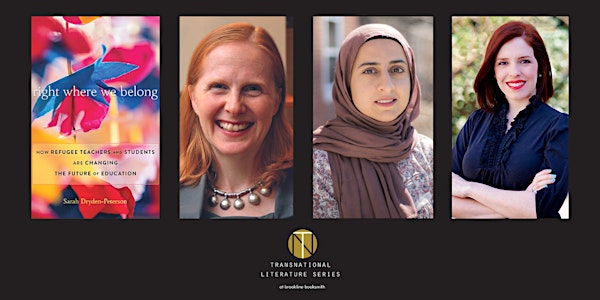 Transnational Series Live: How Can a Community Support Its Refugees?
The Transnational Series hosts a discussion of how our community can work toward more just futures for refugees globally and here at home.
When and where
Location
Brookline Booksmith 279 Harvard Street Brookline, MA 02446
Refund Policy
Contact the organizer to request a refund.
Eventbrite's fee is nonrefundable.
About this event
Join the Transnational Literature Series at Brookline Booksmith for an in-store event to celebrate the release of Right Where We Belong in a conversation about how communities can support refugee children and families. From experiences in Kabul and Kampala, Beirut and Boston, author Sarah Dryden-Peterson is joined by Zuhra Faizi and Cristina Aguilera Sandoval in a discussion of ways, both big and small, that each of us can work toward more equitable and just futures for refugees globally and here at home.
Half of the world's 26 million refugees are children. Their formal education is disrupted, and their lives are too often dominated by exclusion and uncertainty about what the future holds. Even kids who have the opportunity to attend school face enormous challenges, as they struggle to integrate into unfamiliar societies and educational environments.
In Right Where We Belong, Sarah Dryden-Peterson discovers that, where governments and international agencies have been stymied, refugee teachers and students themselves are leading. From open-air classrooms in Uganda to the hallways of high schools in Maine, new visions for refugee education are emerging. Dryden-Peterson introduces us to people like Jacques—a teacher who created a school for his fellow Congolese refugees in defiance of local laws—and Hassan, a Somali refugee navigating the social world of the American teenager. Drawing on more than 600 interviews in twenty-three countries, Dryden-Peterson shows how teachers and students are experimenting with flexible forms of learning. Rather than adopt the unrealistic notion that all will soon return to "normal," these schools embrace unfamiliarity, develop students' adaptiveness, and demonstrate how children, teachers, and community members can build supportive relationships across lines of difference.
It turns out that policymakers, activists, and educators have a lot to learn from displaced children and teachers. Their stories point the way to better futures for refugee students and inspire us to reimagine education broadly, so that children everywhere are better prepared to thrive in a diverse and unpredictable world.
Sarah Dryden-Peterson is Associate Professor at the Harvard Graduate School of Education. She is the founder and director of Refugee REACH, which promotes research, education, and action for refugees. In addition to her university teaching, she has taught in primary and secondary schools in the United States, South Africa, and Madagascar.
Zuhra Faizi is a lecturer at the Massachusetts Institute of Technology and a researcher at the Refugee REACH Initiative at Harvard. Her research focuses on community-based education in settings of conflict and displacement with a focus on Afghanistan. She seeks to highlight culturally-informed and sustainable educational opportunities for marginalized children. Dr. Faizi has a doctorate in education from the Harvard Graduate School of Education.
Cristina Aguilera Sandoval brings 18 years of experience in social movements, immigrant integration, and advocacy. Raised in Venezuela, she spent the last decade leading and inspiring others to take social and political action, building coalitions to impact social change, and developing strategies to advance social justice. She currently directs the Programs Team at the Rian Immigrant Center. Previously, Cristina worked for six years at the Massachusetts Immigrant and Refugee Advocacy Coalition (MIRA), where she rose to become Director of Organizing.
The Transnational Literature Series at Brookline Booksmith
The Transnational Series focuses on stories of migration, the intersection of politics & literature, and works in translation and is supported by the independent bookstore Brookline Booksmith. Subscribe to the Transnational Series newsletter for information on upcoming events, book recommendations, and more.
What You Need to Know to Attend
RSVP to let us know you're coming! RSVPs don't guarantee a seat, but you'll be alerted to important details about the program, including safety requirements, cancellations, and book signing updates.
Reserve a Book
Books will be available for purchase at the event, but you can ensure that you get a copy by preordering on this page. You can pick your book up after 6:30PM on the day of the event.
Can't make it to the event? Preorder the book here to have it signed, and choose to have it held or shipped from the store!
Livestream!
Barring technical difficulty, this event will be livestreamed to our store YouTube channel.
Event Accesibility
This event will take place in Brookline Booksmith's Used Book Cellar, which is only accessible by stair. If possible, the event will be livestreamed to YouTube. ASL interpretation may be provided (based on the availability of interpreters) but must be requested at least 2 weeks in advance of the event. Seats are limited. Please email us at tickets@brooklinebooksmith.com as soon as possible if you require ASL interpretation, guaranteed seating, or other accommodations. We will do our best to serve your needs!
IMPORTANT NOTICE REGARDING COVID & IN-PERSON EVENTS:
Please note that any Brookline Booksmith in-person event may be canceled by the bookstore, publisher, or author based on concerns about health and safety around the time of the event. Wherever possible, any in-person appearance canceled due to COVID will be moved to the Brookline Booksmith Zoom as a Webinar at the same date and time, and all tickets & registrations will be transferred to the online event. Book signing details may change. Refunds may be requested in the case of a virtual pivot or event cancelation.