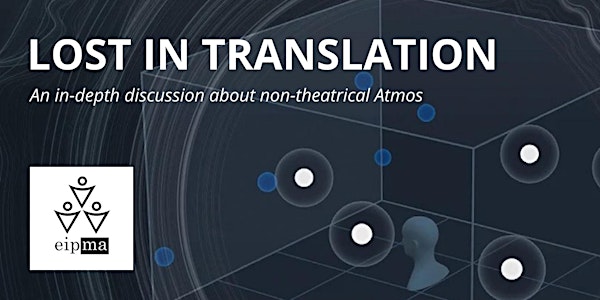 Translating to Atmos -- Recap
A summary of our four previous webinars.
About this event
Lost in Translation
An in-depth discussion about non-theatrical Atmos
Presented by EIPMA
Webinar 5 – Translating to Atmos--Recap
Moderator: Scott Gershin
Saturday, November 12, 2022
10:00 a.m. - 12:00 p.m. PDT
This session will summarize what we've learned from this series' previous four conversations, covering the challenges that face our industries, realistic solutions have been offered and predictions for the next five years.
Moderator:
Scott Gershin — Sound Supervisor, Sound Designer and Mixer at The Sound Lab a Keywords Studio. Scott is an award winning sound designer who has been active in the Film, Streaming and the gaming community. With Films & TV shows such as Maya & the Three, Mrs America, Night Crawler, The Strain, Pacific Rim, Hellboy 2, Chronicles of Riddick, Team America, Shrek, Star Trek, Blade 2 and American Beauty he has garnered an impressive number of awards and nominations: 12 MPSE Golden Reel awards, numerous GANG and TEC awards, and BAFTA nominations. Scott has also lent his talents to numerous projects that have won both DICE and Oscar awards. Previously, Scott worked at Soundelux for twenty seven years as a sound supervisor and sound designer, and he was also the founder and executive creative director of Soundelux Design Music Group. Scott is currently working with Guillermo Del Torro on the upcoming stop motion movie Pinocchio, on Netflix.
Panelists:
Alistair Hirst — Alistair Hirst has shipped 44 games across 11 platforms, as an Audio Director, sound designer, composer and audio programmer. He launched the Need for Speed franchise during his 10 years at Electronic Arts. He co-founded OMNI Audio, a game audio company which worked on four campaigns of Guild Wars and Halo 2 among many others. He was Audio Director at Amazon Game Studios for 6 years before joining Dolby Laboratories doing Game Developer Relations.
Bill Johnston — Bill Johnston is a Film, TV and Music Supervising Audio Engineer with 30 years of broad-based experience managing the design, technology and infrastructure of large-scale facilities and digital audio post-production workflows. He holds a Master of Science Degree in Music Engineering from the University of Miami, and is currently the SVP Engineering for the Formosa Group when not playing saxophone.
Scott Kramer — Scott joined Netflix in July 2017 following 15 years in sound post production. His career began with a strong technical foundation as a sound facility engineer and mix technician. Later, at Technicolor, Warner Brothers and Wildfire Post, he worked in creative capacities as a Re-Recording Mixer and Supervising Sound Editor. At Netflix, he works primarily to develop emerging sound technologies, write the Netflix technical spec, conduct internal/external education and build a global sound team.
Mark Petty — Mark Petty is a musician, engineer and sound designer based in Dallas Texas. He is currently the Audio Director for Gearbox Software, shipping titles such as Brothers in Arms, the Borderlands series, and Battleborn. Mark has been with Gearbox for 16 years, and is responsible for the overall audio direction, and tech for its games. Prior to Gearbox Mark spent 15 years in the music industry as a Grammy nominated engineer.
Andrew Scheps — Andrew Scheps has engineered and mixed some of the biggest rock bands ever, from Kaleo, Green Day, Red Hot Chili Peppers, and Metallica to U2. Among others he's worked with are legends Johnny Cash and Iggy Pop, country artists Zac Brown Band and Natalie Maines, and indie artists from Manu Chao to My Brightest Diamond and Low Roar. Andrew has received three GRAMMY Awards for his work with Adele, the Chili Peppers and Ziggy Marley, and has garnered more than 20 GRAMMY nominations overall. Since setting up his mixing studio with a 9.1.4 PMC rig, Andrew has mixed Dolby Atmos projects for, among others, Hozier, The Black Keys, The 1975 and Shinedown.
EIPMA is proud to produce this much-needed discussion on the state of Immersive Sound for the home consumer. Much has been discussed about theatrical releases, but there hasn't been a lot of conversation about non-theatrical Atmos, from home theatres to sound bars and single units that distribute sound around a room.
Previously for films, mixing and playback were accomplished in controlled environments. In this new era of audio, we work with files that will be decoded by numerous technologies. Post-production is now encountering the challenges that music has faced for decades, from listening on multiple speaker systems, to grabbing a cassette and running out to the car to listen. Must we now build secondary mix rooms that reflect sound off the ceiling and walls? What about phantom center? How do we hear how our work translates to the vast array of technologies that consumers now use?
This series will span five sessions. We'll cover mix rooms that support consumer technologies, how the music industry is adapting, and how music and post-production are coming together. We'll also cover post-production and how that differs from Atmos theatrical. Our fourth session will be about how designing and preparing for Atmos in the editorial world differs creatively, and what can be done on a non-theatrical budget.
Our final panel will encompass what we've learned from this series, the challenges that face us, and solutions we have in common. We're learning together! Let's dig in!This webinar series will begin September 17th, 10am to 12 noon Pacific Time and consist of five sessions between September 17 and November 5.