Translating: Strategies to Getting it Right

Saturday, March 2, 2013 from 8:00 AM to 12:00 PM (PST)
Event Details
Translating: Strategies to Getting it Right
by Daniel Tamayo
Are you seeking to transfer meaning from English into Spanish better and faster? Come enhance your translation and interpreting skills in this hands-on, interactive workshop with a focus on making sound translation decisions.
NOTE: Five days prior to the event texts will be sent to registered attendees. Translation of these texts is optional but strongly encouraged, as they will be reviewed in great detail during the workshop. Please bring your translated texts to the event for maximum benefit.
This workshop is Spanish language specific and will be primarily conducted in Spanish. 
Prerequisite: High English reading comprehension and medium to high Spanish writing proficiency
Limited number of seats available to allow for greater interaction and feedback.
About the workshop:
Using original English texts from the fields of Law, Journalism, Science, and Technology, some of the strategies and topics that will be discussed are:
Selecting a translation when there are multiple correct options

Solutions to common challenges faced when translating

Terms and concepts that do not have a direct Spanish equivalent

Translating organizational names, acronyms, book titles, and school transcripts

Anglicisms and other foreign words

  
Event Time: 7:30 - 8:00 am Check-In 
                    8:00 - 12:00 pm Workshop 
Event Location Details: See map below 
About the Trainer:
Daniel Tamayo has served as a translation and interpreting professional for over 12 years. He is the chief trainer at GlobalTradu Language Services, where he also serves as a bi-directional English-Spanish translator and interpreter, and as a Spanish editor and proofreader. He has extensive experience in the med-legal field and since 2005 he also serves as a conference interpreter. As a translator and conference interpreter, he specializes in the areas of Business, Economics, Politics, Immigration, Education, and the Environment.
Since 2006, he has been an instructor and board of directors' member for the Translation and Interpreting Program at California State University, Fullerton. Additionally, since that same year, he teaches Spanish at California State Polytechnic University, Pomona. Mr. Tamayo has an MA in Translation from the Monterey Institute of International Studies Graduate School of Translation and Interpretation, where he also studied Court Interpreting; an MA in Spanish Language and Civilization from the University of California, Santa Barbara; and graduate courses in Economics and a Bachelor's Degree in International Management from California State Polytechnic University. 
As an educator and trainer, Mr. Tamayo has experience in developing curricula and assessment tools for Translation, Interpreting and Language programs. He occasionally conducts training workshops in conferences for organizations such as the American Translators Association and California Healthcare Interpreting Association.
 Continuing Education Units:
CIMCE (Court Interpreter Minimum Continuing Education) - 4 units (CIMCE # L2924)
ATA (American Translators Association) - 4 units
About the location:
California State University at Fullerton, TSU (Titan Student Union) Building
880 N. State College Blvd, Fullerton, CA 92834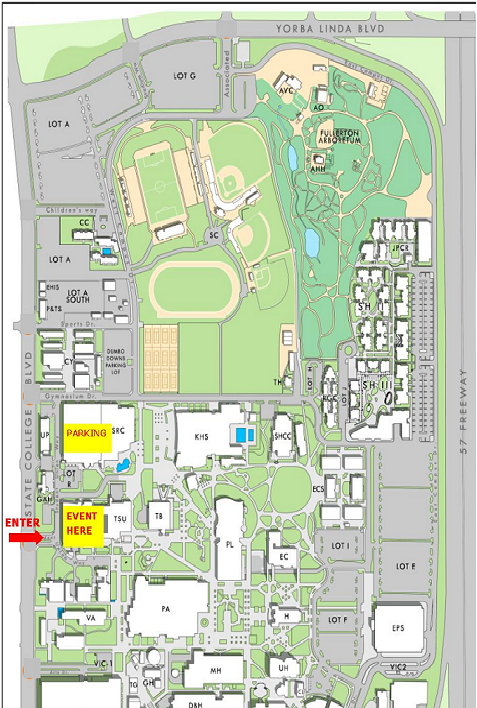 Parking Information: The parking Lot closest to TSU is named State College Parking Structure (SCPS) (located at the intersection of Student Union Way & State College).
 ~ There is NO parking fee on weekends ~
 California State University, Fullerton Detailed Printable Map (includes parking lots):
http://parking.fullerton.edu/_documents/parking/PrintableCampusMap.pdf
California State University, Fullerton Detailed Campus Map:
http://parking.fullerton.edu/_documents/parking/DetailedCampusMap.pdf

http://asi.fullerton.edu/tsu/map.asp
Cancellation Policy:
GlobalTradu LLC reserves the right to cancel any event due to lack of enrollment or other factors. In the event of a cancellation, registered participants will be notified by e-mail and will receive a complete refund. If a participant chooses to cancel their confirmed registration, or cannot or does not attend the workshop, the following refund criteria will apply: 
Cancellations must be sent in writing to

info@globaltradu.com

Cancellations received 10 or more days from the scheduled event date will be offered a 50% refund

Cancellations received 9 or less days from the scheduled event date will not be offered a refund

 
 Like us on Facebook to get the most current updates about this and other events. 
We hope to see you there!
The GlobalTradu Team
When & Where

California State University at Fullerton, TSU (Titan Student Union) Building
880 N State College Blvd
Fullerton, CA 92831


Saturday, March 2, 2013 from 8:00 AM to 12:00 PM (PST)
Add to my calendar