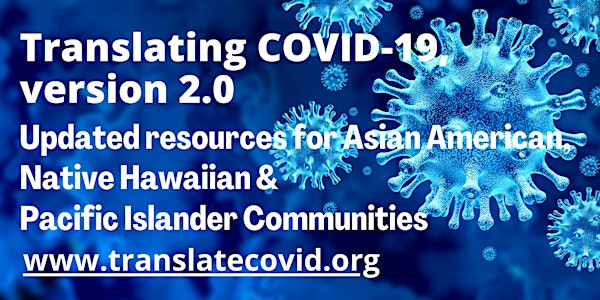 Translating COVID-19 : Resources for Asian Americans & Pacific Islanders
Information session about the COVID-19 Multilingual Resource Hub and other resources to combat COVID-19.
About this event
The COVID-19 Multilingual Resource Hub is a collection of online links and materials to help equip our diverse language communities, especially the Asian American and Pacific Islander communities, with important information about the novel coronavirus (COVID-19). Educational materials from TranslateCovid and county resources are major tools we can all deploy to mitigate the impact of the pandemic. We will also spend a portion of the program on questions about variants and the important role of vaccinations. Join us as we discuss community-based partnerships and our collective effort help advance AANHPI health equity, at an especially critical time, as California begins reopening across counties.
This session will focus on:
Vaccine FAQs in 20 languages
Vetted COVID-19 resources in more than 60 languages
Results from LA County DPH Vaccine Listening Session
Community-based efforts using in-language materials
Variants and vaccination
Featured speakers & experts:
Karen Umemoto
Director, UCLA Asian American Studies Center
Jocelyn Estiandan
Senior Public Health Analyst, Los Angeles County Department of Public Health
Xuanyu Zhu
Program Coordinator, Asian Youth Center
Daniel Kim
Programmer, UCLA Asian American Studies Center
Zuo-feng Zhang
Professor, UCLA Fielding School of Public Health
Michelle Wong
Program Director, Asian Pacific Policy & Planning Council
Joint presentation by:
UCLA Asian American Studies Center,
UCLA Fielding School of Public Health,
Los Angeles County Department of Public Health,
Asian Pacific Policy & Planning Council,
Asian Youth Center