Description
TRANSITIONS is an original scripted American television series set to be streaming on Amazon Prime starring Anwan Glover (The Wire, The Deuce); Michael Wright (Five Heartbeats, Sugar Hill); Red Grant; Wali Johnson; Sino Harris (Plug Love); King Wesley (Weight); Fauna Burks; Michael Blackson (Next Friday, Meet the Blacks).
"TRANSITIONS" RED CARPET SEASON PREMIERE
*MEET & GREET (3pm - 4:00pm)
Open bar powered by: COURVOSIER
*PRIVATE SCREENING (4:15 - 6:00pm)
(((Limited seating)))
*Q & A with cast & crew (6pm - 7:00pm)
*Discounted parking validation by: AMC theater
DRESS TO IMPRESS
18 AND OLDER TO ATTEND
21 TO DRINK!
FYI: When you arrive check-in and walk the red carpet.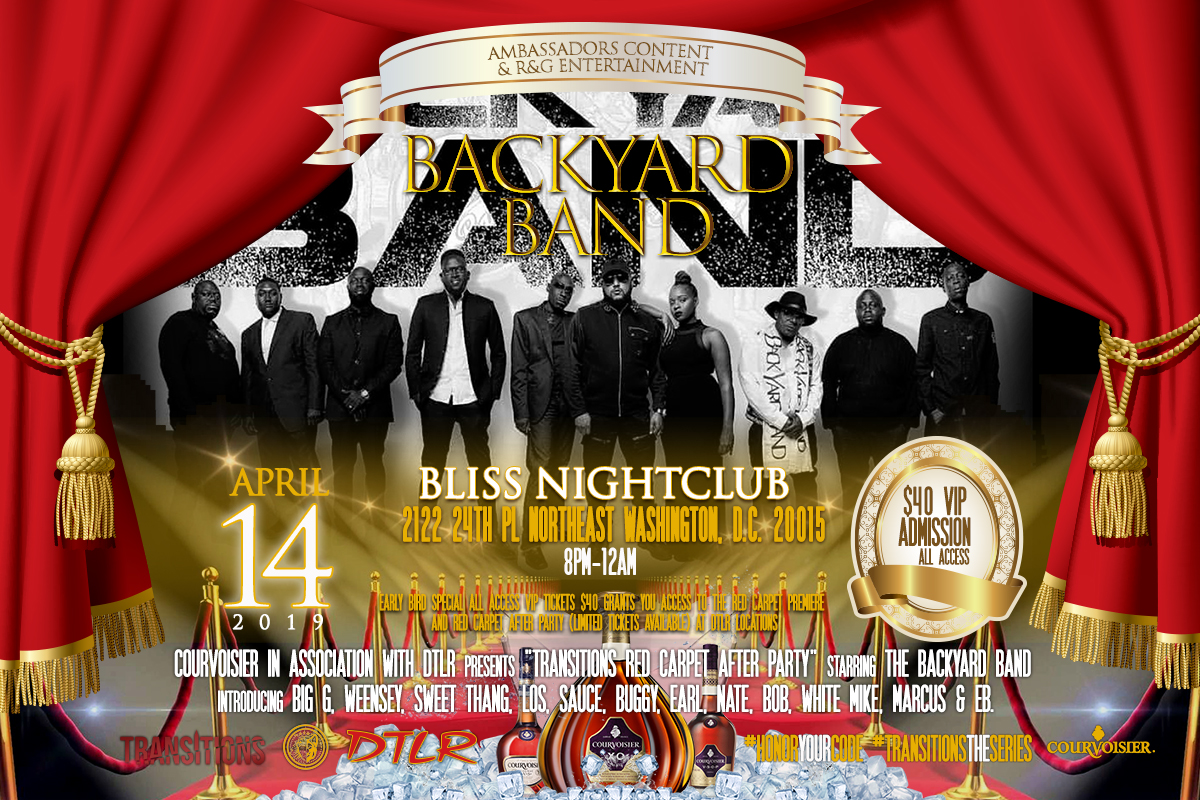 "TRANSITIONS RED CARPET AFTER PARTY"
starring
THE BACKYARD BAND
April 14, 2019
8pm - 12am
Courvoisier in association with DTLR presents "Transitions Red Carpet After Party" starring The BackYard Band introducing Big G, Weensey, Sweet Thang. Los, Sauce, Buggy, Earl, Nate, Bob, White Mike, Marcus & EB.
Early bird special all-access $40 VIP TICKETS grants access to the Red carpet premiere AND Red Carper After Party! (((Limited Tickets Available))) at DTLR locations:
EASTOVER
5225 Indian Head Hwy, Oxon Hill, MD 20745
FORESTVILLE
3226 Donnell Dr, Forestville, MD 20747
GREENBELT
7
7429 Greenbelt Rd #30, Greenbelt, MD 20770
IVERSON
3743 Branch Ave Suite #C, Hillcrest Heights, MD 20748
MINNESOTA AVENUE
1060 Brentwood Rd NE, Washington, DC 20018
902 H St NE, Washington, DC 20002